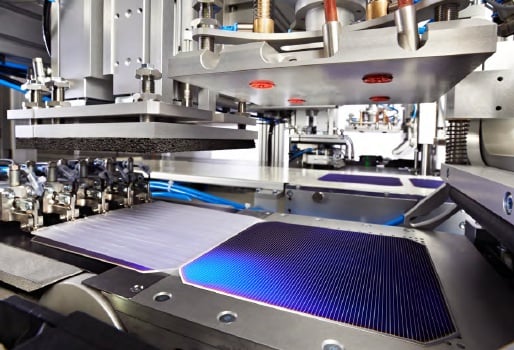 Leading PV manufacturing equipment and technology supplier Meyer Burger has recently announced a swathe of new orders that encompass diamond wire saw equipment, PERC upgrade technology and Heterojunction (HJT) cell technology.
In the first two months of 2017 Meyer Burger announced orders worth around 90 million Swiss francs. Should anyone be sceptical that the PV industry is in the middle of a technology buy cycle they simply need to look at Meyer Burgers order intake and order backlog.
Indeed, Meyer Burger is making a major play towards next-generation solar cell technology, notably with PERC, PERT and PERL that Meyer Burger describes as PERx. Meyer Burger has stated that it has shipped and installed a total of 18GW PERC upgrades and new capacities to date. The company is targeting PERx cell efficiencies of over 22%, while its Heterojunction (HJT) technology is expected to push past a cell efficiency of 23%. To support this disruptive path, an "HJT entry" tool, branded HELiUS has been successfully launched into the market.
Therefore some people may be surprised that at PV CellTech 2017, being held in Penang, Malaysia, a key presentation topic for Dr. Gunter Erfurt, COO at Meyer Burger is on conventional P-type multicrystalline developments.
Dr Erfurt will discuss diamond wire technology and texturing needs for greater efficiency gains for the workhorse of the industry.
Meyer Burger also returns as a key sponsor of PV CellTech and has been an important supporter of the conference format with Dr Erfurt also on the advisory board. PV Tech talked to Dr Erfurt ahead of this year's event with an emphasis on technology roadmaps and decision making on next generation solar cell choices for PV manufacturers.
Why the focus on mature technology at this year's PV CellTech?
Meyer Burger is a technology partner and not just an equipment supplier and therefore supports our customer's roadmaps in the best possible ways, including PERx roadmaps.
The P-type multi industry footprint is very large and therefore we also have a large equipment footprint. We are providing technology solutions such as diamond wire cutting and wafer texturing for downstream cell technologies to remain competitive and we want to demonstrate that we are here to partner with customers on these issues.
Do you feel the PERC efficiency roadmap is robust enough for continued efficiency gains?
"What has clearly changed with PERC upgrades is that it has become not a question of should the industry do this or not but only a question of what is the fastest implementation path. I also say a clear yes to the robustness of the PERC efficiency. However, for efficiency increases beyond 22%, the industry is in the early R&D development stages in my opinion and therefore it is not yet clear which paths will be the best. Meyer Burger has entered into a very efficient partnership with SERIS to provide technology support for these important topics to our Asian customers. This includes future tool and process upgrades for our proven MAiA/SiNA platform for the conversion of PERC to PERT and PERL and of course the substrates, n or p and also including multi-crystalline technologies.
To view the final PV CellTech agenda updates please click here and a final analysis of the event from Finlay Colville, you can click here. To register for the event, click here.