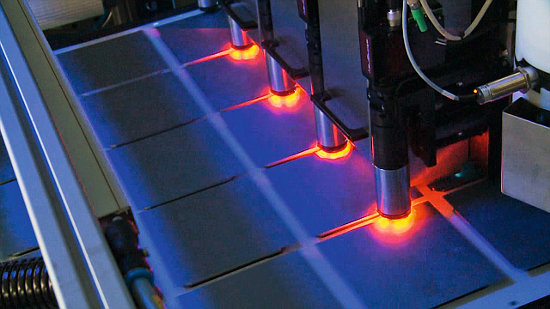 SCHMID Group is one of the key sponsors of PV CellTech 2017, a company with over 1,200 employees and five production facilities around the world. A private company since its establishment in 1864 – means its involvement in the PV industry is relatively new but its position as one of the leading solar cell processing equipment and automation specialists is well recognised.
Ahead of PV CellTech 2017 SCHMID Group had launched a new texturing tool for diamond-wire-cut P-multi-c-Si wafers, which had already secured orders in the 500MW range. Such technology is seen as critical to P-type multi production migrating to PERC cell technology and a key topic at PV CellTech 2017. The company also noted that it expected a further 5GW of new orders for the tool in the first-half of 2017.
PV Tech spent time talking to SCHMID Group's Dr. Christian Buchner ahead of this years event to get his views on the challenges facing the PV manufacturing industry.
Not only is Dr. Christian Buchner the head of the business unit Photovoltaics at SCHMID Group but was an enthusiastic attendee at the inaugural PV CellTech and has since become an enthusiastic member of the PV CellTech advisory board and an active participant again at this year's event.
Why the enthusiasm?
"For sure PV CellTech is the highlight of the year for me," noted Dr. Buchner. "Like many in the industry the feeling was that we needed an event where industry players could talk more frankly, share ideas and have better individual exchanges, due to the quality of people and the topics discussed and this was the right event."
What do you see as some of the key challenges facing the industry?
"I think everyone that is still active in aluminium BSF is in a very deadly spiral of higher cost, due to the increased adoption of PERC technology. The interesting presentation from Bob Chen and Andy Luan of Neo Solar Power at PV CellTech last year highlighted the win, win, win, scenario of P-type mono over P-type multi, highlights decisions that also need to be made to make the first steps to migrate to other product landscapes and higher efficiencies. The cost and volume production availability of mono could be a decider but as per last year's roadmap presentation by LONGi it looks possible that they could get there."
"From an in-house technology perspective we want to be in sync with our industry partners on whichever technology roadmap is pursued, whether PERC or heterojunction and these technologies may not end up competing with each other. Of course this is a challenge in itself but our experience in the industry and product solutions makes us very confident in meeting that challenge.
Without giving too much away here, Dr. Buchner will be covering in detail more of the technology challenges in his presentation at the event.
To view the final PV CellTech agenda updates, please follow this link. To register for the event, click here.