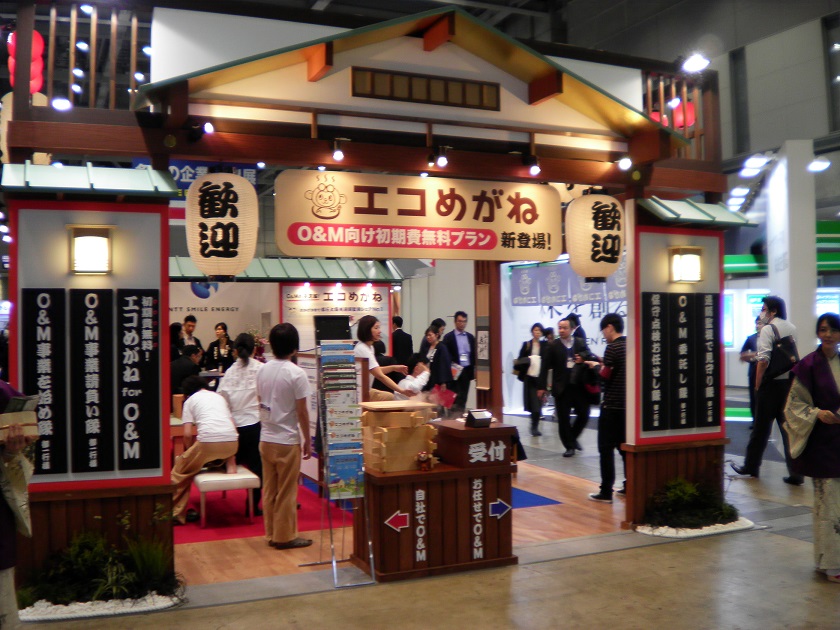 In common with every other PV market in the world as it matures, attaining grid parity for the technology is the ultimate goal for Japan. As an electricity market in general, meeting electrical demand with supply will of course become ever more important.
Both of these are acute economic concerns for Japan, a country which lacks fossil fuel resources and which has shuttered almost all of its nuclear generation capacity since the Fukushima Daichi nuclear accident, which happened exactly five years ago.
The other driver, of course, is to decarbonise. While it has been said that Japan's target of reducing CO2 by 26% from 2013 levels by 2030 seems a less ambitious benchmark than other developed nations', partly because 2013 levels means discounting the low carbon aspect of the nuclear generation which existed before that year, the country's circumstances mean that in relative terms, it's still a big ask.
Some international players PV Tech spoke to at PV Expo, such as SolarEdge CEO Guy Sella, rightly pointed out that even with its well-publicised cuts, Japan's feed-in tariff remains higher than pretty much anywhere else in the world. However, once the costs of developing a large-scale facility are looked at beyond the system cost itself, finding sweet spots in the equation for big projects becomes more and more difficult.
The age of 'mega solar', as we all know, is still with us, but may well have peaked. Cost reductions are becoming much harder to come by in that sector. International developers find that soft costs such as securing land rights and dealing with the construction side of the business aren't exactly soft in Japan.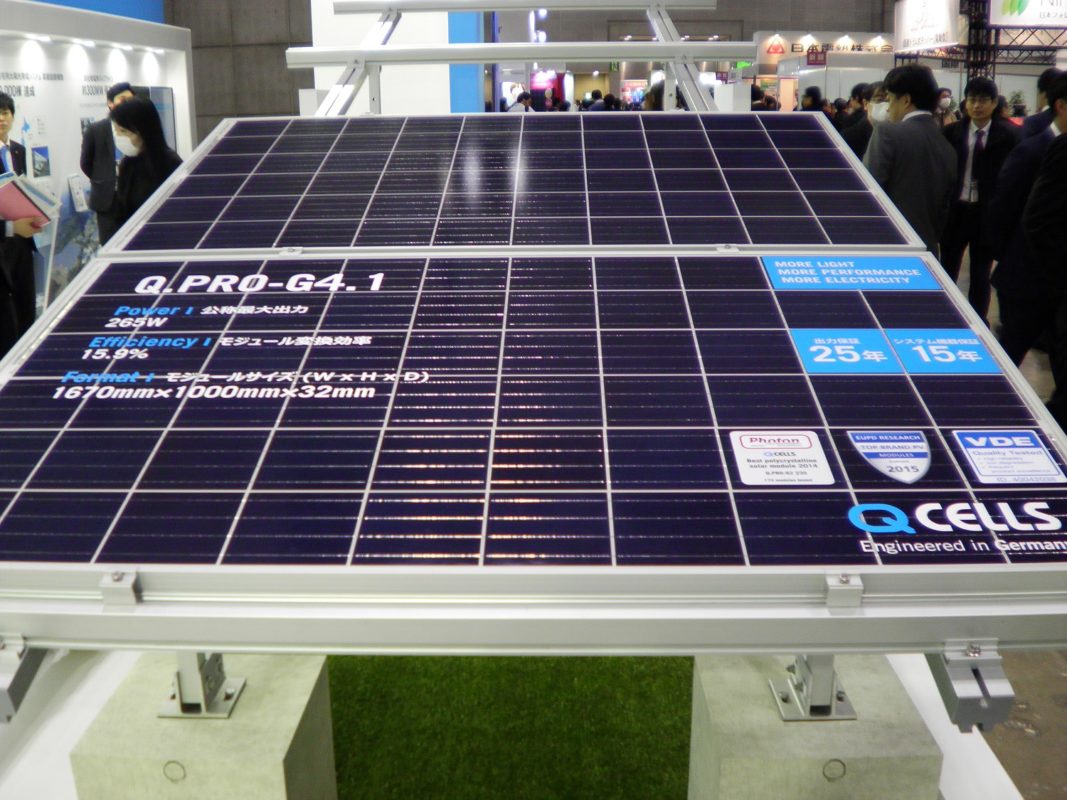 A long goodbye for mega solar
So there is still a lot of mega solar being developed, mainly from the pipeline of already FiT-approved projects. For an economy which is known for its gentle protectionism of domestic companies, Japan has been increasingly welcoming of international entrants, partly due to the simple fact that there won't be enough domestic suppliers of modules and other equipment that can supply these existing projects fast enough.
One Japanese company told me that the majority of exhibitors at the show this year seemed to be from China and of course Trina Solar, Canadian Solar and others were all there in force. Japan's businesess and consumers tend to value two things – domestic brands and quality of product. In the absence of sufficient domestic brands to deal with such huge demand, international players are increasingly being welcomed, as long as they can meet the market's often exacting requirements. The flipside of that is that many Japanese companies, from developers to system integrators, are finding domestic opportunities harder to come by in the saturating market and I met companies looking to go, or that already have gone, into newer markets (from their point of view) such as China and Africa.
This year, the main theme for modules at the show seemed to be this assurance of quality. Nearly all the makers PV Tech spoke to, from domestic ones like Panasonic to Vikram Solar – believed to be the first module maker to import into Japan from India – were offering modules with 25-year warranties.
Of course, at this stage of the industry, still driven by the FiT, high outputs are prized over all else for modules, but as we saw on the final day of the Tokyo show when a government official presented plans for a reverse auction process for mega solar, it will be all about streamlining project costs and making those kinds of long-term assurances on performance, lifetime (and indeed end-of-life) provisions an integral part of the project cycle.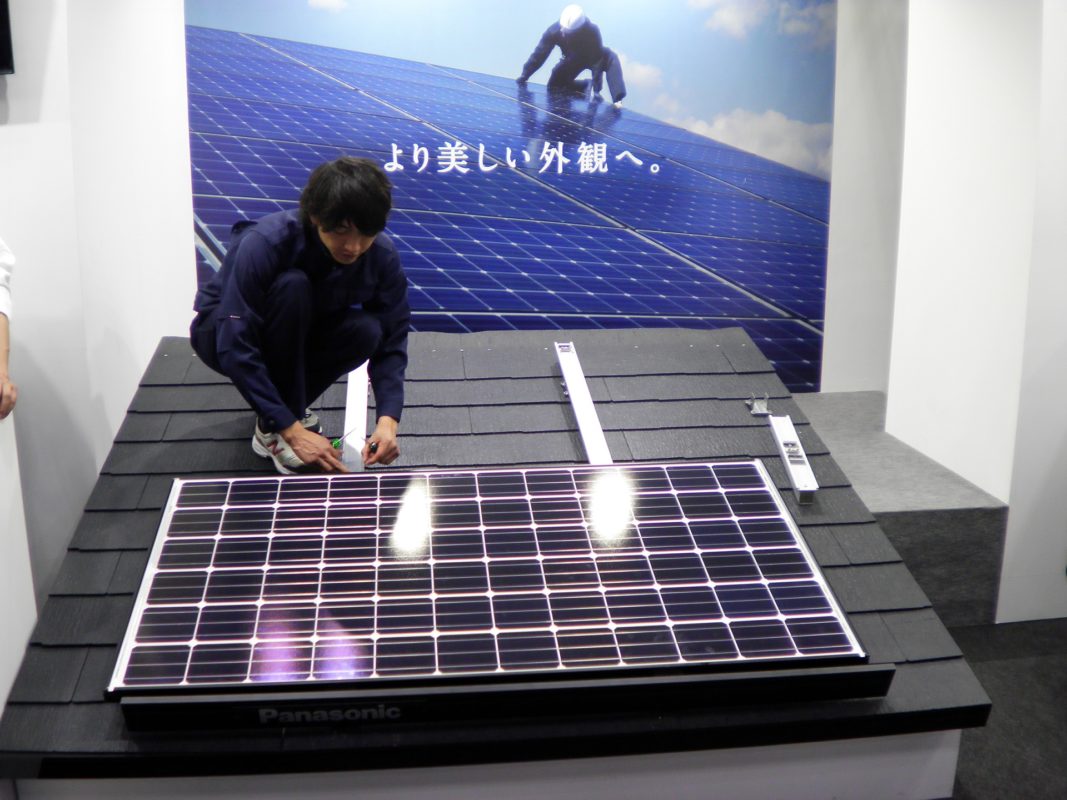 Drivers and the economics of decarbonisation
So, if it won't come from mega solar, where will Japan find these carbon reduction measures? Partly from other renewables, which to date have not taken off anywhere near as fast as big PV has.
Of more immediate relevance to our readers though, will be the twin policies around Zero Emmissions Housing (ZEH), which will be the standard for all new houses by 2020, and in commercial and industrial solar, which at the moment looks like an uncertain bet but is thought to hold promise.
In C&I, the economics have to change quite significantly, but there is a belief that the policies to support this change may only just be around the corner. At present however, while residential electricity is priced at ¥23 (US$0.20) to ¥24 per kilowatt hour, commercial is priced at just ¥11 to ¥12 per kilowatt-hour and heavy users, such as factories, pay just ¥7 to ¥8 per kilowatt hour. As such, even a self-consumption market in that space looks like a tricky proposition to promote, but there is a belief among the sources I spoke to that policy support is likely to come in the form of tax breaks or accelerated depreciation. Indeed, it probably has to, if Japan is to meet that emissions target and its renewables goal of 22% to 24% renewables by 2030.
So the main driver for CO2 reduction will in the meantime have to be from these Zero Emissions Houses, as Atushiko Hirano, CEO of Japan's vertically integrated CIS thin-film maker Solar Frontier, pointed out. A lot of work has been done in energy saving and efficiency in the past few years, especially since Fukushima. While Japan is an energy-intensive country (look up electronic toilets, if you are not aware of this phenomenon), many devices and appliances are fitted with power use limiters as standard, for example.
"Industry has done quite a lot of work in energy efficiency and energy saving activity in the past decades. There's not much room that the industry to contribute that much more. The majority of CO2 reduction has to come from the private sector, in other words, households," Hirano says.
The Japanese PV industry will hit parity by continuing on its cost reduction trajectory for systems to become competitive with other power sources. Indeed, the government's ZEH policy is coupled with a request from government to industry to acheive grid parity for rooftop solar by 2019.
The matching of demand to supply is largely likely to be a question of increasing the case for self-consumption on rooftops. Early moves in this direction have included a very interesting FiT-tied offering from Sekisui Heim, one of Japan's major housebuilders and a partner to Solar Frontier. Sekisui Heim developed a flat roof solution which features just over 10kW of Solar Frontier PV panels on its roof, making it eligible for the higher rate, 20 year FiT for total generation, rather than the lower 10 year FiT households usually receive for selling excess into the grid.
ZEH may be particularly appropriate to Japan, as Japanese people tend to favour buying plots of land and then building houses to go on them, rather than moving into a house someone else has already lived in. However, Hirano says, there is no reason why the technology and the ideas behind it could not be transferred to other territories. In either case, storage is expected to play an increasing role.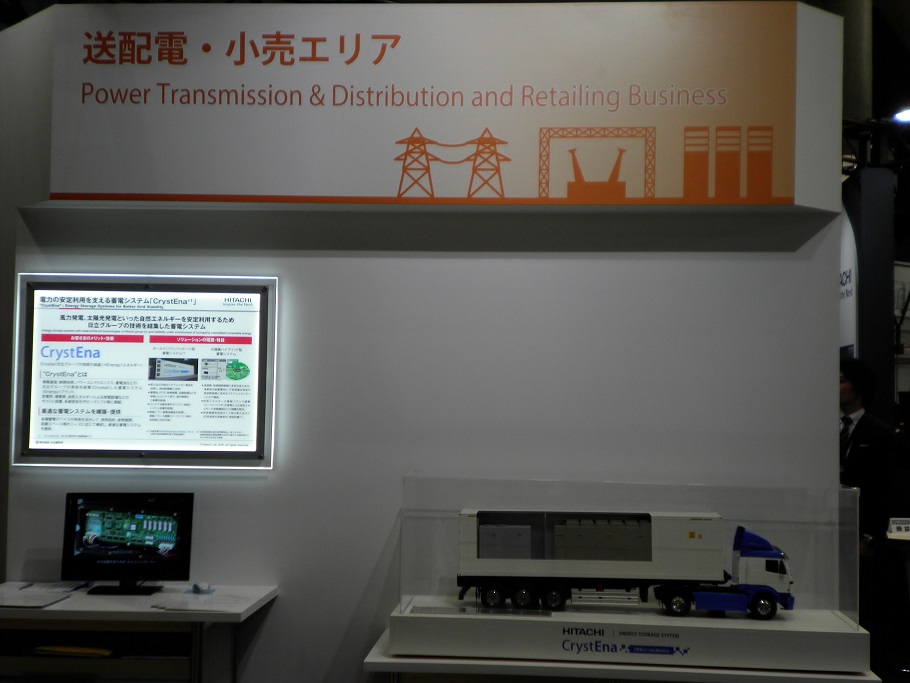 Electricity market deregulation in its early stages still
Liberalisation of Japan's electricity market is a process of several steps, and is only really at the second of those. Companies from various fields have signed up to sell power to residential customers from April, with the wholesale market having been freed up for C&I users last year. Until generation and transmission are unbundled i.e. taken out of the hands of the regional utilities which are also the grid operators at present, real freedom in the market won't exist, but there was certainly a lot of activity to lay the groundwork on display at the show.
PV Tech spoke to representatives of Hitachi, which was exhibiting in several halls, including the Electricity Market Liberalisation Expo. The company is presenting itself to new market entrants as an engineering consultant, technology provider, as well as a provider of other services such as financial consulting. The Hitachi reps said that the uncertain but promising future liberalisation presents will be pinned on bringing in generation and demand data onto IT-driven platforms and for each tranche of the industry from landowners with space for PV all the way down to retailers who'd like to purchase PV power to sell on and collectively figuring out each next step together.
More to come from me on Japan in future – I've definitely got a lot more to say! – but for now if you'll excuse me I'm off for some well-earned ramen and a look around the bright lights of Tokyo…