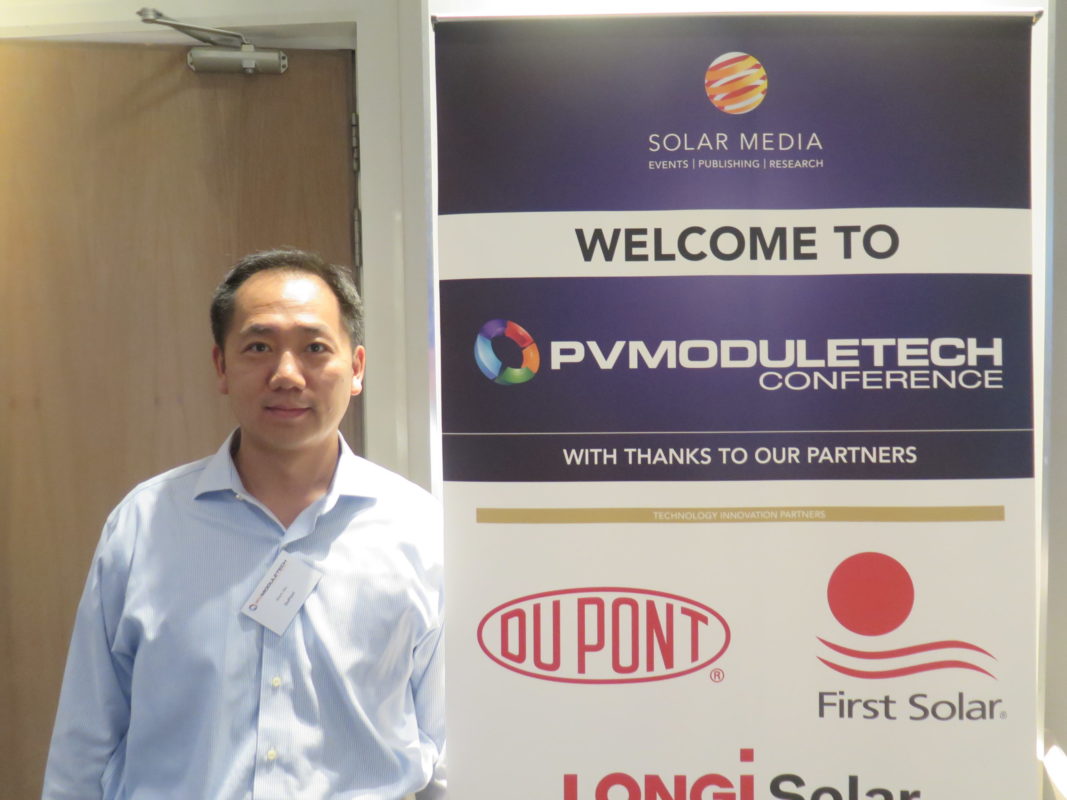 Module technologies tipped to enter the mainstream and the suitability of current testing methods were scrutinised at PV ModuleTech 2017. PV Tech caught up with Mark Ma, global marketing manager, DuPont Photovoltaic Solutions, to discuss these new innovations and methods of sequential testing.
How important is it for your customers to continue to upgrade and innovate?
New cell technology development has really accelerated in the last few years. PERC is booming, and the next generation technologies like n-type, HIT and IBC are coming in. We are also seeing new module technologies such as bifacial modules and shingled modules.
Innovation is the ultimate driver for lowering LCOE in the PV industry. DuPont continues to set the pace of innovation in the solar industry by continuously introducing leading performance pastes that work to deliver greater solar panel efficiency and power. In the last nine years, DuPont has introduced over 130 new Solamet metallization products. We continue to develop new products every six to nine months as each generation helps to improve the cell efficiency by 0.05% to 0.1% and apart from that we are also working on better testing protocols that could better simulate the outdoor aging mechanism and predict the long-term reliability of modules.
What kind of testing regimes are you carrying out?
We believe we need to increase both the efficiency as well as protect the module lifetime over 25 years as the industry expects. For PV modules to perform at least 20-25 years in the field we are developing the right testing protocol to make sure the lab accelerated aging test can better simulate the outdoor aging mechanism.
How to accurately measure if a module can stand for 25 years in the field is one of the most challenging topics for the PV industry. The current IEC testing method (single aging stress tests) is insufficient to accurately determine the reliability and durability of components over time. For example, they put a module in for UV testing and put another new module for the damp heat test and a third module for the thermal cycling test, however, in the outdoor environment, these stresses are occurring on the module all at the same time. Therefore, from a materials perspective, we would ideally have suitable combined aging testing equipment to demonstrate all these different kinds of aging stresses on the module simultaneously, but it's very expensive and very difficult to get these days.
As a result, we developed a sequential testing protocol, which is called MAST, Module Accelerated Sequential Test. For example, we use the same module to put through the UV test first, then the damp heat and then the thermal cycling test. Then we do another round of UV testing, so by doing this in a sequence we are adding the different aging stresses on the same module. That really can tell the difference in material performance and can better simulate the outdoor real-world conditions by repeating multiple field-aging tests.
By adapting MAST, we see different types of backsheet materials failures e.g. polyimide backsheet and PVDF backsheet. Cracking results on those backsheets are similar to what we found in our field research with early stage failures coming within only in 4-5 years of installation. We believe the DuPont Module Accelerated Sequential Testing (MAST) is the new standard in accurate, predictive backsheet field-testing and should be widely adopted by the solar industry.
To accelerate the testing cycle, we are also working on shortening the time required for this sequential test but maintaining the same testing capability. Initially, the test duration was nine months, now a six-month testing protocol is available.
What were your key takeaways from PV ModuleTech 2017?
This is a great event. It's a perfect balance of innovation and reliability. A lot of people talked about the importance of long-term reliability and the importance of bill of materials (BOM). It's really encouraging to hear that the industry is becoming more mature and people are beginning to realise that competing only on price will lead to poor quality and eventually damage the healthy development of the solar industry. Quality and long-term reliability are key to achieving sustainable development.
It's also encouraging to see that people are investing in new technologies at both cell and module level. However, the industry needs to be more careful before adopting new PV materials and technologies on a large scale and putting them in the field. A well-designed pilot project to evaluate and understand the durability and reliability of these materials and technologies is essential.
For example, the glass-glass module structure; module makers have been promoting it for two years, but over these two years the material keeps changing, because they keep finding new problems, so they keep optimising the design. That kind of pace we think is probably right. For any new PV module technology, we suggest using it at a small-scale first to better understand its performance in a real, outdoor environment and keep improving and then commercialize it extensively.
What do you see as mainstream by the end of 2018?
Mono PERC will continue to grow and is likely to become the mainstream. DuPont was actually the first paste manufacturer to introduce an integrated paste solution for PERC technology.
Also, we observed that black silicon cell technology is more mature, so next year this too probably will be mainstream for multi-cell technology. At the same time, we continue to collaborate with customers to develop the next generation paste for advanced cell technologies e.g. n-type and IBC and HIT.