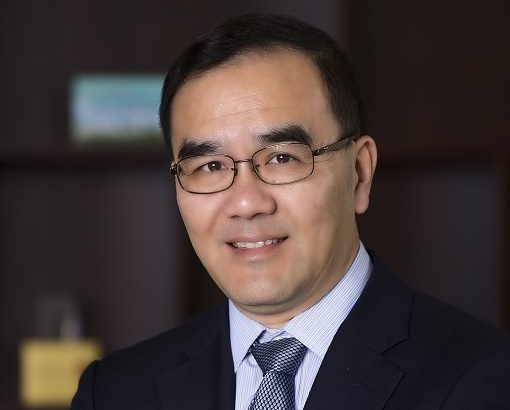 Shanxi-headquartered Jinneng Clean Energy Technology Ltd. (Jinergy) has set itself a formidable target as it approaches its sixth anniversary as a solar manufacturer. The PV cell and module maker wants to double its production firepower in the space of a year, simultaneously ramping up R&D efforts to ensure its heterojunction line achieves mass-scale success.
Are the goals within reach? PV Tech put the question to Dr. Liyou Yang, Jinergy's general manager, during a recent trip to China. Interviewed in downtown Shanghai, he fleshes out the plans for a manufacturing push next year and explains why China will remain central for Jinergy despite the recent downstream slump.
PV Tech: Could you briefly walk us through Jinergy's inception as a solar manufacturer?
Dr. Liyou Yang: Our parent and energy group Jinneng is based in the Shanxi province, known for its energy contribution to the [Chinese] republic since its founding. About 10 years ago, as coal plants were being wound down and business became tough, they started thinking about how to respond to the challenge and saw renewables were pretty good – fixed tariffs for 25 years, feasible timetables to deliver projects, etc.
Jinneng began experimenting and built the first solar and wind farms in Shanxi. Following their first success they became more serious and formed a clean energy unit about six years ago, which has deployed 2GW of wind and solar so far. There were concerns about components, however: at times solar panels were in high demand so it was hard to get the right stuff. Jinneng thought – since we're doing this, why don't we extend the value chain to upstream? Jinneng thus saw the light as a solar manufacturer on the last day of 2013.
PV Tech: What is your current production capacity for PV cells and modules and what are your growth plans for 2020?
Dr. Liyou Yang: Right now we've got a PV cell and module production capacity of 2.2GW overall, with 900MW of the total mono-PERC and 100MW heterojunction. Production takes place at two factories in the Shanxi province, and we're building a 100MW addition at one of the two as we speak.
Next year we want to push capacity up by 2.3GW, to reach a total of 4.5GW. The reason is we want to stay in the game, to catch up not only in terms of scale but also technology. Even within the same generation of technologies, evolution has been pretty fast – the PERC lines we see today are so much more efficient compared to lines built six or 12 months ago. We've waited a little bit but now it's time to increase our capacity, and upgrade the overall technology content in the process.
PV Tech: Which locations and product lines will Jinergy specifically look at as it aims to double production in the space of a year?
Dr. Liyou Yang: The new 2.3GW is going to come from new factories. In the case of cell manufacturing, the facilities will definitely share the same location of our existing two factories [in Shanxi]. We have a pretty large campus there so land is already available – all we need to do now is build. For modules, we're currently looking at a few options near seaports. We serve many overseas markets so our current bases are not as efficient in terms of exports.
With regards to technologies, for the 2.3GW of new production in 2020 we'll still be doing mono-PERC. Within mono-PERC, however, we'll be looking at the most advanced technology elements and equipment developed so far by the industry. We hope that we can produce the best cells in terms of efficiency and cost in our new factories. Obviously, a key aspect here is wafer size.
PV Tech: What about sales? What is Jinergy's target for 2019 and where do you hope to be next year?
Dr. Liyou Yang: Our plan is to finish 2019 with over 2GW in product shipments, 40% of which should go to the domestic market and 60% overseas. We haven't set sales numbers for 2020 as of yet but I think they could reach 2.5GW all in all.
In terms of specific products, uptake of our JNHM72 heterojunction module [which broke the 450W output mark this year, as Jinergy announced at the PV CellTech event in March] has been quite good but we remain focused on R&D for the time being. Costs remain on the high side with JNHM72 so we're trying to push down on that to ensure we are competitive against the legacy products. The current goal is trying to get our second line in place, raising the performance level while reducing costs.
PV Tech: As you look to boost sales next year, do you think China can remain – given the slowdown evidenced by official stats – as important a PV market for Jinergy as it has been historically?
Dr. Liyou Yang: It is possible we might sell less to China next year. People have had quite optimistic expectations for Q4 2019 deployment but there is the planning and then there is the execution, the two may not come together – the final numbers may not be as good as people have thought
However, China remains the largest solar market worldwide and even if there are fluctuations, Jinergy represents a relatively small fraction of the total market share. We also concentrate fairly significantly on the Shanxi province, which we expect to do relatively well in the overall Chinese market. So even if there is a slight drop in domestic sales for us next year, we think the share will still be significant.
PV Tech: If overseas business does become even more central for Jinergy next year, what role do you expect Europe and the US will play in your shipments?
Dr. Liyou Yang: This year is only the second we are selling to Europe but we can definitely see it growing. Many of the countries there are growing although they are not alone; price decreases are stimulating the market environment worldwide so we see growth everywhere. In Europe we are looking at all major markets and we are gradually entering Germany, Spain and Ukraine in particular – we've already supplied around 100MW this year to the last of the three.
As for the US, we are not currently doing anything there but we're still looking at ways in which to find business, whether through an O&M partnership or otherwise. We are also considering our options in terms of building factories overseas to avoid [the US'] Section 201 import tariffs. We're doing a fair bit of business in India so a possibility could be that we build a factory there, either by ourselves or in partnership with someone else.
PV Tech: How important will India's solar market remain for Jinergy going forward?
Dr. Liyou Yang: India is currently our big overseas focus. Over the past three years we've established a very good reputation among the country's major players and customers. And since India is still poised to do well in solar in the coming years, we believe we've earned the trust to ensure we can continue to serve the market well.
Elsewhere in Asia, we're opportunistically looking at all the major Southeast markets at the moment, with plans for direct deals with customers but also EPC companies who are doing business in those countries.
PV Tech: What do you think will be the top challenges for Jinergy next year, as it strives to outrun competitors and retain a strong foothold in the global solar market?
Dr. Liyou Yang: The biggest challenge in my mind is uncertainty, the doubts around how the world market will be collectively performing in 2020. Given the drastic cost decreases we've seen, particularly on the mono-PERC side, the key question for me is whether all this rapidly rising production capacity can be fully utilised.
For Jinergy, 2020 is going to be an important year for our continued R&D efforts around heterojunction. By the end of the year, we hope we'll be able to reach our internal goals and targets for the expansion into this new innovation but we'll have to see what the results are.