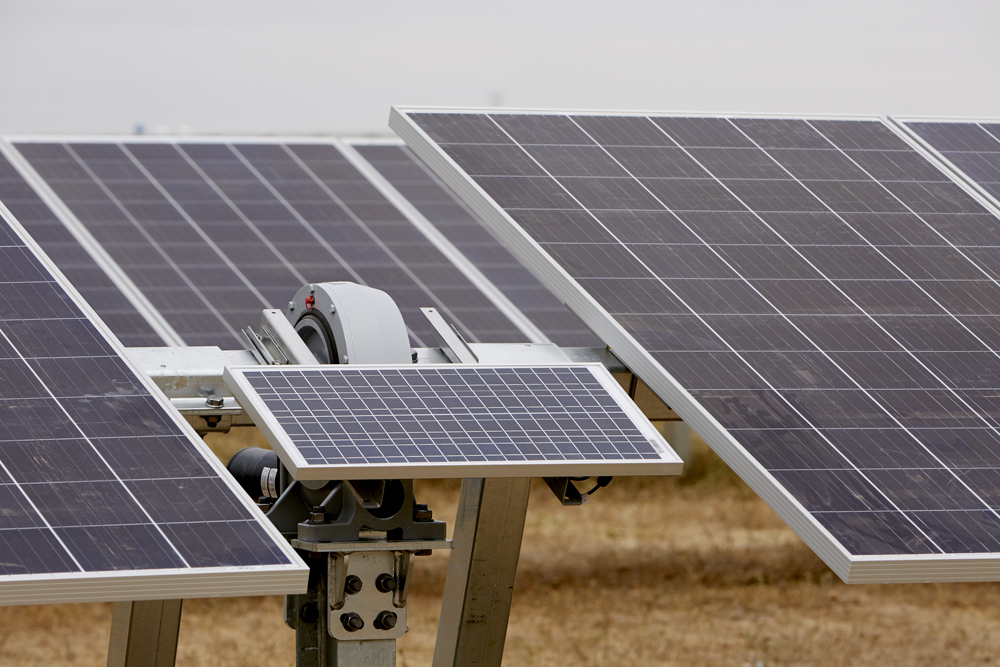 Spain's turn from European PV cautionary tale to industry darling in just a few years has become a key theme in the solar debate of 2019.
As those attending recent industry get-togethers will know, the talk is now of a market once defeated by subsidy u-turns but today known for subsidy-free potential. From 2018's 4.74GW, the country is expected to add a whopping 19GW of PV within the next five years, nearly catching up with France and Italy in the process. Policymakers, this time around, appear to want to help.
For those keen to secure a slice of the market, the flipside as competition heats up is they are far from alone. Some, such as manufacturer-turned-developer Solaria Energía y Medio Ambiente, have been active for years and want now to tap into that legacy to stay ahead. David Guengant, head of investor relations, outlines below the firm's roadmap to develop 3.325GW by 2023.
PV Tech: Could you walk us through the inception of Solaria?
David Guengant: We launched around 2002 as a manufacturer of PV panels and modules, and listed in Madrid in 2007 to secure funding for our two facilities. The business was popular then so we were one of dozens, of which almost all have gone bankrupt today. Over the years, we grew to do projects all over Europe, Latin America, the Middle East; we would take care of EPC, financing and so forth.
Spain's economic crisis and regulatory changes meant there was no longer demand nor subsidies for manufacturers, and Chinese competition arrived. Eventually, we closed our production plants and refocused on developing projects from scratch. A lesson we've learned is we're staying clear of EPC and O&M – it's too intensive, there are delays and little margin to be had.
PV Tech: What is the current state of your PV pipeline, both up-and-running and under development?
David Guengant: There's 75MW we've already completed, 35MW of which are Spanish assets backed with subsidies from 2008. We're now building a further 400MW in [the Spanish inland regions of] Castilla y León, Castilla-La Mancha, Aragón. Castilla y León's sounder administrative processes and slightly colder weather, good for panels, make it a región we want to be in.
Then there's a 658MW second batch we'd like to link by the end of H1 2020. We're at the engineering stage of the EPC process with these, so we've yet to finance and buy components. The next step is reaching the 1.375GW mark of linked projects by the end of 2020, and then working to hit 3.325GW installed capacity by 2023.
PV Tech: Deploying 650MW a year seems fairly demanding. How does Solaria plan to get there?
David Guengant: Firstly, we're keeping small. We don't want to deploy 500MW projects, we prefer 20-40MW, this is not wind but solar, and we can deploy smaller plants closer to connection points, which is a lot more efficient. Being an early mover in Spain means we've managed to secure a significant number of land sites and connection points.
We think our past as manufacturers will also help. Having made modules ourselves we like to directly purchase the components we then hand over to EPCs. We typically send people to China to verify quality – because we understand the materials, we're fairly confident that we've got a good picture of costs.
Our goal is to be a low-cost solar player, to build for €500,000/MW where others offer €800,000/MW. We think it's important to keep costs in check because we don't know how energy prices will evolve in the future – it's good to be prepared in case they decline.
PV Tech: Which providers do you tend to work with?
David Guengant: With the 400MW pipeline we're working on, part of the modules are Risen's, but we can also work with Yingli and Trina. For instance, for our projects near [the town of] Tordesillas, we went for Risen modules, Sungrow inverters and Siemens transformers.
PV Tech: Having refocused on PV development, what have you learned about the Spanish market?
David Guengant: From what we've seen, financing is okay today because there's a certain bubble but it could become a bottleneck going forward. For our own projects, we've worked with [lenders] Natixis and Sabadell. We had 250MW supported via Spain's auctions in 2017 and have put forward projects for Portugal's upcoming tender, but we're not looking to re-enter Spanish auctions for the time being – we've reached a point where we can do without.
What we'll do a lot more [of] is PPAs. We signed a seven-year physical PPA with Repsol in 2018 and we're negotiating a pipeline of over 1GW, including 300MW and 125MW deals with utilities and 100MW with a Spanish corporate. We've been surprised by the fact most of the PPAs we're negotiating are physical, with a solar profile – a push by firms to market themselves as green means there's a lot more demand today for guarantees of origin, which is positive.
We won't necessarily win all the PPAs we're negotiating as others may offer lower prices but we're not anxious to win agreements. We think being one of Spain's solar frontrunners means we can take it slower and sign PPAs with prominent offtakers, allowing us to get great financing conditions.
PV Tech: In June, your CEO Enrique Díaz-Tejeiro said the firm is staying clear from ongoing "speculation" with grid connection applications. What did he mean by that?
David Guengant: We think there is a lot of fictitious grid connection requests in Spain, with people applying for MWs without even having secured a site. Some want to speculate, selling the permits in the end, but we believe the Spanish regulator will act. Perhaps those requesting a connection point should be asked to produce a site and a timetable for how projects will be built and delivered. We hope that will be the outcome going forward.