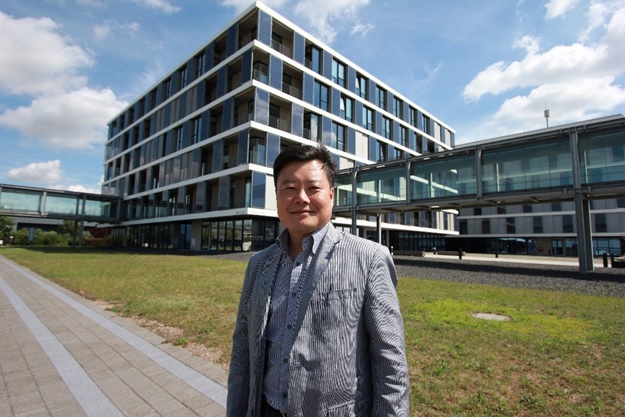 Recently, during part of travels to Asia region, I took the opportunity to meet up with Q CELLS CTO Daniel Jeong, to discuss new developments at Q CELLS and also share some thoughts on the industry and manufacturing trends today.
Technology has been a key focus for Q CELLS over the past decade and being an early mover for PERC. What are the main benefits for end-users in terms of performance and reliability?
Daniel Jeong: "Q CELLS was a first mover to take the PERC technology into real mass production. We were the first cell manufacturer in the industry to make it happen at GW scale, as early as 2012. Before that we spent a lot of time – around 8-10 years – in R&D to develop the technology from textbook theory to real working products. The PERC technology has become a mainstream technology in the industry right now. Q CELLS can be seen as the benchmark.
The main benefit is higher efficiency, which means more energy yield. Everyone can expect better conversion efficiency: but the way Q CELLS has been developing the technology and proprietary techniques further optimizes for better reliability, not just for cell efficiency.
Everybody is producing PERC cells in products, but it is not that easy to understand from the customer perspective to meet expectations in terms of energy yield and reliability. For example, the instabilities of the PERC cells; one of the key technical problems. Q CELLS has been mitigating these, based on improved LID and LeTID and also PID, to further improve efficiency and reliability. This means much less degradation in the field for PERC based modules, leading to more benefits to the customers, with more durable and higher performance products."
Finlay Colvile: When Q CELLS introduced the PERC technology, PERC was not a word that the industry knew about broadly. Then, it was just a process that added efficiency and performance. Hanwha went through all the steps to understand performance and reliability on PERC. Now much of the industry is wanting bifacial modules, and you need rear passivation for this.
How much of the work done on PERC is really a benefit now in offering bifacial modules?
"Yes, from a technical perspective, 10-15 years ago, PERC was not the mainstream technology at that time. But even then, some cell manufacturers were trying to promote bifacial modules using their advanced technologies, such as heterojunction: but this was high cost for manufacturers, and at that time, some of the producers were not just trying to promote bifacial cells, but also bifacial systems, even including a reflecting surface.
However, this was not too successful because of the high cost, and all of a sudden, bifaciality was gone then from the industry.
But as soon as PERC moved to mainstream, it was perfectly normal for manufacturers to seek to implement the bifacial technology. From a reliability perspective, it makes very little difference between mono-facial and bifacial modules."
Finlay Coville: Indeed, I think the situation with the early movers for bifacial using heterojunction was driven by a few factors. It is debatable if these early players were ever serious about introducing bifacial. Their main markets was always going for small volumes to residential segments, and they were never set up to do volume shipment for anything large to ground-mount or utility.
This goes back 10-15 years ago. And then when the module ASPs started to decline significantly in the industry, these niche players could only sell to rooftops, and only if they could get a 25-30% premium on pricing. Even at this point, they were likely still losing money making modules. So there was never any appetite here to do bifacial in a meaningful basis.
Essentially, while the technology was inherently rear passivated, it was wrong-time, wrong-place for bifacial.
Moving now to capacities in different regions, and the importance of having cell and module capacities globally, how has this been important for Q CELLS to supply global markets? Today for example, what is the main challenge for locating cell and module capacity globally?
"At the moment, Q CELLS is unique as a manufacturer – with a diversified base in many continents. That was mainly due to uncertainty of the markets. Over 20-25 years, there has never been clarity on what is really going to happen in the next year.
From a business perspective, we wanted to have diversified capabilities across regions. This allows us to satisfy customers in different countries where there can be specific issues for supply.
Effecting this is not easy though; however, Q CELLS has a good combination of Korean executive management and German engineering (and excellence in organizational departments globally). Without these competencies and capabilities, it would have been challenging to be so successful doing this.
The initial goal was to add value for the customers, as they want to secure high quality reliable modules, no matter where they are located."
Modules produced in China can still satisfy much of the world today – Southeast Asia, Europe, Australia, etc., even India. How important is it to have multi-GW in Korea, when the cost to manufacture in China is still the lowest globally?
"Cost is the crucial part for success in solar, but this is not everything. Q CELLS has been proud of technology leadership, together with manufacturing excellence. Our new technology has not been developed just for high efficiency and cost, but also how to better make the products in the right way, in the best locations based on the correct competencies.
Malaysia and China may have better cost than Korea, but in Korea, there are many benefits to be gained. For example, Korea have a very strong microelectronics sector, for semiconductors, LCD displays and so on. As a result, tool manufacturers are very strong, not to mention automation and IT-based services. All these competencies are uniquely located in Korea, and these have been integrated in the Q CELLS factories here.
In fact, in the German R&D facilities, we run a high-tech line with the same tools and same equipment as in Korea. Our R&D people in Germany can therefore use this line to develop new processes, and then this is first transferred to Korea for mass production."
When we look at capex and R&D, what are the goals for the next few years, in terms of investment in production lines? How important is this to maintain brand and reputation?
"Technology leadership and quality leadership are the core values at Q CELLS. For R&D investment, we have been investing $80-90 million per year for the past five years, and this is among the leading position of all global players today.
These levels of heavy investments for new technologies have always been very important until now, and will be in the future – as this is a core value of Q CELLS, to provide qualified technology and products with reliability to the end-users.
This comes through with our PERC technology, but this is just one part. We have also been further developing this technology to push the limits of the p-type cell types. We see further potential to improve PERC to reach 24%; at the same time, we are working very hard on n-type and next-generation options, because we want to be ready to choose the right technology for end-users.
At the moment, n-type is not that much more competitive than our PERC technology; but there is potential still. Both p-type and n-type are running in parallel as R&D activities at Q CELLS.
Also, we have already started to look at next-generation technologies, involving tandem structures, combining silicon devices with perovskite materials, for example.
Therefore, we are heavily investigating existing technologies, from a cost effective standpoint. And from a mid-term standpoint, the n-type technologies. Then for the long-term, we have started to look at totally new generations of solar cells involving for example perovskites."
In terms of bankability now, what role does Hanwha Group play here? Obviously, group turnover at Hanwha is large, but how does this impact on say a household user putting 12 panels on their rooftop. What benefit does this person have for example?
"Being a part of Hanwha Group – one of Korea's top-8 diversified enterprises – gives Q CELLS many benefits – not just by name. Hanwha Group is strong globally, across different business activities. For example, our sister companies and affiliates under Hanwha Group have many competencies on the manufacturing side – automation, tooling, materials, chemicals and so on.
In our production lines here in Korea, for example, some of the tools were developed by Hanwha Machinery expertise through our affiliates, and using the German R&D inputs.
When we try to develop new devices and processing technologies, we are looking always if there are better solutions or tooling. In terms of maintaining our technical leadership, we want to have our own proprietary technologies in-house at Q CELLS.
We also work closely with Hanwha Materials to develop more durable and reliable encapsulant materials for modules.
Therefore, there are many benefits within the Hanwha Group structure, but bankability is also helped greatly."
Finlay Colville: It could be that Q CELLS benefits here also because the Hanwha Group structure allows Q CELLS to plan long-term – while many other PV module suppliers do not have this luxury, as they can't afford any downturn – especially if they are module revenue focused and could potentially be faced with 6-9 months losing money if ASPs fall quickly.
These other companies often do not have parent companies that allow them to go through industry downturn cycles.
In this way, Q CELLS clearly benefits, as this allows a different type of planning – not affected by short-term industry impacts – knowing that the parent company is there to support at all times.
When I look at the industry as a whole, it will be interesting to see how this type of arrangement does evolve in the industry in the future. For example, 10 years ago, many people looked at Japanese module suppliers as being somewhat protected by corporate structure entities, Sharp, Kyocera, Mitsubishi, Showa; but for many of these, solar operations are mostly gone because manufacturing was consistently loss-making.
These companies for example could not work out how to change when needed, and which markets made sense to go for selling modules. So having a parent company can be good, but does not always work.
Daniel Jeong: "Hanwha can be seen though to be different in this regard. In fact, it was just around the time that these companies you mentioned decided to step out of solar – this was the time Hanwha decided to step in – when the industry was in a downturn.
Stepping in was not for a short-term 'win', but to have a long-term target, to eventually make solar one of the Group's growth pillars. This is a major difference behind Hanwha in solar today.
Finlay Colville: "Yes, in some ways, the Japanese corporate entities came into an industry that was not yet fully 'commercial'. They played in the sector – similar to others like BP – from an R&D leadership perspective, and not from a view to full commercial mass production growth.
Let's move on now to look at the rooftop demand in the industry.
Q CELLS have a strong rooftop market-share today. In the past within the solar industry, this segment of the market has been government incentive driven, however.
What do you think the rooftop segment will look like, say in 5 years, as this is very important for Q CELLS, more so than other module providers that choose to avoid this segment mostly and focus on large utility projects on the ground.
Q CELLS has chosen though to keep rooftop as a key priority. So when the incentive vanish, what does this market look like? How is it different compared to today?
"Q CELLS has been very strong in the residential rooftop segment, for example in Germany, France, Japan, the US and other regions. Even though we have been so successful traditionally in these segments, there is a challenge still to maintain our position here, and to expand further.
We have already started to evolve, going into new business models. For example, we introduced the Q.Home storage solution in Germany, and are expanding it now to other European countries and also Japan.
We also introduced our Q.Cloud system and Q.Energy – which is basically an energy contract that ensures 100% renewable electricity supply – more in the solution provider business.
Our goal is to become a provider of energy solutions, not just for selling modules. This is the main strategic direction to maintain our position and further develop business in this segment."
Does this require a different type of sales organization overseas?
"Yes, we have been establishing different sales channels, in Germany and other European countries where we have been successful so far. This means having closer direct sales to the customers, rather than still going through distributors or middle-agents"
Finlay Colville: "Indeed, it is often hard to work though legacy channels for modules – these type of customers are typically not going to change their business models. So it is a business module where Q CELLS has to be proactive. Many module suppliers do not have a viable global footprint, but it is still a big challenge.
In the past, for example, there have been cases where PV companies have tried to change business models, and they have not had the ability to see globally or outside their own domestic market. Chinese companies for example, often have ideas and product availability, but they don't know exactly how to do business outside China.
It is of course, not just rooftops, but for all solar, once incentives go – and the need to change business models. Looking at some of the countries where incentives have been cut quickly, many people think the market will flip to a grid-parity environment.
Often the issue is not making the numbers work for solar deployment, but the problem is that few are set-up to change their business model to allow this to happen.
This extends to solar rooftop installers of course, and the group of companies playing in this sector until now is not necessarily ideal to lead post-subsidy residential activity going forward."
Daniel Jeong: "In this sense, in terms of new business models, this is something where Q CELLS benefits from the Hanwha Group structure. The Group has experience and competency in finance sectors also – a long history in financing businesses."
Finlay Colville: "The challenge for everyone of course is doing this business model outside their domestic country, so it will be interesting to see how this evolves going forward."
Daniel Jeong: "This is a Q CELLS plus – having good experiences in different countries. Take Europe for example, and other global regions we are very strong, Q CELLS' network of installers helps considerably. In Germany alone, we are close to 1,000 partners. This is unique in terms of sales structure for the solar industry.
Going to the next level of products in a grid-parity market, with solar and storage, EV's may be of value. These work through the same channels established in many countries.
In Germany for example, we continue to hire across a range of different functions, to grow the business models, with a 20% staff increase to allow for this.
Q CELLS made the decision in the past couple of years to stop making ingots and wafers. As a wafer purchaser now, what benefits can be seen?
"Our facility in China for making ingots and wafers was relatively small. We spent some time working out whether to invest here to scale up, or if we should focus more on our core competencies in cells and modules.
Since then, we have been able to focus on key products and cost savings, and focusing on R&D and production such as throughput, half-cut cells, thin-wire for interconnection, for example.
In parallel, we closely look at the market, in case any new decisions need to be made."
Finlay Colville: Thank-you Daniel for your time, and for meeting up while I am in Asia – good luck with everything going forward, and will catch up again in 12 months to see how everything has evolved.