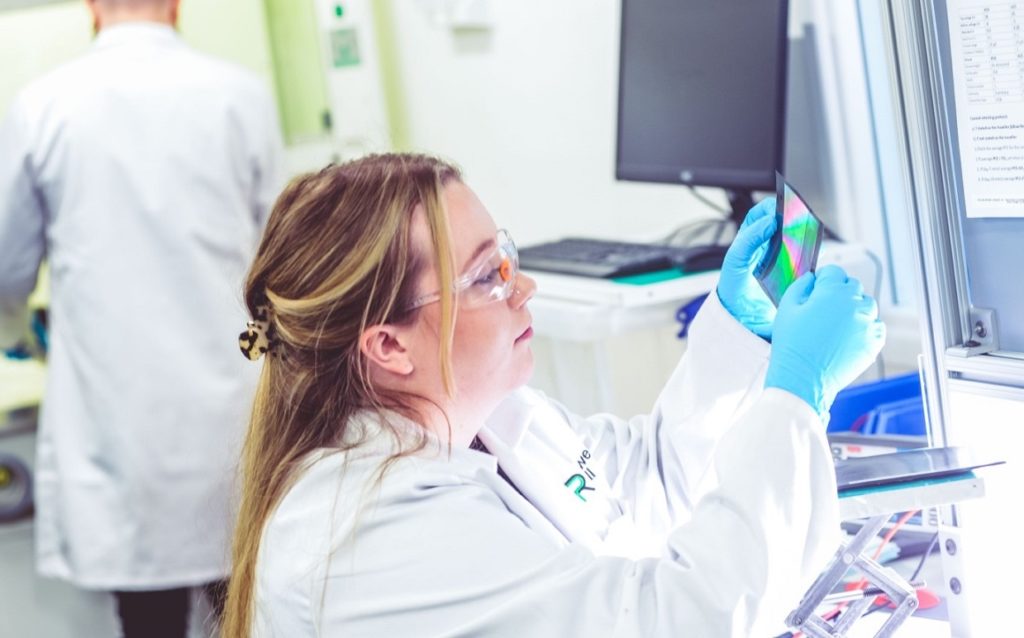 PV Tech Premium spoke to Neil Spann, CEO of Power Roll, about the UK company's new architecture designed to house solar-absorbing materials such as perovskite and the vision of a gigafactory in northeast England. Spann discusses the caveats in current perovskite development and the astonishing carbon payback, customisation and power potential if perovskite used in the Power Roll films makes it to mass production and overcomes the typical barriers.
PV Tech Premium: What developments is Power Roll bringing to the use of perovskites in solar generation?
Neil Spann: We wouldn't describe ourselves as a perovskite company because we are a company that's developed a novel way of making two-terminal electrical devices including solar panels and we happen to be using perovskites.
Instead of doing the hardcore perovskite development, Power Roll works with companies that do, and we can take those materials and deploy them into our unique architecture. Rather than the perovskite inks, our fundamental innovation is a new architecture invented by Dr Alexander John Topping, a scientist from Northeast England, who set up the company with renewable energy professionals in Country Durham, near Newcastle.
With the novel structure, Power Roll makes solar panels in a globally unique way using microstructures or 'microgrooves' and we are now developing a perovskite solar film on the back of recent developments in the world of perovskites. The original concept of our underlying architecture was designed and born of the food packaging sector.
How many years away are we from seeing the Power Roll architecture as a mainstream product in the world of solar energy production?
It's difficult to be very precise about the future of perovskite because there's some challenges that the perovskite community needs to overcome including lifetime, instability and reverse bias.
Reverse bias is caused when an individual cell is shaded and other cells in the module try to push a higher current through it. This itself can cause damage to a shaded cell. Some perovskite cells use heat-sensitive materials which can be damaged from reverse bias, or the actual cell itself can increase in temperature and cause burning (hot spots).
Power Roll cells, on the other hand, do not use heat-sensitive materials. Our modules are also small – we can have hundreds of modules in a small area – and individual cells within these modules produce small amounts of current compared to the large cells that other producers tend to manufacture. This small amount of current per cell means we are less sensitive to cells heating up and sustaining heat damage when we encounter reverse biasing.
Having progressed from lab development to having a pilot plant in County Durham making rolls of film, we are forecasting that it will take two to three years to get our unique product into the market. The mission is to set up a 100MW production facility as our first line here in the Northeast and then we want to scale that up to a gigawatt. That's our vision.
We also want to then license our technology out internationally, having already found early-stage partners in India and Japan who are looking at the potential to set up a plant to serve massive local markets.
There has been a lot of scepticism around perovskite over the years. What are the main challenges?
Outdoor durability is the first fundamental challenge since several perovskite modules have passed accelerated ageing testing and then in real-world environments have failed. However, new formulations of the perovskite materials are starting to overcome this with some encouraging recent results from the likes of the National Renewable Energy Laboratory in the US.
Since we've re-engineered how solar panels are made at Power Roll, we believe we can bring the cost down even further than other perovskite developers. That means that we can probably support a shorter life because of our low-cost manufacturing approach. Our vision is to get our first product into market with a 10–15-year lifecycle rather than searching for that 25-year lifecycle. The payback period can be under two years and as technology moves on, I'll be happy to replace a film in 12 years' time with a product that's twice as good.
We've tested some of our products from the pilot facility outside now for seven months and we've seen 0% degradation so far in the real world. Now, that's just a one-off test and it's very early days, but that gives us some comfort.
The second perovskite challenge is certification. The current IEC standards are very much based on the dominant silicon technology. We feel that when it comes to various tests like flash testing, there needs to be acknowledgement that perovskite is a different material. There's some work to be done as an industry to understand how that might be enabled to make sure that the certification is appropriate.
The third point on what's stopping perovskites coming to market is that most but not all perovskites have lead content. For certain applications that may become a limiting factor. Lastly, it is a case of market acceptance. People are used to silicon panels and things being a certain way, and we're bringing something new to the market.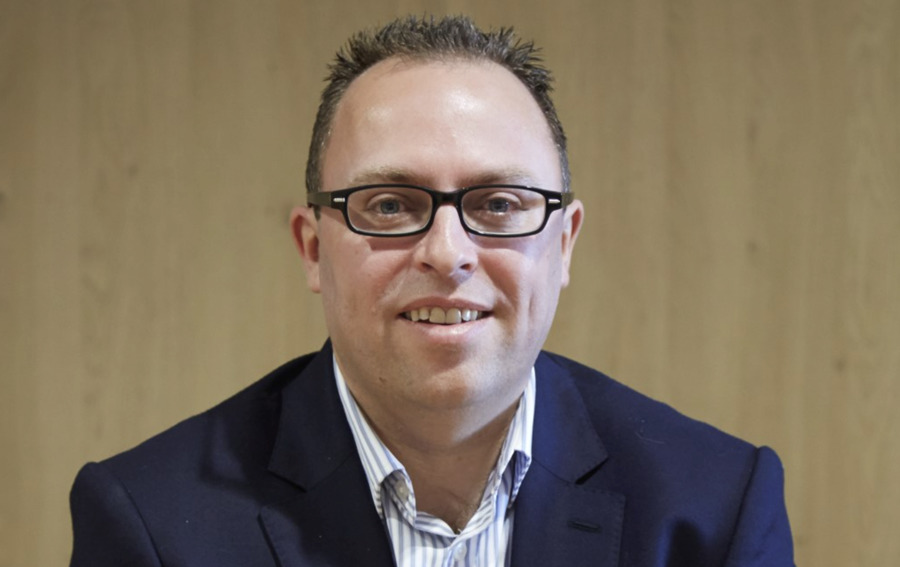 Because of the low production costs, you said you can aim for 10–15-year product lifecycles. How recyclable are the products?
We are using a standard PET substrate on which we create microstructures to deposit various metals. We use no rare earth minerals in our system. We then deposit the perovskite ink and encapsulate it in other barrier films to protect it from the elements. So, we've got a composite plastic film with a total thickness of less than a millimetre.
In theory, all the elements we are using have a recyclability. We're working to see how effectively it could be recycled and how cost-effective that would be, but this work is ongoing.
How large are Power Roll cells?
In standard silicon and perovskites, the technique is to make a cell which is maybe 200cm2 and then combine those cells to make a module. What we do is fundamentally different. On an area of about 220cm2 on one of our films, we have 80,000 solar cells, because each of our solar cells are microstructures smaller than a human hair connected in series by the unique pattern. Each of our cells can generate one volt. So that small rectangle would generate 80,000 volts. A second piece of our technology is then used to chop those 80,000 volts up into a suitable and usable voltage.
In one particular pattern, the 80,000 solar cells are connected into 268 individual microscopic modules each of 300 grooves, which generates a 300V output. This is completely unique and because of it, whatever damage is done to any of the modules, the rest of the modules will continue to work, offering robust resiliency and performance characteristics.
The product will be up to a metre wide and potentially 10 metres long as an individual roll, which could go on a commercial rooftop, the side of a building, a truck or off-grid application among others.
Currently, silicon modules are set by how many cells you want to put together. We can have virtually any width and length by changing the pattern that we get produced on the film. So, it's a very different way to make a much more adaptable and customisable type of solar which will also be very low cost to produce.
It's also worth noting that our unique micro-groove approach eliminates the need for expensive top contacts and cell-to-cell electrical connections.
Do you make your own films or license the technology out to manufacturers?
We're making the film with just four main production steps. First, for the embossing, we put the microstructures into the film… Secondly, we have a vacuum coating stage where we coat those microstructures. Thirdly, we print ink in the micro-grooves using a roll-to-roll printing process. Lastly, we laminate.
On the pilot line in our UK factory, we are doing three of those steps with the embossing stage outsourced, because, quite frankly, that technology already exists. Our next step is to scale up to a commercial-scale factory, initially 100MW and then up to 1GW of annual output. We would then look to license this whole package out to be able to build factories initially in India, Japan, Europe and the US.
What applications are those potential clients in India and Japan looking at?
The demand for PV in India is huge and it has government support. There are three main applications in the Indian market. The first is large-scale commercial and industrial (C&I) rooftops, which have difficulty bearing loads. You have big spaces but sometimes those roofs might be of poor quality. However, because our weight load is 0.5kg per m2, as opposed to silicon, which is 12kg per m2, we can open up those rooftops to solar generation.
The second is off-grid because you can carry 20kW of our technology under your arm, in terms of weight. There's something like 600,000 rural villages in India, which are nominally on the grid, but are not in reality. This is about getting 10-50kW of solar film into a village to either power the homes or perform water pumping. It's a big application given there are around 30 million water pumps in India and each one requires about 5kW of solar to transfer them from diesel generation. Finally, the residential segment is also likely to be a good market.
There are different applications for different markets. It is very different in Japan because they have little space and lots of vertical building. So, the opportunity is rooftop, but also vertical applications given the tall height of buildings, and other infrastructure. While the room for Japanese solar farms isn't as large as it is in some parts of the world, there are many flats, apartments, industrial buildings and factories that could all have a lot of surface area generating electricity.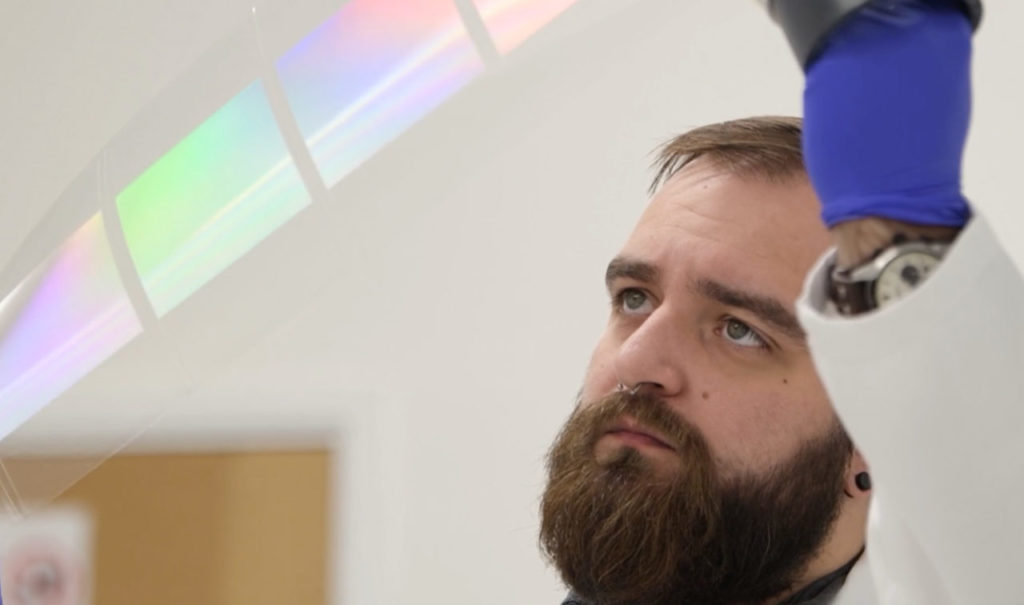 What stage are you at with financing?
We've gone through the typical phases of funding and have raised about £23 million of equity into the business. Initially, we funded it ourselves to get the initial science proven. Then we went through the friends and family phase and angel investors. More recently, we've started to bring some larger scale external investors with the likes of Maven Capital Partners, Kero and I7V Renewables on our share register now. We've also had support from the UK government and Innovate UK funding. In total, we've had about £2.3 million of grant funding to date.
For the next phase we're looking to build the factory out in the Northeast of England and we'll need to raise about another £35 million of investment. So, we aim to bring strategic investors on board and larger scale financial investors, which will take us on that manufacturing journey.
We use roll-to-roll equipment, which is different to how everybody else makes solar, so it's less capital intensive, less energy intensive and the cost of setting up large scale manufacturing facilities is significantly less than if you're going to build a silicon factory or a tandem factory. It costs around 80% to 90% less than silicon-based PV manufacturing so it's a big difference.
Every other perovskite module requires a transparent conducting oxide (TCO) layer on the top, whereas we have dispensed with the need for a TCO entirely. Other manufacturers have got to stick the cells together to form a module, but as soon as we make the pattern in plastic, all our electrical connections are made, which basically takes processes out of the manufacturing and keeps it low cost.
A typical 100MW facility is roughly equivalent to about 1 million metres squared of our film to begin with. In the UK alone, there's 2.5 billion metres squared of C&I roof space, so it's a drop in the ocean, but once the first line is up and running, there will be an opportunity for us to build a gigafactory here in the UK, over the next three to four years. This fits our ambition to reduce the reliance on Chinese imports. The world is changing now away from the centralised model and our decentralised manufacturing model allows production to be close to the market and avoid the costs and challenges of having to transport the equipment.
Given the many detractors of perovskite technology, what could hold back of those gigafactory ambitions?
If there is a technical hurdle on the perovskite material that can't be overcome, whether that's lifetime instability or degradation, then that could prevent us and other perovskite companies getting to market. But it is worth saying that our technology doesn't necessarily rely on perovskites. We've proven it with CIS and CIGS and other things, so, it wouldn't be the end of Power Roll. It would just mean the end of the perovskite route for us.
How would switching away from perovskite affect you?
The production cost of the film and the machines would largely stay the same, but the input cost of the perovskites versus other printable materials is lower. However, because of our unique architectural benefits, other materials could become viable. Nonetheless, we think perovskite is best from a cost and efficiency perspective.
Are you looking to integrate your film with other solar technologies PERC and n-type?
Our film is not designed to be put on top of other solar cells, per se, but we are talking to lots of building materials companies about facades, roofs and insulation, where this could be integrated and built into buildings, but not with other solar technology at this point.
What about the carbon payback?
The carbon footprint of our film is about a 20th of that of silicon and that means our carbon payback can be anywhere from 30 to 60 days, in terms of generation, so it's super low carbon. If solar panel owners want to make their panels carbon neutral, they'll need to have their panels for at least three years. But, of course, we've got to get the technology to mass manufacturing scale first.
For perovskite hopefuls, has anything changed in the last few years?
Perovskites have gone from the next big thing to a more credible pathway to the next iteration of PV. The industry has gone from organic to dye-sensitised solar cells to perovskites. We work with some of the leading development centres in the world in the US and Europe and virtually every piece of research in PV is about perovskites at present.
There have been great breakthroughs on lifetime instability and light-induced degradation. I do think there's a pathway there. Some of the cynicism comes from the dogma of saying silicon is good enough. Well, yes, if we acted like that we'd still be driving around in carts drawn by horses. Technology changes and there will probably be a material that comes out that's better than perovskites at some point.
For Power Roll, as an architecture company, we just want to use the best materials that are out there at the time. So, we are a little bit more agnostic. Silicon has been developed for 40-50 years and perovskites can't do the same things just yet. You've got to give a little time for technologies to mature in my humble opinion, but there will be better materials coming along for us to use, whether it be quantum dots or some other solar absorber. Looking forward, we're aiming to help power the UK's solar 'rooftop revolution' as described in the government's recent Mission Zero Report.