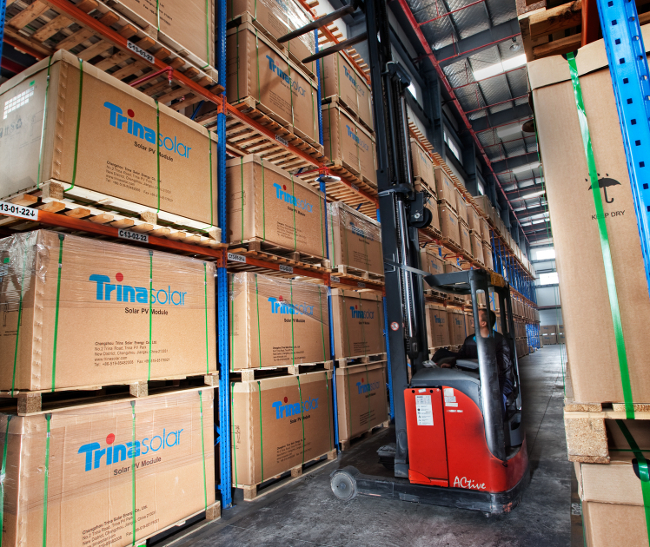 The solar industry, trade bodies, companies and countries react to president Trump's 30% tariff on solar imports to the US:
Trina Solar issued the following statement:
"As a key member of the global photovoltaic industry, Trina Solar is resolutely opposed to the US Section 201 investigations and the follow-up harsh tariff measures on imported photovoltaic products. It is an abuse of trade remedies measures. The measures not only give rise to concerns from various trade partners, but are opposed by many US local governments and downstream businesses. The US action will not only damage healthy and balanced development of the US PV industry, but also deteriorates the global trade of PV products.
"In recent years, the technology advances and minimized costs promoted and led by Chinese PV manufacturers have played a significant role in the rapid development of US commercial and residential power plant projects that reach grid parity. A number of outstanding Chinese PV manufacturers including Trina Solar have delivered high quality PV products and solutions to consumers of the U.S. market. Nevertheless, the rising price contributed by the tariffs against imported PV products will seriously impact the investment and project construction in the US, which ultimately harms US local businesses and consumers. In the long term, the measures will cause grave consequences to the application of photovoltaic energy in the US, especially California, Nevada, Texas, and other key PV application regions. Furthermore, the international competition capabilities of US local PV industry will be weakened.
Frequent and excessive trade protection not only does no remedy on relevant industries, but will cause damage to balanced economic development. As the global PV industry leader, Trina solar urge the US government to avoid taking trade limited measures, abide by multilateral trade rules to play an active role in promoting global economic development. We resolutely request that both Chinese and the US governments conduct conversations in a timely manner to search for solutions and settlement for the sake of mutual benefit.
United Steelworkers (USW) international president Leo W. Gerard:
"The decision to provide relief to the domestic washing machine and solar industries is important to the workers not only in those sectors, but those who are part of the supply chain. The USW provides the steel, aluminum, rubber and other materials used in washing machines and makes silicon and other products utilized in solar cell and module production.
"For far too long, our trading partners have gamed the system, making repeated predatory attacks on the U.S. market, expecting that they will get away with it. The USW has fought back by utilizing trade laws, but it's been a never-ending fight.
"Our goal has been to have our government stand up and implement a consistent, comprehensive trade policy that makes clear that if a trading partner breaks the law, or tries to cheat and steal our jobs, there will be an immediate response. The announced action is a step forward in drawing a line in the sand that unfair trade will not be allowed.
"This is important, but far from enough. Sitting on the president's desk are reports on the impact of imports of steel and aluminum on our national security interests. It's time to act on those sectors as well."
Tore Torvund, REC Silicon's CEO:
"It is imperative that the U.S. Administration take constructive steps to resolve this prolonged harmful dispute in the near term. In times of rising global polysilicon demand, opportunities for U.S. polysilicon manufacturers, the industry's technology leaders and the most competitive producers in the world, should be experiencing healthy expansion, not rapid contraction. This Administration was elected to support U.S. workers, and we encourage the U.S. Trade Representative to conclude an agreement to protect our dedicated and innovative U.S. employees. REC Silicon can out-compete our foreign rivals and we can do it from our manufacturing locations here in the United States. We simply need access to the global market, which can be achieved by the discussions provided for in the President's announcement."
The Government of Mexico:
The Government of Mexico regrets the decision of the United States not to exclude Mexico in the measures issued today, against imports of domestic washing machines and solar panels from our country.
Imports of solar panels from Mexico to the US helps the development and promotion of the use of renewable energies, which contributes to reduce the consumption of fossil fuel-based energy.
Mexico will use all legal remedies so that the US complies with its international obligations, in particular, with respect to the compensation provided for in article 802.6 of the North American Free Trade Agreement (NAFTA).
According to data from the US Census Bureau, in 2016, The US imported 1,127 million dollars of solar panels, from our country.
Helen Clarkson, CEO The Climate Group said:
"The RE100 report shows American businesses are global leaders in direct purchasing of renewable energy, with over 200 fold growth in one year. Their investment has a host of economic advantages, including increased market competition, and more local, cleaner energy.
"So it is disappointing to hear of the federal government's intention to place such large tariffs on solar imports, particularly if that impacts on the US' leadership position in the sector and the continued growth of jobs. Despite this setback, our report suggests that the global drive to invest in 100% renewables is unstoppable."
Suniva issued the following statement on President Trump's decision on solar tariffs:
"On behalf of Suniva's employees and the thousands of American solar manufacturing workers significantly harmed by unfair trade practices, we thank president Trump for holding China and its proxies accountable, imposing necessary tariffs, and closing the threatened Canadian loophole. Over the last five years, nearly 30 American solar manufacturers collapsed; today the president is sending a message that American innovation and manufacturing will not be bullied out of existence without a fight. We look forward to working with the Administration as these tariffs go into effect and beginning global settlement negotiations. This is a step forward for this high-tech solar manufacturing industry we pioneered right here in America."
Juergen Stein, CEO and president of SolarWorld Americas Inc:
"SolarWorld Americas appreciates the hard work of President Trump, the U.S. Trade Representative, and this administration in reaching today's decision, and the President's recognition of the importance of solar manufacturing to America's economic and national security. We are still reviewing these remedies, and are hopeful they will be enough to address the import surge and to rebuild solar manufacturing in the United States. We will work with the US government to implement these remedies, including future negotiations, in the strongest way possible to benefit solar manufacturing and its thousands of American workers to ensure that US solar manufacturing is world-class competitive for the long term."
Wang Hejun, director of the Bureau of Trade Relief Investigation of China's Ministry of Commerce:
"China expresses its strong dissatisfaction with this. The US investigation not only aroused the concern of many trading partners but also was strongly opposed by many local governments and downstream enterprises in the United States. The United States, in its lone manner, once again imposed restrictions on the import of photovoltaic products and large washing machines, not only detrimental to the overall healthy development of the industries in the United States, but also further aggravating the global trade environment of related products.
"The current foundation of international economic recovery is still very fragile and requires the concerted efforts and actions of all countries. Excessive and frequent trade protection can not only serve as a relief to related industries, but can also undermine the balanced development of the economy. China hopes the United States will exercise restraint in using trade restrictions and compliance with multilateral trade rules and will play a positive role in promoting the world economy. With regard to the erroneous practice of the United States, China will, together with other WTO members, resolutely defend its legitimate interests."
South Korea's trade minister Kim Hyun-chong:
"The country plans to file a petition with the World Trade Organization (WTO) against the United States for unfair safeguard measures on South Korea-made washing machines and solar cells. The South Korean government will actively deal with the protectionist move and stresses that it will win the WTO petition given the past cases."
The Solar Energy Industries Association (SEIA):
The decision effectively will cause the loss of roughly 23,000 American jobs this year, including many in manufacturing, and it will result in the delay or cancellation of billions of dollars in solar investments.
"While tariffs in this case will not create adequate cell or module manufacturing to meet US demand, or keep foreign-owned Suniva and SolarWorld afloat, they will create a crisis in a part of our economy that has been thriving, which will ultimately cost tens of thousands of hard-working, blue-collar Americans their jobs," said Abigail Ross Hopper, SEIA's president and CEO.
SEIA estimates that a tariff at this level will eliminate, not add to, American manufacturing jobs. There were 38,000 jobs in solar manufacturing in the US at the end of 2016, and all but 2,000 made something other than cells and panels, the subject of this case. Those 36,000 Americans manufactured metal racking systems, high-tech inverters, machines that improved solar panel output by tracking the sun and other electrical products.
While the case will undoubtedly have negative effects on the industry, SEIA pointed out that the tariffs were nowhere near as bad as what Suniva and SolarWorld requested. SEIA also looks forward to working with interested parties to achieve a positive outcome in the existing antidumping and countervailing duty cases.
"While we believe the decision will be significantly harmful to our industry and the economy, we appreciate that the president and the administration listened to our arguments," Hopper said. "Our industry will emerge from this. The case for solar energy is just too strong to be held down for long, but the severe near-term impacts of these tariffs are unfortunate and avoidable."
Tony Clifford, chief development officer, Standard Solar:
"It boggles my mind that this president – any president, really – would voluntarily choose to damage one of the fastest-growing segments of our economy. This decision is misguided and denies the reality that bankrupt foreign companies will be the beneficiaries of an American taxpayer bailout."
Bill Vietas, president of RBI Solar in Cincinnati:
"There's no doubt this decision will hurt US manufacturing, not help it. The US solar manufacturing sector has been growing as our industry has surged over the past five years. Government tariffs will increase the cost of solar and depress demand, which will reduce the orders we're getting and cost manufacturing workers their jobs."
Costa Nicolaou, president and CEO of PanelClaw, an American racking company:
"This is a bad day for the US. What's most disappointing is that the president sided with two foreign-owned companies and didn't listen to Americans from across the country and political spectrum who understood tariffs will cause great economic pain for so many families in the solar sector."
Michael Maulick, president and CEO of SunLink Corporation:
"We are very disappointed by president Donald Trump's failure today to protect American workers and our country's growing solar economy. His decision today to impose a 30 percent tariff on imported solar cells and modules will cause harm to the solar industry, impacting thousands of American jobs and stifling clean energy innovation. Artificial price hikes through tariffs only work to impede economic progress when the solar industry has worked for years to make solar affordable through innovation, a global supply chain, production scale growth and private investments.
"While we have always been module agnostic and supported modules of all types, we also believe the power of choice ultimately provides the most flexibility for customers to make utility-scale and commercial solar more pervasive. We remain committed to working closely with the energy industry and our manufacturing peers towards a solution that supports domestic manufacturing and domestic innovation with a global mindset to keep America solar strong."
James Watson, CEO, SolarPower Europe:
"Sadly the American government has taken the decision to impose trade measures on solar products, which will inevitably lead to a contraction of the market with its implied loss of jobs. These policies have been tried in many parts of the world and in not one case have the measures lead to more jobs, more manufacturing and more value. In essence trade measures are a blunt tool with many unforeseen consequences on solar manufacturers of other crucial elements of the value chain, such as polysilicon, mounting frames, inverters, trackers, etc. etc. I would hope that in this age of solar we would see fewer barriers to solar rather than more. These types of barriers simply slow the energy transition and give highly polluting forms of power generation longer life."
Remarking on the effects of the tariffs on the Indian and other markets, Vinay Rustagi, managing director at consultancy firm Bridge to India, said:
"The decision has been largely along the expected lines. The US market is about 12-14GW, which is just over 10% of the total world global demand, so even if demand goes down by let's say 5-10% in the US, the impact on prices will be very minimal in our view so we don't expect any major positive or any other impact on the Indian market.
"Will this decision have any impact on the decision of the Indian government itself [on imposing its own import duties]? Logically, it should not, the Indian government should be carrying out its own objective investigation, but obviously, it's a very tough call to balance the demands of the various stakeholders and somewhere this will form an important input into their decision process. Another large country, the same size as India in terms of Megawatts, with the same issues as India, has just decided to impose duties so that may have a bearing on the decision on India."
See response from Chinese firms here.
Article will be added to as reaction comes in.