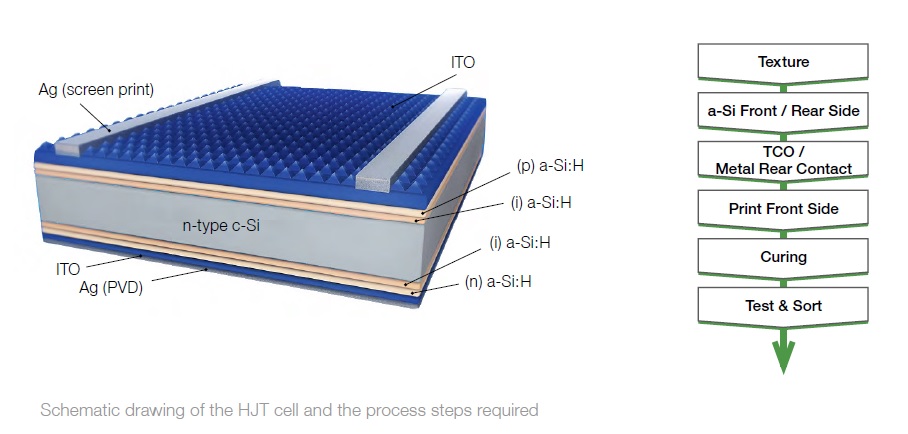 Integrated PV module manufacturer REC Group has said it invested US$150 million in developing and rolling out into volume production a new N-type monocrystalline-based heterojunction (HJ) cell that will use Meyer Burgers 'SmartWire' (SWCT) cell connection technology.
REC said that the new high-performance module would be first showcased at this year's Intersolar Europe, being held in Munich in mid-May, 2019.
Steve O'Neil, CEO of REC Group said, "Our new flagship product will deliver significantly better power density and will fundamentally change the competitive balance between REC and Tier 1 players, opening up a big power gap far beyond what is available today.
Two PV manufacturers, SunPower and LG Electronics lead the high-efficiency and module performance rankings, both using IBC (Interdigitated back contact) solar cell technologies.
SunPower's X Series modules average cell conversion efficiency bit 25% at its Fab 4 facility in the Philippines, the highest in the industry in 2017, while LG Electronics introduced last year its LG NeON R module with a power output up to 370W, with 21.4 percent efficiency in a 60-cell configuration.
Panasonic, the largest producer of HJ modules has a conversion efficiency of 19.6% and power output of 330W.
REC Group touted that HJ modules were manufactured without the higher temperatures of other methods, which simplifies the process and reduces manufacturing energy consumption. However, HJ cells are highly sensitive to contamination issues pre and post deposition of the intrinsic amorphous silicon (a-Si:H) thin-film passivation layers.