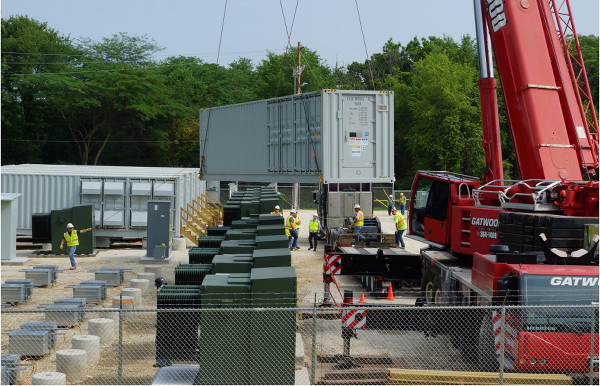 RES (Renewable Energy Systems) claims the company's experience with structuring solar, wind and transmission finance deals has made successful financing of large-scale battery projects possible.
The UK-headquartered company, which nonetheless has a significant presence in the US, including grid-balancing frequency regulation projects in the competitive market hosted in the PJM service area, has executed 88MW / 51 MWh of battery-based storage projects worldwide.
In "Five lessons from the storage frontline", a feature article first published in PV Tech Power and launched today on Solar Media's Energy Storage News site, authors from RES including Andy Oliver, the company's CTO for the Americas, claimed that the conditions for financing large-scale batteries, while still challenging and at their early stages, is becoming more and more feasible.
"The good news is that mainstream financial institutions are becoming familiar and comfortable with financing battery storage projects," the authors wrote, citing the example of two of its PJM projects, Jake and Ellwood, which are incidentally named after the famous Blues Brothers characters in the 1980s comedy-musical film.
According to RES, the twin projects in Chicago have been recipients of the first non-recourse senior project financing endeavour for a utility-scale battery system in North America to be completed.
"Ultimately what made this financing successful was the fact that RES has experience with similar deal structuring with wind, solar, and transmission. The projects used a single large and well known OEM technology provider for the battery and inverter system, and were backed by a robust warranty."
In a 2015 interview with Energy Storage News, solar veteran Jigar Shah of Generate Capital said that the key to energy storage was "to not scare banks away", while in a 2016 predictions piece also published in PV Tech Power, storage industry analyst Cosmin Laslau of Lux Research said innovations in financing were likely to be among the trends to watch.
"Five lessons from the storage frontline" topics:
1 – Controls and monitoring are essential to ensure safety and maximise value for owners
2 – Integrated solutions are essential for cost-effective design, successful operations and commercial simplicity
3 – Financing a large-scale battery storage project is possible
4 – Regulations and (the lack of) market rules continue to create uncertainty, which places additional burden on the early projects
5 – Long-duration lithium-ion is becoming viable
Read the full article here.
RES Group's John Prendergast will be among speakers at Solar Media's Energy Storage Summit at Twickenham Rubgy Stadium, London, on 28 April. The event – featuring 40 high-level speakers and three streams (residential, commercial and utility scale) – will address all the key issues related to storage deployment.