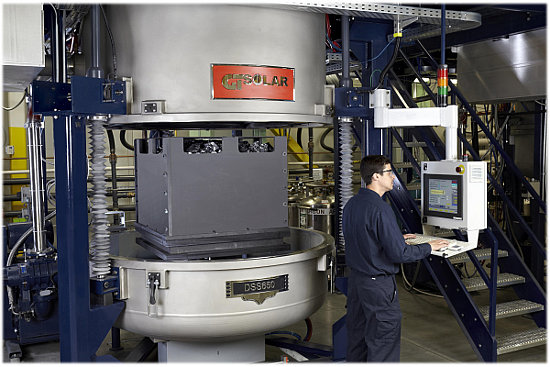 Dedicated mono and multicrystalline wafer producer Rietech Solar, a subsidiary of diversified renewable energy firm Shunfeng International Clean Energy (SFCE) has selected Heraeus Photovoltaics new multicrystalline crucible barrier coating technology.
Heraeus said that its 'HeraGlaze' coating technology, launched earlier in 2017 would become standard usage at Rietech in the volume production of multicrystalline wafers.
The companies also plan to collaborate on advanced research and development programs to produce the next generation of high-efficient wafers based on the HeraGlaze technology.
The HeraGlaze technology acts as a barrier between the silicon and the walls of the crucible melted in DDS furnaces, preventing thermally-induced impurities, such as iron, from transferring from the crucible to the silicon ingot during the melting and crystallization processes. The lower levels of iron are said to improve energy harvest due to lower light induced degradation (LID).
According to Heraeus, Rietech's wafer output yield increased by 3% using its coating technology and its end customers' cell efficiency increased by 0.05%. Reitech's main customer is sister company, Wuxi Suntech.
Dr. Weiming Zhang, EVP and CTO of Heraeus Photovoltaics, said, "Rietech and Heraeus both share the belief that advancing the adoption of solar energy cannot occur in isolation, which is why we are committed to working together. HeraGlaze can be a game-changer for Rietech's wafer manufacturing process and will help them consolidate their leadership in 'full-melt' process for manufacturing multi-crystalline wafers."
To remain competitive, Rietech has also been migrating multicrystalline wafer production to diamond wire sawing and 'black silicon' texturing.
HeraGlaze is the first commercial product Heraeus has launched in the upstream wafer sector.