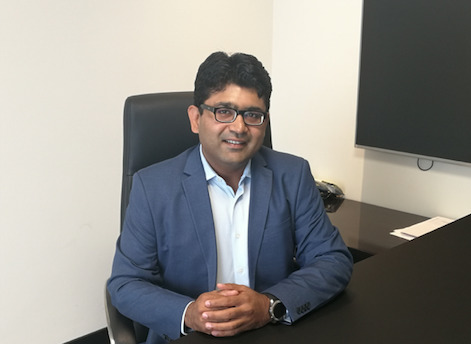 In part II of PV Tech's interview with Vikas Bansal, Head of Business Development – International Solar at Sterling & Wilson Solar, one of the world's largest PV EPC firms, we discuss how installers are having to adapt to new technologies in the realm of PV modules, balance of system, robotics and energy storage.
What technology innovations have you faced as an EPC in 2018?
Vikas Bansal: From the technology standpoint, the market moved from fixed-tilt structures in 2016 with a shift to trackers in 2017. While there were early challenges in understanding what the right tracker technology was and who the right suppliers were, today, in 2018, we have already moved another step forward and it is now all about robotics. For example, in some of our select projects, we use robotic cleaning technology which can clean the solar plants completely, without any manual intervention. Just imagine after a sandstorm, you switch on the robots, which then clean the plant and come back in three to four hours.
Further, the solar industry now also has widespread usage of drones, not only to analyse thermal quality-related issues in the modules but also for better project management. If you need a thorough understanding of what's happening onsite, you could just fly a drone over to take loads of pictures and it stitches a report together that informs you which parts of the project have been completed. Drones can also provide analysis on construction quality, using very high-resolution cameras.
For solar panels, integrating bifacial PV modules – which can produce power from both sides of the panel – makes sense especially in regions with extreme cold climates like Kazakhstan or the Middle East. These help in bringing down the project costs anywhere between 5%-20% depending upon the location.
How are you having to factor energy storage into your business?
Storage is one area where we are witnessing new innovations almost every day through a lot of R&D. But at the end of the day, system integrators who ultimately engineer and implement the solution, play a very important role in this entire value chain as we take the calls on what technology to use. Sterling & Wilson is already building the largest storage project in Africa and a large solar and storage plant in Nigeria powering five universities in an off-grid manner.
While it is too early to say whether lithium-ion technology will continue to dominate, however, looking at current indicators and the way it is getting adopted in the market, we don't see any new technology coming in and disrupting the market at least for the next three-to-five years. Nevertheless, we do feel that a lot of incremental innovation in new chemistries and cheaper materials will happen in this space.
Coming to the business models of solar-plus-storage, we believe countries like Australia and the United States, which have matured grids and policies, will start giving a lot of weight to dispatchability solutions and there will be increased demand from utilities for power from a solar-plus-storage facility. They will not be happy to just buy solar power at whatever time you want to give it to them. Instead, with more integration with solar, their requirements for power may be, say, from 4-8pm for example or 3-7pm, thereby making it imperative for existing business models to change in the next 1-2 years.
Where have you been sourcing modules from globally?
From a global perspective, we know that more than 90% of the production of the PV modules happens in China. Sterling & Wilson has also been buying from China since the last few years. We have a dedicated team there that helps us source quality modules. Of course, we also source modules from domestic suppliers in India, mainly for domestic projects, including a 50MW plant and other smaller systems.
For solar modules, we are increasing our focus towards sourcing modules which can help deliver higher efficiencies for our projects. For instance, the Abu Dhabi plant which is being co-developed by JinkoSolar, Marubeni, and the ADWEA, utilizes high efficiency solar modules, allowing for maximization of electricity output as well as lowering of balance of system (BOS) costs. Nearly all recent upgrades in China and other markets have also resulted in efficiencies going up.
Going forward, in 2019, I think most of the modules will be higher wattage mono-PERC or poly-PERC, which are high-efficiency, and we are also comfortable using these modules for our projects.
Have you been worried by China's policy upheaval?
The policy changes announced by China, though surprising, are also significant and will change the international solar market dynamics, at least in the short-term. We have already seen most capacity forecasts for China get revised from 50GW+ to around 30GW+, which is a major shift. However, in the medium term, I think the development is good for the industry overall – PV module pricing has softened, and lower tariffs can be beneficial to the governments.
Is it good in the longer term? I'm a bit sceptical about it. It depends on whether all these manufacturers from China, Korea or Taiwan can remain competitive and survive. If, in the long-term, some of the large manufacturers happen to go out of business, the immediate demand and supply situation will correct itself and we may possibly see module pricing rise back up again in the medium-to-long term.
Part I of our interview with Vikas Bansal covered global PV markets: Where's hot and where's not.