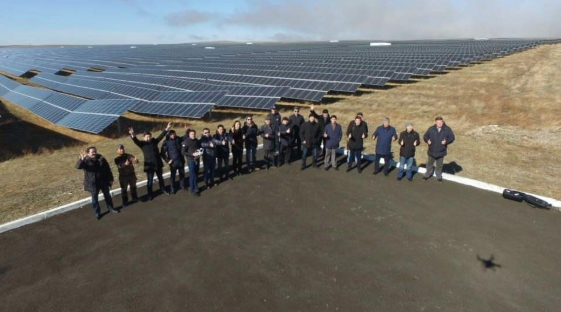 BHEL bags 135MW of solar EPC orders
10 June: Indian firm Bharat Heavy Electricals Limited (BHEL) has won three EPC contracts for a total of 135MW of solar projects in Maharashtra and Gujarat.
All together the projects are valued at INR5.2 billion (US$74.7 million).
The first project for Maharashtra State Power Generation Company Ltd., (MAHAGENCO) is a 50MW site at Kaudgaon, Osmanabad District in Maharashtra. The second order with Gujarat State Electricity Corporation Ltd (GSECL) is for a 75MW project at Dhuvaran, Anand District in the state of Gujarat. The third order with Gujarat Narmada Valley Fertilizers & Chemicals Ltd., (GNFC) is for 10MW.
On top of the new projects, BHEL has already built 130MW of solar capacity at the Charanka Solar Park in Gujarat. The firm has an 850MW portfolio of PV projects in India and 500MW have been commissioned to date.
SPE ties up with Kazakhstan renewables association
7 June: SolarPower Europe and the Association of Renewable Energy of Kazakhstan (AREK) have signed a Memorandum of Understanding to exchange knowledge, best practices and create business opportunities for solar companies in the European and Kazakhstani solar markets.
"Kazakhstan has seen a steady increase in solar power generation, with 150MW annually installed in 2018 alone, leading to a threefold growth of total installed capacity and is still far from reaching its full potential. We are very pleased to kick off this cooperation with AREK, to exchange industry experience and know-how, ultimately accelerating solar and the energy transition on both continents," said Walburga Hemetsberger, CEO of SolarPower Europe.
Arman Kashkinbekov, CEO of AREK, added: "Our cooperation will allow developers, investors and scientists from Europe and Kazakhstan to work together to promote green projects and achieve our country's goals of reaching 3% of renewable energy by 2020, 10% by 2030, and 50% by 2050."
Andhra Pradesh mulls PPA reworks
6 June: India's secretary of the Ministry of New and Renewable Energy (MNRE), Anand Kumar has written to the chief secretary of the state of Andhra Pradesh, noting various media reports suggesting that the state is planning to renegotiate power purchase agreements (PPAs) already signed with developers for solar and wind projects.
In the letter, Kumar warned that such contracts should not be revisited unless there is a specific provision in the agreement or a case of conspiracy or undue gains is proved.
He added that renegotiating PPAs threatens the central government's solar, wind, biomass and small hydro target of 175GW by 2022. It also shakes investor confidence he said, before asking the chief secretary to inform the state's chief minister of the points made in the letter.
Similar PPA troubles were in the news regularly in 2017, but reported problems had died down until now.