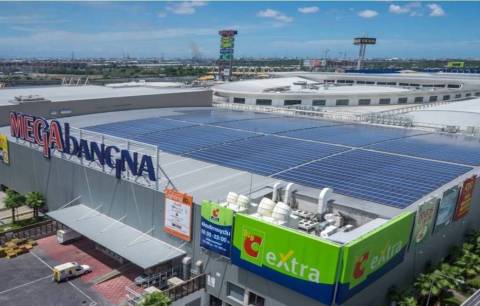 Phoenix Solar to develop 1MW rooftop system on IKEA in Singapore
Singapore's Phoenix Solar has received a contract from IKEA Southeast Asia to design and develop a 1MW solar system on the roof of IKEA Tampines.
The project is expected to produce 1.3 million kWh annually – enough renewable energy to power the equivalent of 283 four-room HDB flats. IKEA expects to cut down on an estimated US$2.4 million from the store's electrical bills over the next ten years.
Installation of the solar panels begins at IKEA Tampines in March, with the project expected to be completed in July 2017.
Christian Rojkjaer, managing director of IKEA Southeast Asia, said: "This project supports a core sustainability goal for our company: to generate and consume renewable energy. When we can reduce climate impact while saving long-term operational costs, it's an easy business decision. At the same time, we contribute in a meaningful way to the development of renewable energy in Southeast Asia."
SunPower to develop community-solar portfolio in California
SunPower Corp. and the Cajon Valley Union School District (CVUSD) announced Tuesday that they will begin construction on SunPower Helix solar systems at 24 school sites in the El Cajon region of San Diego County.
The solar installations, which will have a total generation capacity of 4.6 megawatts, will primarily include carports, as well as a few rooftop systems, and will be operational by the end of 2017.
Scott Buxbaum, CVUSD assistant superintendent of business services, said: "With CVUSD's solar investment, we continue to enrich both our schools and our communities by generating clean, renewable energy which will help save on electricity costs and improve our local environment. After reviewing qualifications and proposals from six firms, we are very pleased to have selected SunPower's proposal as the best value to the District. Their team has been great to work with."
In order to finance a large portion of the project, the District netted US Department of Treasury clean renewable energy bonds (CREBs).
Nam Nguyen, SunPower senior vice president, acknowledged: "We're pleased to welcome CVUSD to a growing number of school districts across the country that are seeing the economic and environmental value that reliable solar energy solutions from SunPower can generate. Innovative financing options like CREBs and local bonds can accelerate the return on a solar project, making it easy for schools to reinvest savings into their classrooms."
2MW PV project completed in Taipei
Taipei mayor Ko Wen-je was on hand last Friday, February 17, for the inauguration of the 2MW Taipei Energy Hill project.
Ko noted that the installation used to be on a landfill site stretching for three hectares. The project, which is comprised of 8,000 solar panels, began construction in September 2016. The site was completed and began producing power on January 10. As of Feb. 17, the facility has generated 153,000 kWh of solar power.
Ko added that the city of Taipei and Tatung Corporation invested in the installation, while energy produced at the site will be sold to Taipower.