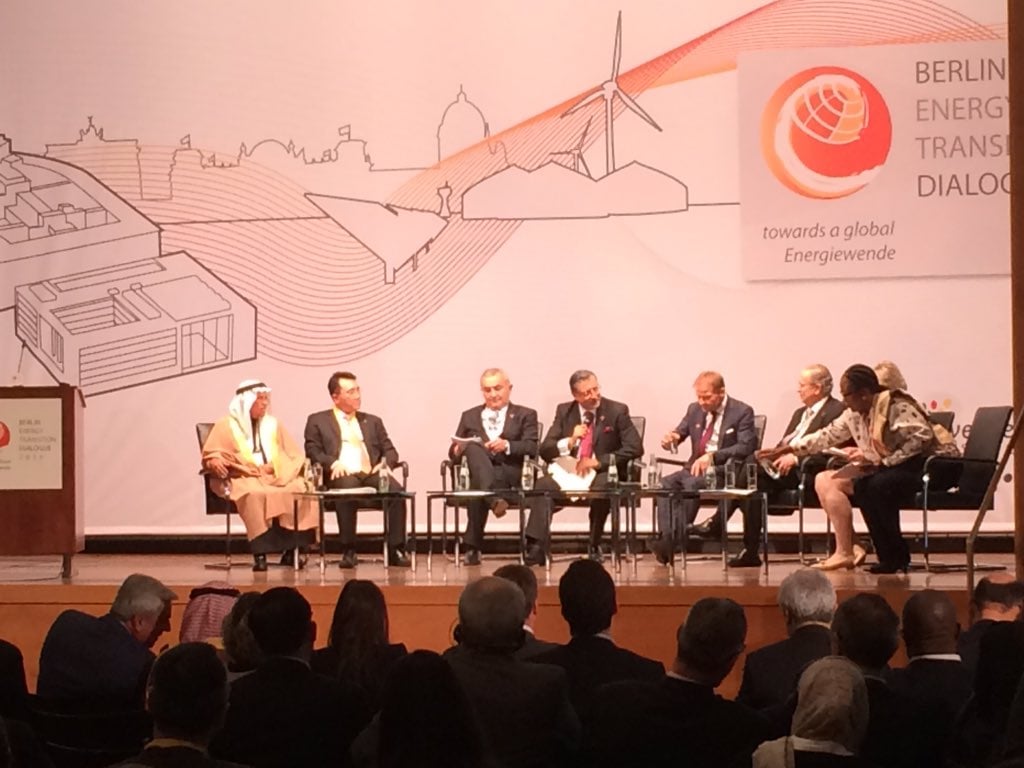 Saudi Arabia's energy minister has said he believes it will be impossible to keep fossil fuel resources "in the ground" even in the next 50 years but nonetheless sees his country as an ideal potential manufacturer-exporter of PV panels.
Ali bin Ibrahim Al-Naimi, minister of petroleum and mineral resources for the Kingdom of Saudi Arabia, who is also the head of OPEC, said at an international event in Berlin yesterday that instead of trying to eliminate fossil fuel use and therefore emissions should instead be "controlled". He also reiterated recent comments he has made about wanting to establish the kingdom as a PV manufacturing base and invited investors to consider Saudi Arabia as a potential hub of the renewables industry.
Al-Naimi was speaking at the Berlin Energy Transition Dialogue, a German federal government-backed event which sought to share lessons from Germany's own 'Energiewende' ('energy transition') with international stakeholders including utilities and policymakers and provoke discussion on the topic and its relevance to the rest of the world.
As part of a ministerial panel moderated by International Renewable Energy Agency director-general Adnan Z Amin, Al-Naimi was asked to describe what measures Saudi Arabia was taking to modernise its energy system and how it viewed the concept of Energiewende.
Al-Naimi said at the opening of his speech, to a smattering of applause from the assembled delegates, that "fossil fuels, by the way, they are not that bad". He said that Saudi Arabia had seized the opportunity in the 1960s to start up its petrochemicals industry but that of course, the world has changed a lot since then.
"Now of course we talk about CO2 emissions…This is a concept we should work on and we should control, rather than talking about keeping oil and gas in the ground," Al-Naimi said.
"We think there's no way in the next 50 years that we will be able to do that. So what should we do? We should focus on eliminating emissions and creating materials out of emissions."
Al-Naimi said Saudi Arabia is collecting emissions from many of its thermal generation facilities and experimenting with ways to make them less harmful to the environment.
"What are we doing with emissions? We are collecting CO2 from most of our facilities and injecting them into the ground and watching what is happening to them in the ground."
The minister also said more research should be done into creating useful materials from emissions and to improve the efficiency of car engines – which was in seeming contrast to many of the other speakers at the event who said electrification of mobility was a necessary and, increasingly, an inevitable step towards combating not only climate change but also air pollution.
"We should be able to make rubber that reduces friction from driving," he also said.
Saudi Arabia to greet international investors with open arms
The minister also made a pitch to investors for his country as an ideal place to invest in to establish PV manufacturing.
Al-Naimi said the kingdom has sunshine, land and silicon and that in his view there is no country more ideal to manufacture renewables in the world.
"I hope I can interest investors, worldwide, especially in Germany," the minister said.
"Come to Saudi Arabia, join hands with our business community and develop an industry integrated from the sand, the pure sand, to the factories. Then generate power from photovoltaics."
A blog earlier this year on the PV Tech site from Osama Al Othman, First Solar's Director of Business Development for Saudi Arabia focused on "Why Saudi Arabia is ready for solar", although this was looking more at the generation versus power demand question, rather than the topic of establishing manufacturing facilities in the region.