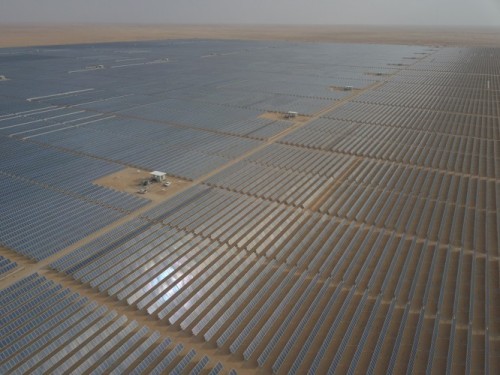 Saudi Arabia has connected its first utility-scale renewable energy project to the grid, a 300MW solar project developed by local energy developer ACWA Power in the northern Al Jouf region.
The project, which is currently in a pilot phase, will reach full commercial operations before the end of 2019, according to the Saudi developer.
The SAR 1.2 billion (US$320 million) Sakaka plant was awarded to an ACWA Power-led consortium at a world record tariff of 8.781 halalas/kWh (US$2.34/kWh) in October 2017, despite Masdar and EDF Energies Nouvelles putting in an even lower bid.
ACWA Power and contractor AlGihaz closed financing for the SAR1.2 billion (US$320 million) project in November 2018.
The plant was financed through limited recourse ring-fenced project financing, with the entire debt fully underwritten by Natixis. Arab National Bank provided an equity bridge loan for the transaction.
A 25-year power purchase agreement (PPA) has been signed with offtaker Saudi Power Procurement Company (SPPC).
According to ACWA, the project was built by an entirely Saudi workforce, with no reported injuries or accidents.
It is the inaugural project of the National Renewable Energy Program, managed by the Kingdom's Renewable Energy Project Development Office (REPDO).
The state is poised to hold the second round of that program in the coming months. A spokesperson from REPDO told PV Tech in an email on Tuesday that "the RFP deadline for round two projects has been extended to January."