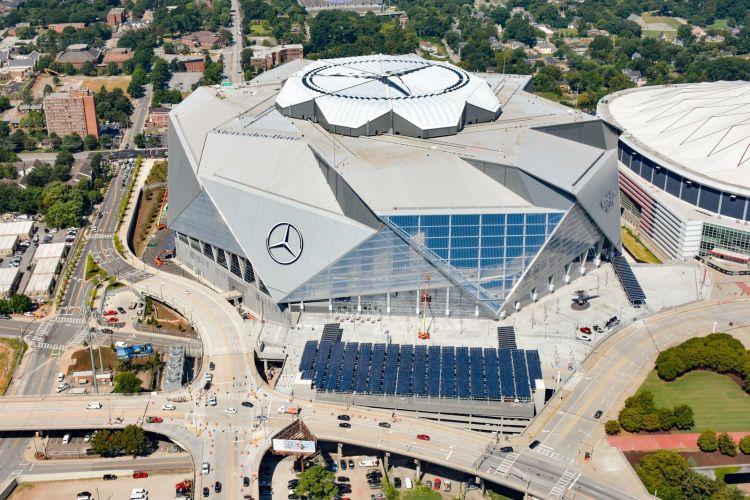 Numerous professional sports leagues located across the US have become a fruitful sector for PV systems within the country, according to a recent report from the Solar Energy Industries Association (SEIA).
When looking at PV installations developed at facilities associated with the National Football League (NFL), Major League Baseball (MLB), National Basketball Association (NBA), National Hockey League (NHL), Major League Soccer (MLS), NASCAR and IndyCar, the totals are impressive.
According to the report, the total cumulative PV capacity in US professional sports has reached 46MW, which produces enough energy to power nearly 8,000 homes in the US.
This growth spurt for PV in pro sports is recent, with nearly half of that 46MW achieved within the past three years. In total, more 42 million Americans attended an event at a stadium, arena or raceway with a PV system last year.
When breaking down the spread, 32% of all NFL stadiums have PV systems, with both the MLB and NBA not far behind at 30% each.
Is it a coincidence? Surely not. But it is interesting to note that all three North American teams crowned so far this year (Philadelphia Eagles, Washington Capitals and Golden State Warriors) all play at facilities with a PV system attached.
While some stadiums such as the Boston Red Sox' Fenway Park have solar thermal panels to help heat water, other facilities have significant PV installations, with the electricity generated by Daytona International Speedway's PV system capable of offsetting 2,200 metric tons of CO2 each year.
The Atlanta Falcons' new NFL arena, Mercedes Benz Stadium, possesses a solar array capable of generating enough electricity to power 10 home games each season, all for a venue that can hold between 70,000-80,000 spectators.