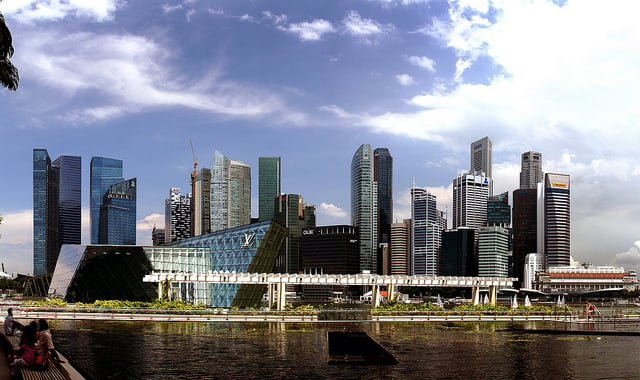 Sembcorp has signed an agreement to build 6.2MW of rooftop solar projects on top of two Singapore facilities owned by a major energy industry service provider, including one of Singapore's largest rooftop projects, standing at 4.7MW.
Both systems together are expected to produce around 7,435MWh of power annually. The solar farm will help power the on-site operations of the customer, with surplus power channelled to the grid. One of the two locations, located in the Tuas area, is also said to be the largest solar installation on a single rooftop in Singapore to date, with more than 12,700 solar panels amounting to over 4.7MW.
Sembcorp Group president and CEO Neil McGregor said: "We are very pleased to sign this 25-year deal and welcome another new client for our solar power solutions that help companies save money and cut their carbon footprint. With this newest project, Sembcorp now has over 115MW peak of solar power assets in operation and under development. As we grow our solar portfolio here, Sembcorp is actively supporting Singapore in its goal of achieving 350MW peak of solar power capacity by 2020."
Sembcorp also unveiled a range of affordable power plans for residential customers yesterday with a range of options.
Energy storage collaboration
In related news, Sembcorp will collaborate with Singapore's Energy Market Authority (EMA) as part of a pilot programme to support the deployment of energy storage in the country and they will partner on piloting storage systems. EMA will also help Sembcorp explore business models for energy storage systems, and facilitate regulatory and market approvals for Sembcorp's operation of such systems in Singapore.
The initiative, also known as ACCESS (ACCelerating Energy Storage for Singapore), aims to make storage more common in Singapore as it can help counter the intermittency of renewable power sources and enhance the overall stability of the grid. It can also potentially allow consumers to save on their energy bills by storing power for use at peak times.
Sembcorp could use energy storage systems to work alongside its solar power and gas-fired power assets or to provide complete behind-the-meter clean energy solutions for individual electricity consumers.
Neil McGregor said: "Energy storage is a critically important technology that is gaining momentum globally and will be a game changer especially in the clean energy space. […] We see the inclusion of energy storage systems as a good complement to our growing renewable energy portfolio. We have invested in such systems overseas in the UK, and are now excited to partner with EMA to apply the technology at home in Singapore, where we are one of the largest solar power players."