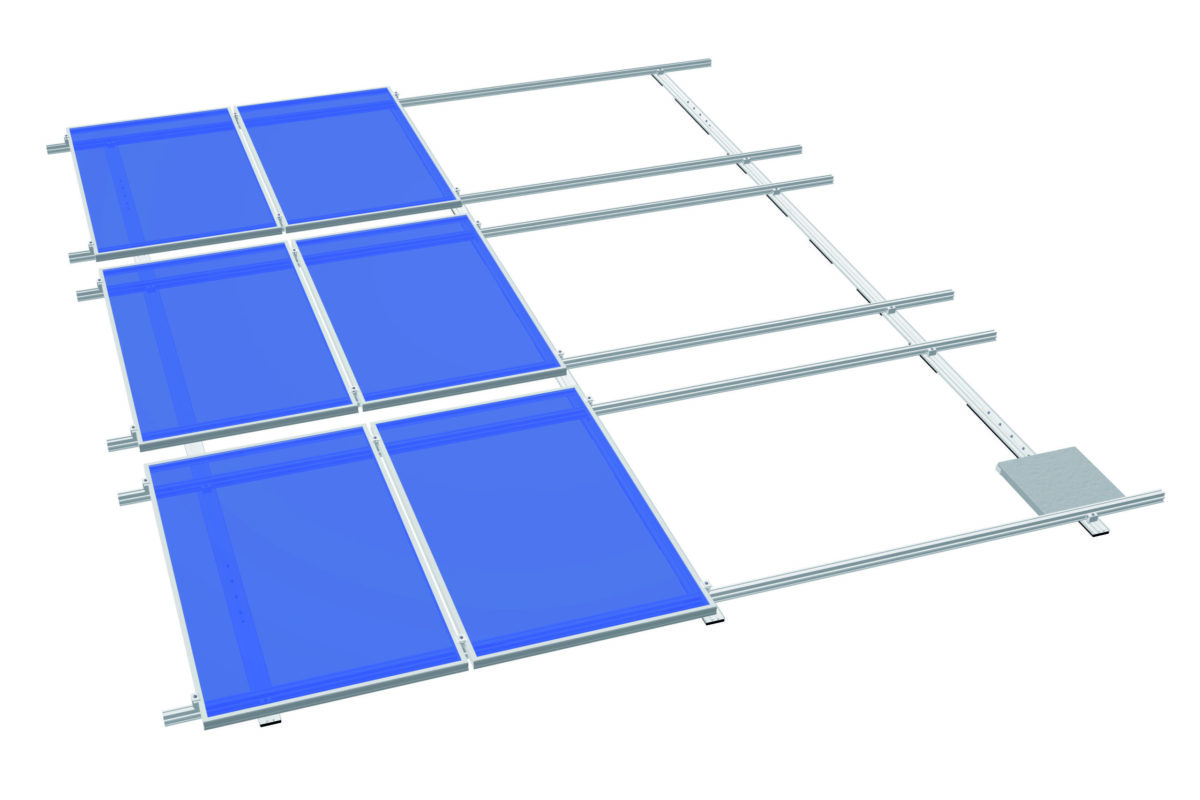 S:FLEX now offers installers a new, aerodynamic installation system for the growing segments of residential and commercial buildings. 'Flat Direct' can be used on pitched roofs with up to 30° slope and guarantees short installation times with its pre-assembled components.
Problem
Non-penetrative installations of PV systems on pitched roofs with composite shingle and other roofing materials places high demands on the substructure, especially on commercial buildings with low load-bearing reserves.
Solution
Flat Direct is usable on a variety of roof types with various roofing materials and framed modules arranged in a portrait or landscape setting. If required, secure anchoring is achieved by a minimal number of mechanical attachments or counterweights over the roof ridge. A special ridge angle joint was designed for installations on pitched roofs, which can be easily adapted to each site specific situation. The system solution was designed to meet the specifications of snow loads up to 50psf and wind speeds up to 130mph. Ballast stone clamps are available for installations where project-specific parameters require additional ballast. Aerodynamic functionality is achieved through air gaps between the modules that produce a suction effect towards the roof and an optimized air flow throughout the solar array. In addition, the 7/16″ (11 mm) strong foam rubber pads are pre-glued underneath the aluminium bottom rails of the system and are characterised by their high friction coefficients while allowing for a significant reduction of ballast. Further advantages of the foam rubber pads over conventional building protection mats are their good material compatibility with all conventional roofing materials. The migration of plasticisers from the roof membrane, leading to embrittlement, is prevented just as well as mechanical effects on the roofing. It will prevent potential long-term damage.
Applications
PV systems on pitched roofs with composite shingle and other roofing materials.
Platform
The Flat Direct, which was developed in cooperation with PMT (Premium Mounting Technologies), offers also optionally available covers for the cable channels integrated into the bottom rails. This way, string cables are protected against permanent and harmful environmental influences. For every project, we will offer an optional system-specific report with a location-based structural analysis.
Availability
September, 2016 onwards.