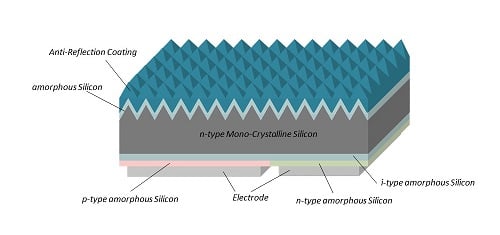 Sharp Solar, a subsidiary of Taiwan-based contract electronics giant Foxconn has reported a verified heterojunction back contact (HBC) solar cell on a large-area (6-inch) N-type monocrystalline wafer with a conversion efficiency of 25.09%.
Sharp Solar said the cell was validated by the Japan Electrical safety & Environment Technology laboratories (JET) and the R&D partially funded by Japan's New Energy and Industrial Technology Development Organization (NEDO) under the theme of "Development of Cost Reduction Technology of High Performance, High Reliability Solar Power Generation".
Back in 2014, Sharp reported a small-area wafer size conversion efficiency for its HBC cells of 25.1%
The HBC cell on a 6-inch (full-area) wafer is claimed by Sharp to be the highest efficiency reported to date.