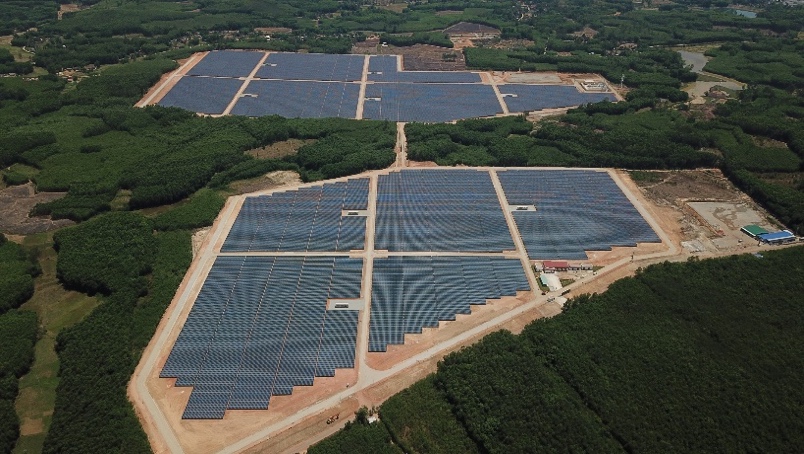 Japan's Sharp has marked a substantial boost to its Vietnamese portfolio after finalising a 49MW project, its fourth to date in the country.
The installation in Quang Ngai province, central Vietnam, will now start supplying power to the grid after wrapping up construction in recent weeks.
The project was delivered alongside Thailand's Sermsang Power Corporation (SSP) and one its subsidiaries, Truong Than Quang Ngai Power and High Technology Joint Stock Company.
The latter will be charged with running the plant, designed to cover the electricity needs of 38,000-plus Vietnamese households as it produces 73GWh every year.
The work was overseen by Sharp Energy Solutions Corporation, a subsidiary that develops rooftop PV, battery storage and smart energy systems for customers in Japan and abroad.
The plant is the fourth developed by Sharp in Vietnam so far, pushing capacity up to the 195MW mark.
The first of the four – boasting a capacity of 48MW – marked its commercial launch last October in the Thua Thien Hue province, further up north. Two similarly-sized plants are being built in Binh Thuan and Long An provinces, in Vietnam's south.
Vietnamese PV has witnessed in recent years the arrival of the first utility-scale projects but has a long way to go towards its goal to hit 12GW capacity by 2030.
The Southeast Asian state runs feed-in tariff schemes to support the roll-out but faces significant clustering issues, with grid congestion a particular risk in the Ninah Thuan province and other hotspots.