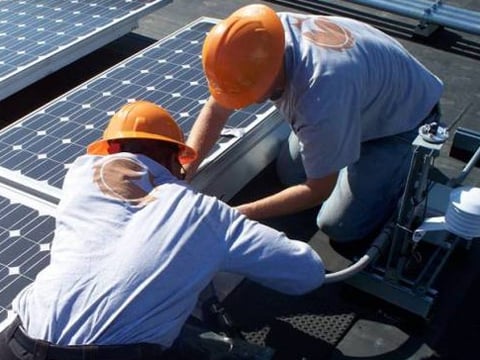 PV Tech: The result is surely better than people expected?
Shayle Kann: SEIA has been pretty consistent in making their ask, which has been for a full five-year extension with 'commence construction' included; they didn't quite get that but, they got pretty close. The commence construction rule is a big deal. It's a really big deal. It appears to apply throughout not just in the final year. In other words, if you commence construction on a project in 2019 and complete in 2022, you will still get the 30% credit. The going wisdom was that if there was going to be an extension, it would be a negotiation that would result in something less than this, so yes, this is above and beyond those expectations.
PV Tech: Will this catch some companies by surprise, particularly those that planned around ITC cuts?
SK: None of these companies will be regretting what they have done. First of all the ITC extension has been passed early enough that a lot of projects that were going to be rushed to be completed by 2016 can bleed over into 2017 and even those projects that did do things like bridge the gap with a short-term PPAs, the economics of those projects just look better. I don't think it caught companies off guard in any way that would negatively affect them.
PV Tech: What is the anticipated impact on demand?
SK: It's a meaningful impact, it's going to be a significant difference, in every sector but it will be particularly pronounced in the utility-scale sector, which was poised to see the greatest negative impact from ITC expiration. In distributed markets, the primary difference that this creates is it opens up a lot of states that have not historically been major distributed solar markets that will become economic with a 30% extension. [Since this interview GTM has said it expects a 54% increase in the US market through 2020.]
PV Tech: Does it also open the door to new states that didn't create the right regulatory conditions previously to develop a solar market?
SK: It definitely makes markets far less reliant on state-level incentives, which has been one of the major drivers of determining whether a state has a solar market or not. So you can definitely envisage a number of states opening up without state-level incentives which may not have happened in a 10% ITC world.
PV Tech: Which states might benefit in the utility market? Is Texas a big winner?
SK: Yes Texas but for utility-scale, I don't think that is the only interesting one. With a 30% ITC extension you have a lot of states for which solar is going to be the most economic option for utilities looking to procure any kind of new generation. You have places like the mountain states, which have some pretty aggressive Clean Power Plan targets; you could see a lot of demand in those states – Montana, Utah, the Dakotas. Some of the south-east states too where we have already seen meaningful procurement, you could see that picking up substantially now. What's interesting about the extension for utility-scale is what it does to this trend we had seen in the past 18 months, of significant procurement outside of mandates. Now that will just be extended. You can easily imagine that PPAs for utility-scale solar are going to start being regularly signed below four cents per kWh and below.
PV Tech: How will the extension impact the supply of modules into the US?
SK: The ITC extension increases demand and there is not enough supply in the US today, nor is there likely to be in the near-term enough module supply in the US to fulfil the entirety of that demand, nor should there be necessarily. The US is already getting a lot of [the modules] that are installed in the US from other countries, not all from China, especially because Chinese manufacturers are increasingly opening fabs outside of China. This definitely goes a long way to alleviate the possibility of oversupply in 2017, which was a concern, and should just continue to make the US an attractive market to sell into. So if you are a foreign manufacturer you have some certainty that if you want to serve the US either by selling straight through China or by building manufacturing facilities in other countries to sell into the US, the market will be there for your product.
PV Tech: What are the short-term impacts on SolarCity, given its recent strategy change?
SK: It's going to be interesting; when they announced their reduced guidance they included a caveat that if the ITC was extended thy might revise those expectations. They haven't provided guidance beyond 2016, it's not like there is 2017 guidance to revise, but what they have been doing was changing their strategy to build it around the idea of becoming cashflow positive at the end of 2016, basically in preparation for a 10% ITC world. Now, if there is no 10% ITC world, they can either stick with this strategy outlined recently and continue to grow at a more moderate rate of 40% a year kind of pace, which is still pretty fast, it's just slow for Solar City. Or they could go back to the original plan and say we don't need to be cashflow positive by the end of next year, and continue to grow at 70-80%. I think they'll do the former and accept the certainty that the ITC gives them for many more years and continue to grow at 40% or so for the foreseeable future and be cashflow positive as they do so.
PV Tech: What about SunEdison's prospects? They have had some struggles of late.
SK: SunEdison is more of a global company than SolarCity is and they are less exposed to the ITC on a relative basis. SunEdison is still primarily a US business and will benefit just as much anybody from the ITC extension. SunEdison's woes are mainly from investors not being convinced of the story and the stock price going down but as I look at their share now they are up 22% today. SolarCity is up 27% at the moment. From SunEdison's perspective it certainly helps to have anything that boosts their stock price right now, which this is clearly doing.
PV Tech: There is an election coming up, how well protected is this legislation from the next administration?
SK: It has more to do with congress than the president so it is not bombproof, you can repeal tax credits that exist but is rare to do so. For the most part, tax credits, congress tend to just let them expire. The president him or herself cannot unilaterally do it, they would need congress to pass another bill. It's unlikely, but not impossible to see a repeal of this, regardless of the next administration.