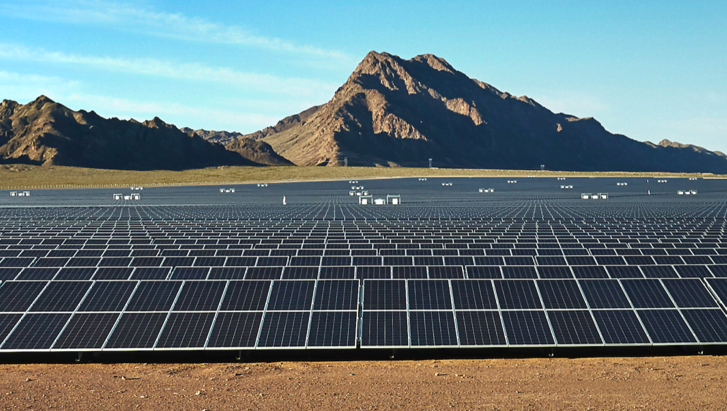 Amid a global shortage in energy supply, prices have kept going up and the transformation to low-carbon energy production has become increasingly urgent, further stimulating demand in the PV market.
Data shows that China's newly installed solar capacity was 52.6GW in the first nine months of 2022, up by 106% year-on-year. During the same period, the country exported 121.5GW of solar modules, an 89% increase.
Against the background of a booming PV industry, the top module companies updated their product shipment results in the first three quarters.
LONGi Green Energy returned to the top of the ranking with a remarkable record of over 30GW, followed by Trina Solar at 28.8GW, JinkoSolar at 28.5GW and JA Solar at 27.1GW. Among them, Jinko, Trina and JA have already shipped more modules in the first three quarters of this year than in the whole of last year.
| | | |
| --- | --- | --- |
| Ranking | Company | Q1-Q3 shipment (including cells) |
| 1 | LONGi Green Energy | 30+GW |
| 2 | Trina Solar | 28.8GW |
| 3 | JinkoSolar | 28.5GW |
| 4 | JA Solar | 27.1GW |
Top four module manufacturers' shipments in Q1-Q3 2022.
Shipments of those four module companies all exceeded 10GW for a single quarter, reaching a new level. Total shipment of the four companies during the first nine months of the year exceeded 114GW, which means a higher market concentration and market share for the industry's leaders.
Top manufacturers push shipments to new highs
While global demand remains buoyant, raw material shortages and rising prices remain acute within the industry.
In the face of a complex business environment, LONGi said that it has actively adapted to the market demand and changes in the industrial chain and employed flexible business strategies to achieve steady performance growth.
According to LONGi's financial report, shipment of its main products continued to grow in the first three quarters of the year, among which, shipments of mono wafers exceeded 60GW and mono modules exceeded 30GW. Meanwhile, LONGi topped the ranking with a revenue of RMB87 billion (US$12.4 billion) and a net profit of RMB11 billion. The company's performance in the first three quarters has exceeded that of the whole of last year.
LONGi repeated its shipment guidance for the year, a target of 90-100GW for mono wafers (including self-use) and 50-60GW for modules (including self-use).
As the only G12 (including G12R) cell technology manufacturer among the top four companies, Trina Solar has secured its position with its 600W+ high-power modules, gradually showing unique differentiation.
At the same time, PV Tech has noticed the tendency for Trina Solar to approach n-type technology has gradually become clear, and the company is actively developing TOPCon. Among them, Suqian 8GWn-TOPCon cell capacity officially reached the target output in the second half of the year. Meanwhile, Trina is also actively promoting large-size cell and module products based on the 210 technology platform. The 210 cell capacity is expected to account for more than 90% by the end of this year.
According to Trina's disclosed capacity plans, cells and modules will reach 50GW and 65GW, respectively, by the end of the year. Module shipments will be about 43GW (including self-use). If the annual capacity is fully utilised in 2023, its module shipmentsproducts has caused great pressu will grow by more than 50%.
JinkoSolar's performance in the first three quarters also raised some eyebrows. It has been ranked first in global module shipment for two consecutive quarters, mounting considerable pressure on its rivals.
In the first three quarters, JinkoSolar achieved operating revenue of RMB52.8 billion (US$7.5 billion), up by 117%, while net profit attributable to the parent company was RMB1.6 billion, a 132% increase. China, Europe and Latin America accounted for relatively high proportions of its Q3 shipments.
JinkoSolar's product mix was further optimised. N-type TOPCon accounted for nearly 3GW, revealing a higher n-type premium. It has been reported that Jinko is increasing its n-type capacity layout. The manufactured cell efficiency of the company's Hefei and Haining phase I 16GW TOPCon project has reached 25%. It is expected that the cost of n-type and p-type will be equal before the end of the year, and n-type will be able to earn extra profit.
Jinko is also pushing forward the construction of some key new capacities. Hefei TOPCon Phase II 8GW is on the way, Jianshan TOPCon Phase II 11GW will be put into production before the end of the year and Xining 20GW will be put into production in Q4. The company is expected to integrate 65GW of silicon wafers, 55GW of cells and 70GW of modules by the year-end.
With the strong performance, Jinko raised its annual module shipment target to 41.5-43.5GW, saying that its large installed capacity in China in Q4 was the core reason for raising the full-year target. Since more than half of the demand is projected to come from the domestic market in Q4, shipments can reach 13-15GW for the quarter.
JA Solar's performance of the year reflected its style of being "steadily progressive". In the first three quarters, the company's revenue reached RMB49.3 billion (US$7 billion), up by 89% year-on-year, and net profit was RMB3.3 billion, up by 150%.
The company's global shipment of cells and modules in the first three quarters was 27.1GW (including 352MW for self-use), a year-on-year growth of 68%, exceeding the company's total shipment of last year (24.5GW).
Demand weakens in Europe yet grows rapidly in China
Recently, the rapidly growing Chinese market has driven the demand for cells, while demand in the European market was not as good as that in July and August. According to the feedback of some companies, products shipped from now will have to be installed near the Christmas holidays, so the delivery pace was slowing down.
A senior executive of LONGi Green Energy said: "At present, demand mainly comes from Chinese market. In order to complete the installation task by the end of this year, downstream enterprises promoted the growth of demand in the Chinese market, which also leads to tight supply of cells. Cell prices are expected to change as market supply and demand relation changes. The whole industrial chain has entered a price-sensitive period."
Third-party agency estimates that the earnings of most leading module manufacturers in Q4 are expected to maintain at least around Q3 level, with increased distribution to the Chinese market.
JinkoSolar said that the company projects to increase shipments in Q4, with the proportion of n-type products further increasing with the opening of new power plants in China.
Global installations may reach 330-350GW next year
JinkoSolar believes that the global installed capacity will be 260GW this year, and the growth rate will hit 30% next year, reaching 330-350GW.
Views of the European market are still optimistic in the long term, although high growth in the short term may cause problems in logistics, warehousing and overstock at distribution channels, resulting in slowed growth instead.
Jinko expects the installed capacity in the European market to be 40-50GW and module shipment to be about 80GW this year. The installed capacity is projected to be 50-60GW next year, with the increase mainly coming from ground-mount projects.
LONGi also predicts that global demand next year will increase by about 30%. Europe and Brazil will also be important, but there are great uncertainties in the US market. Changes in other markets will not affect the overall global demand.
According to LONGi, the US market is quite abnormal this year. First-tier module manufacturers found it difficult to ship products to the US, and tracing the products has caused significant pressure on the companies.
By the end of this October, all the traceable Withhold Release Order products of the company have been cleared without any returns. The latest batch of products being detained by customs is still under negotiation.
There will still be a lot of uncertainty in the US market next year. Although there is strong demand in the US and module prices are much higher than in other markets. However, LONGi remains cautious because of traceability issues that may prevent products from entering the country.