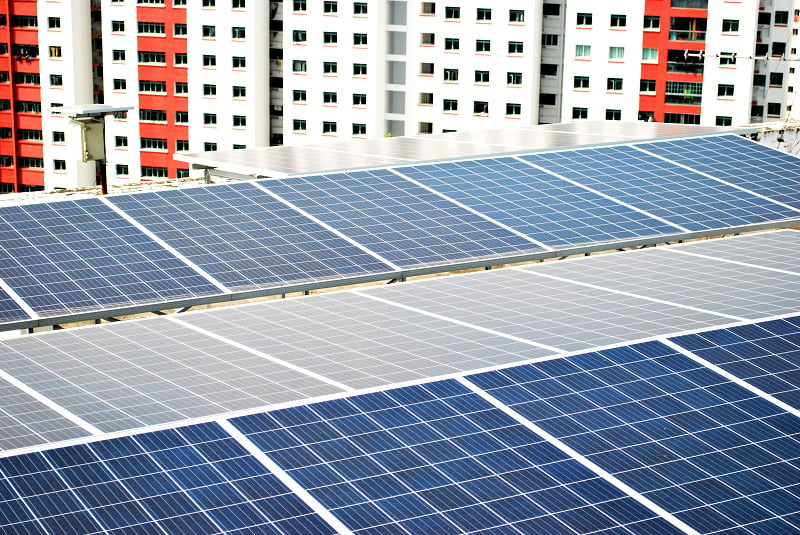 Singapore's Housing and Development Board (HBD) has issued its largest rooftop solar tender to date for 50MW of capacity across its own and other government sites.
The tender is HDB's largest to date and it comes under the SolarNova programme, led jointly by HDB and the Singapore Economic Development Board (EDB). Systems are to be installed across 848 HDB blocks and 27 government sites.
Previous SolarNova tenders were 40MW each with just four government agencies are involved, but the latest brings another four under its scope. The full eight are: HDB, the Ministry of Home Affairs (MHA), Ministry of Education (MOE) and National Environment Agency (NEA), Building & Construction Authority (BCA), Institute of Technical Education (ITE), National Heritage Board (NHB) and Sport Singapore (SportSG).
The tender closes on 31 January 2018, and is due to be awarded in Q2 next year. The systems are expected to be installed by Q2 in 2020.
HDB's chief executive Dr Cheong Koon Hean said: "HDB plays a key role in supporting Singapore's collective efforts to promote sustainable development. One area that we actively look into is to harness solar energy from the rooftops of HDB blocks. HDB's efforts in building solar capabilities have made steady progress."
HDB plans to facilitate 220MW out of the 330MW that Singapore has carved out for 2020. HDB's systems will be spread across 5,500 HDB blocks.
The SolarNova programme aggregates demand for solar energy across public sector agencies to enable those with smaller solar PV demand to enjoy solar energy at a lower cost due to economies of scale. The managing parties of the HDB blocks and government buildings will enter into a power purchase agreement (PPA) with the private sector developer at preferential rates.
In September, Singapore's National Water Agency announced plans to tender for two floating photovoltaics (FPV) power plants for a total of 56.7MW after initial tests proved a number of benefits.