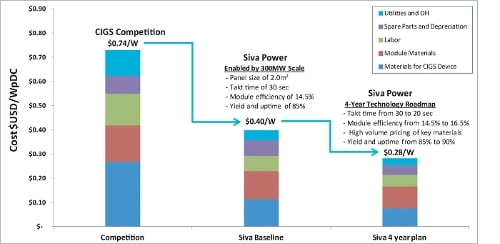 CIGS thin-film start-up Siva Power has raised US$5 million in new Series D financing to build a pilot line to produce small-scale production to demonstrate its co-evaporation source technology at its facility in Santa Clara, California.
The company also reiterated that it was raising capital to build its first 300MW production line that it claims would initially lower CIGS thin-film module costs to US$0.40/W and provide a roadmap to less than US$0.28/W. Higher nameplate capacities are claimed to lead to costs of US$0.20/W.
Brad Mattson, Siva Power CEO said: "We have been consolidating all the top-tier talent in CIGS solar manufacturing here at Siva Power for the past couple of years and now are moving forward to manufacturing solar panels at the absolute lowest-cost."
Siva first touted plans for a pilot line in July, 2014. Last year the start-up moved to a new facility start construction and testing of its co-evaporation source technology, which it won a US$3 million US Department of Energy SunShot Initiative award to progress the technology.