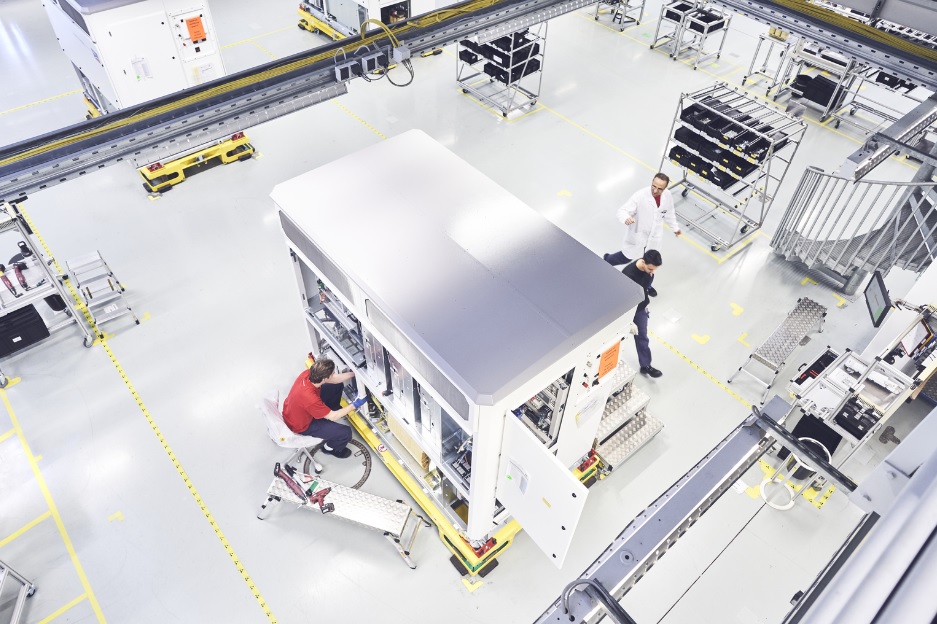 Major inverter manufacturer SMA Solar Technology has reported preliminary full-year 2020 financial results which met the low end of guidance, but also reported a slight decline in fourth quarter sales coupled to plummeting gross margins.
SMA Solar reported fourth quarter sale of €254 million, down slightly from €259 million in the previous quarter. First quarter sales of €288 million proved to be its peak for 2020, slumping to €226 million in the second quarter primarily due to the impact of COVID-19 lockdown and travel restrictions in key markets such as the US and Europe.
Gross margins peaked at 22% in the COVID-19 impacted quarter, falling to 20% in the third quarter. However, fourth quarter gross margins plummeted to just 7%.
SMA Solar noted some one-off negative issues had impacted gross margins in the fourth quarter, which included inventory provisions and warranty accruals but were not specifically outlined in its Capital Markets Day presentation issued alongside its preliminary full-year financial results.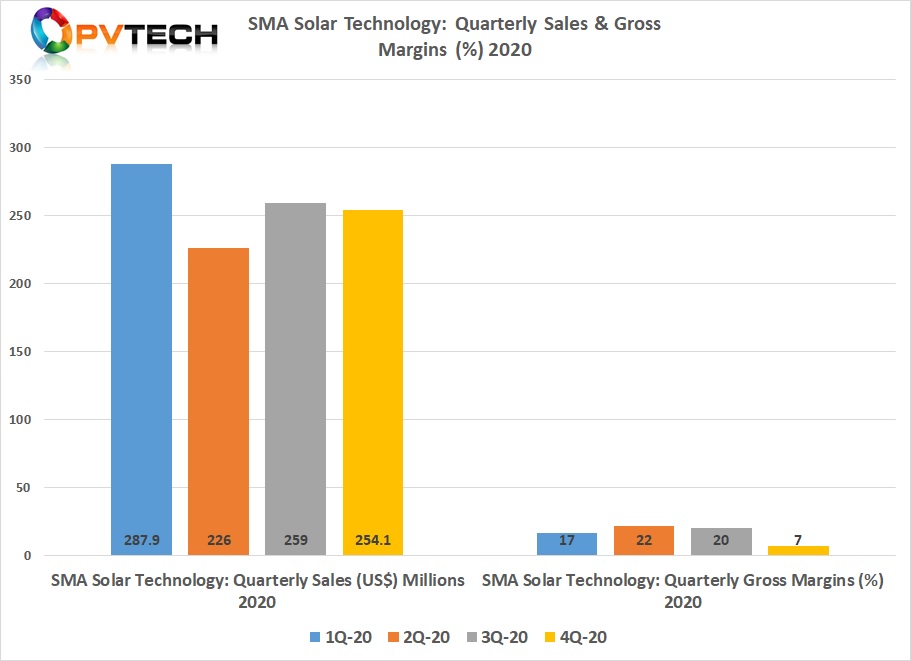 Preliminary full-year gross margins were 16%, down from 18% in 2019. SMA Solar had also noted that pricing pressure continued throughout the year, notably in the utility-scale market, due to price bidding.
Pricing pressure is expected to continue in 2021, across the residential, C&I and utility-scale markets.
The company reported total PV inverter volume sales of 14,416MW, up 16% from the prior year volume sales of 11,409MW, a new record for the company. SMA Solar said it had surpassed cumulative inverter sales of 100GW by the end of 2020.
Total revenue in 2020 was around €1,027 million, compared to €915.1 million in 2019. Guidance range had been between €1,000 million and €1,100 million.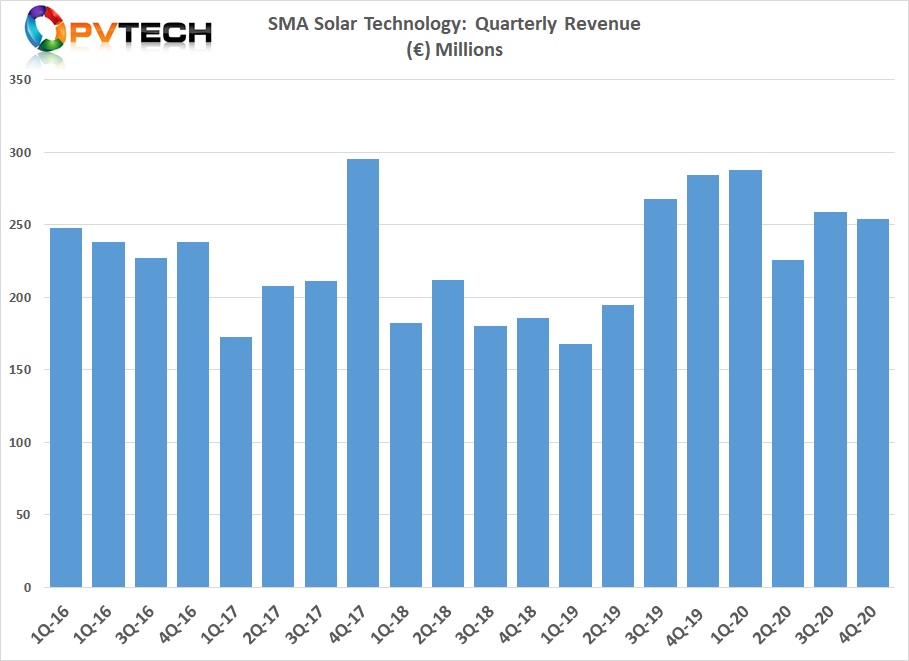 Key markets remained utility-scale accounting for revenue of €470 million, 24% higher than the previous year. Sales in the US utility-scale market were said to have increased significantly, including the delivery of 98 Sunny central inverters to the world's largest battery storage project.
The company also claimed it had around 65% of the 6.5GW central inverter capacity committed or already commissioned in the Australian market.
The residential market accounted for around €264 million of total revenue in 2020, increasing 10% from the prior year period. However, the commercial and industrial segment revenue declined 1% in 2020 to €293 million.
Overall, sales increased by 12%, compared to the previous year.
SMA Solar reported a preliminary EBITDA of around €72 million, compared to €34.2 million in 2019. The EBITDA increase was said to be due to streamlining its product portfolio, while increasing sales.
Guidance
SMA Solar guided sales in 2021 to be in the range of €1,075 million to €1,175 million and EBITDA to be in the range of €75 million to €95 million.
The company expects sales growth in all three key PV business segments in 2021 with expectation of continued growth of the PV market in Europe and America as well as the global storage market.
However, SMA Solar's product order backlog stood at €386 million at the end of the fourth quarter of 2020, compared to €395 million in the prior year period. Product order backlog had reached a record of 453.1 million in the second quarter of 2019.