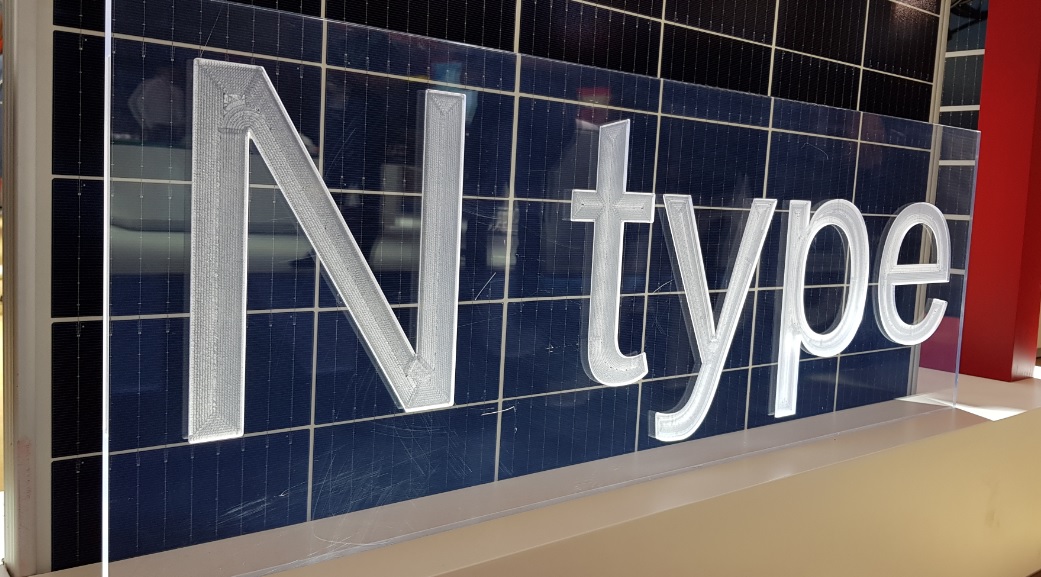 'Solar Module Super League' (SMSL) members, JinkoSolar, Trina Solar and Risen Energy have announced new PV module supply deals, cell efficiency records and overseas market growth this week.
Tiger unleashed
Leading SMSL, JinkoSolar said it had supplied 300MW of its recently launched 'Tiger' Series PV module that can have conversion efficiencies of 20.78% and can generate up to 460Wp of power output, due to mono-PERC half-cut cells with 9 busbars to an ultra-high voltage demonstration plant in Qinghai Province, China.
This is the first utility-scale project to deploy the Tiger modules.
Kangping Chen, CEO of JinkoSolar, commented, "As a top global module supplier, we are constantly innovating and improving the quality products and I am proud to have the opportunity to demonstrate their effectiveness by installing them for the first time on a ground mounted utility project. Our Tiger panels are some of our most sought-after products due to their application of unique tiling ribbon technology which removes any gaps between the cells, improving reliability and efficiency."
Cast in mono
SMSL member, Trina Solar reported a new world record of 23.22% for a high-efficiency large-area quasi-monocrystalline n-Type (c-Si) i-TOPCon (Industrial Tunnel Oxide Passivated Contact) solar cell, which has been independently confirmed by the ISFH CalTeC in Germany.
The p-Type mono-cast wafers have been pioneered by GCL-Poly but little information concerning n-Type cast-mono wafers is available.
"We are very delighted to announce the latest achievement from our technology research team at the SKL PVST. To the best of our knowledge, this is the new world record for a total-area efficiency for a large-area cast-mono silicon solar cell" said Dr Zhiqiang Feng, Director of State Key Laboratory (SKL) of PV Science and Technology of Trina Solar. "The excellent R&D results lays a solid foundation for Trina to provide a new differentiated high-end PV modules and solutions to our customers."
Trina Solar noted that its n-Type bifacial i-TOPCon solar cell was fabricated with a low-cost industrial process of advanced i-TOPCon technologies, on a large-sized phosphorus-doped Cast-mono Si substrate. The 247.79 cm2 bifacial solar cell reached a total-area front side efficiency of 23.22%.
At SNEC 2019, Trina Solar launched an i-TOPCon double-glass bifacial module that can achieve performance of 425Wp with a 20.7% conversion efficiency.
Marching on
SMSL member Risen Energy continues to expand PV module sales along the Belt and Road Initiative created by the Chinese government.
After signing a PV module supply contract with Ukraine's largest private energy provider, Donbas Fuel and Energy Company (DTEK) in early 2019, Risen Energy has since been awarded an order for 148MW half-cut cell high efficiency monocrystalline modules, which is expected to result in more than 1GW of its modules shipped to the Ukraine by the end of 2019.
Further success in Vietnam led the company to claim it now had a market share in Vietnam, exceeding 30%.
Risen Energy president Xie Jian said, "We will continue to expand into more emerging markets along the Belt and Road route, enhance our presence in emerging markets that show development potential, deepen our close cooperation with our partners, and, by doing so, boost the development of sustainable and renewable industries in countries along the route."
Risen Energy is also said to be the first China-based SMSL to put capital into the construction of PV power plants in Kazakhstan.
The company has already signed mandate letters with the European Bank for Reconstruction and Development (EBRD) for financing of its 63MW solar project and 40MW solar project, both in Kazakhstan. This past July, Risen Energy started construction of its second EPC project in the country's Chulakkurgan rural district.