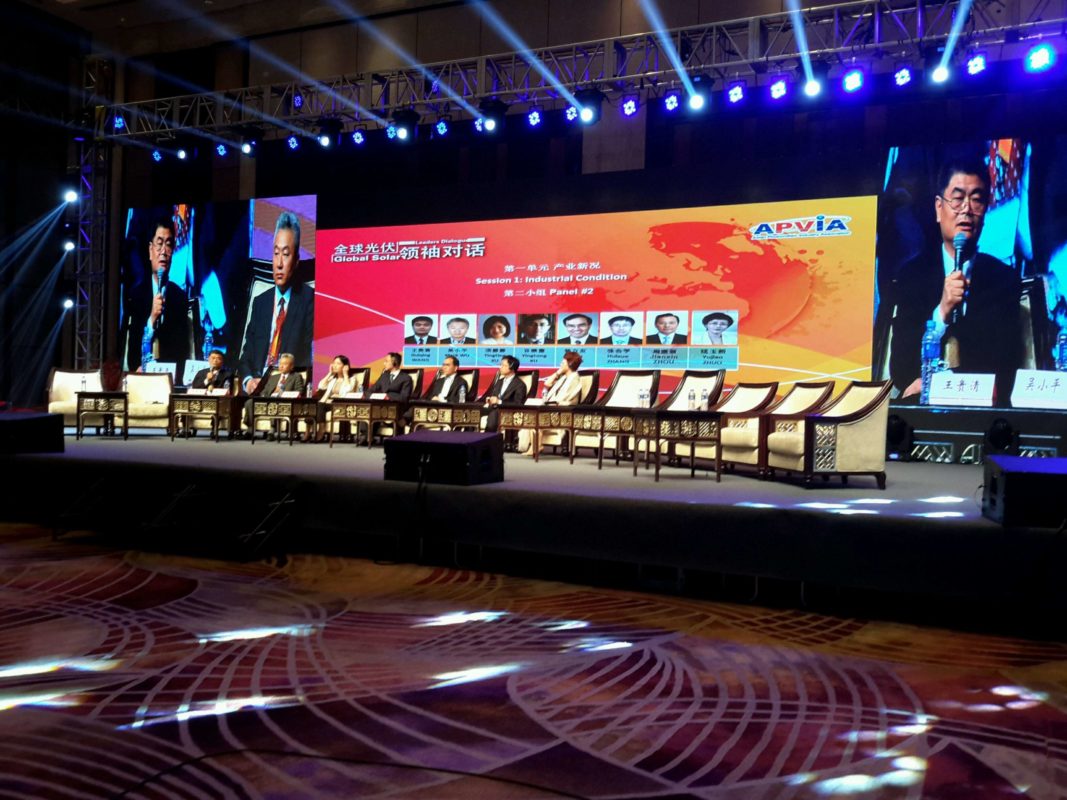 The first day of the SNEC PV Power Expo in Shanghai has seen a wealth of opinions from key industry figures on the state of the solar equipment manufacturing industry. Here are some of key takeaways from the day:
Eicke Weber, director of the Fraunhofer Institute for Solar Energy Systems (Fraunhofer ISE): There is a need to double PV equipment production capacity in five years from 60GW to 120GW, however, supply and demand was balanced this year.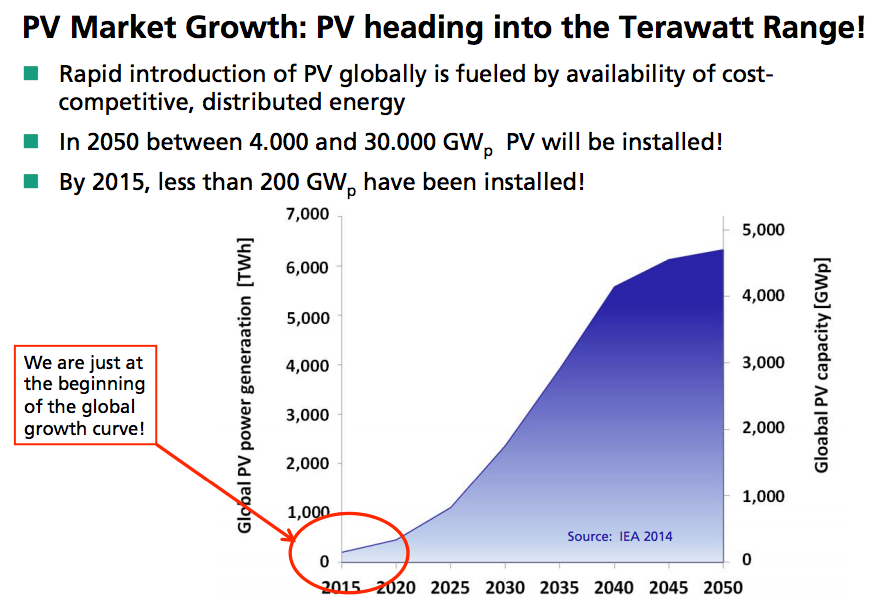 John Smirnow, secretary general at the Global Solar Council: There are plans to grow solar associations in regions where they don't exist today to help grow the solar industry further. The industry is also looking at 10 million solar jobs by 2030 with a requirement to invest US$1 trillion.
Martin Green from the University of New South Wales: Manufacturers are working towards reaching 25% efficiency in Passivated Emitter Rear Cell (PERC) solar cells. Future advancements in that technology will focus on tandem solar cells and stacking cells on silicon. Over the past three years, the cost of cell production has continued to decrease, with an average 12% reduction in cost per year for modules.
The biggest contributor to costs is now found in encapsulating the cell into the module.
Perovskite solar cells are still seen as promising, but not as much as they were two years ago, because they are seen as unstable and it is now unclear if this issue can be rectified.
Afternoon Session
In the solar leaders' dialogue, Jifan Gao, chairman and chief executive of Trina Solar: Solar has risen in importance since the COP21 climate conference in Paris and globally there needs to be focus on low carbon energy production. However, China as a developing country is facing challenges in keeping down carbon emissions. The G20 Summit represents an opportunity to present a report with an effective plan on lowering emissions with a global perspective.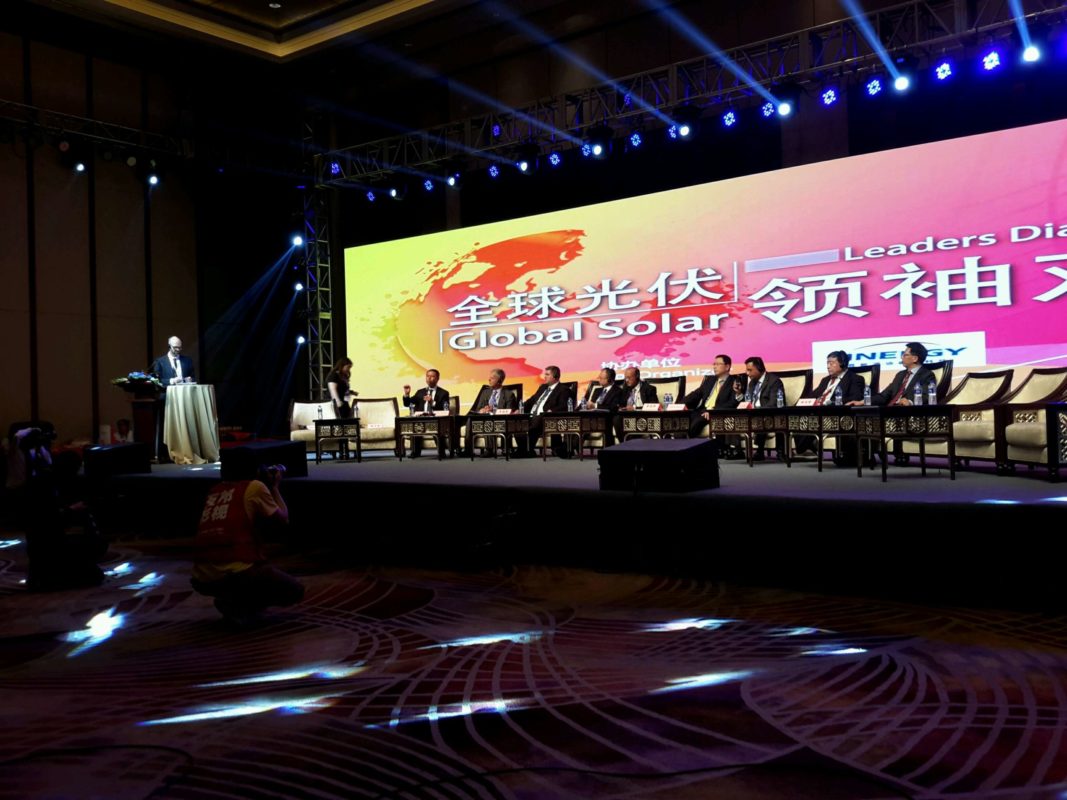 Andreas Liebheit, senior vice president and global manager of PV business unit at Heraeus: Costs can come down by 50% every five years through efficiency increases without increasing the cost of components. There is expected to be 10GW of PERC capacity this year.
Shawn Qu, chief executive of Canadian Solar: There will not be an oversupply coming this year. Furthermore, module costs are expected to reach US$0.21 per Watt and EPC to cost US$0.61 per Watt by 2020. He also said that Canadian Solar is seeking to match the ambitions of its rival First Solar.
Pranab Sarmah, chief investment officer of OCI Global: There is a need to diversify OCI's portfolio by moving into downstream activities. The company is targeting Africa and Southeast Asia. Meanwhile, it has also started investing in large-scale energy storage deployed in the US since grid curtailment is seen as a major issue.
Dinghuan Shi, president of the China National Renewable Energy Society: In 1988 when Shi started in renewables, he could not have imagined the rapid deployment of solar seen today. The Copenhagen Climate Change Conference, alongside pressure from established countries, triggered China to embark on aggressive plans and an energy revolution that led to this rapid solar deployment of today. China recently surpassed 50GW of solar installations.
If the energy transition can be successful in China, it can be successful anywhere.
Chuck Xu, global business director, DuPont Photovoltaic Solutions: In 2006, 1GW of modules required 100 tonnes of silver paste, but technical innovation has meant that today, the same volume requires just 26 tonnes of silver paste. The next aim is to decrease degradation after 20 years of module life from1% per annum to 0.6% per annum.
Guiping Wang of the China Chamber of Commerce of Machinery and Electronics (CCME): Chinese companies are actively dealing with anti-dumping issues with the EU. A price commitment has been reached, which allows Chinese companies to secure a certain amount of volume into the EU. However, because of this high price, the demand in the EU is shrinking. 50% of Chinese solar products are now used domestically with 13% going to the US and 13% or 14% going to the EU.