A personal perspective on why a solar company could take on its rivals and thrive in a year full of disruptions to the industry but report record results and revenue growth that is unlikely to be topped by any other PV manufacturer in 2018.
We all know about the Top 10 rankings, such as PV Tech's annual solar cell and module supplier lists, while other rankings apply covering EPC's, inverter suppliers et al. All these help understand the 'real' leaders in their fields of expertise by taking some of the hype out of these companies' claims. They should also identify those that continue to dominate as well as highlight up and coming competitors through to those struggling to keep market share.
Understandably, such ranking lists prove really popular but a question often raised in my line of work from outsiders to insiders, from residential installers to executives at large corporations in the solar industry, often revolves around what technology or what company(s) have impressed me, whether that's been long-term or short-term. Of course, the question needs responding to and reasons given.
A reasonably long flight late last year (one of the more uncomfortable), got me thinking about why I had agreed to that particular excursion in the first place, and then I realised it was because the company in question had really impressed me in 2018.
There are lots of reasons that will come apparent, but the old grey matter questioned the validity, especially when some of the other candidates would easily come into the fore.
A good example (don't worry I will not be giving a Top 10 list) would be LONGi Group, which has been instrumental in the upstream solar industry kick-starting and leading the transition away from multicrystalline wafers to monocrystalline. Add-on becoming a member of the SMSL as well and this company ticks all the boxes in recent years.
Leading SMSL, JinkoSolar also meets the criteria on a successful business model that has proved 'asset-lite' viable when most companies were going 'fully-integrated' and has set annual module shipment records that are now in the 10GW range. Not bad for a company I remember back in 2010 having a grand total of 150MW of module capacity.
Finally, not considering the likes of First Solar, which has dominated the thin-film sector for 10-plus years and was once the leading module manufacturer in the world, would be foolish. Indeed, its ongoing transition to its Series 6 large-area CdTe modules remains an impressive sight to watch, albeit still a great work in progress.
Bucking the trend
Many may be surprised that of all the companies that impressed the most in 2018, the winner was not a polysilicon, wafer, cell or module manufacturer. I surprised myself with that realisation.
It all started a few years ago when the PV inverter market became increasingly competitive and technology shifts were starting to shake-up market rankings.
Huawei had shot to number one in the PV inverter market rankings with its string technology breaking the central inverter grip on the utility-scale market and long-standing market leader, SMA Solar was continuing to lose market share, enabling Sungrow to surpass the company on a revenue basis for the first time in 2017.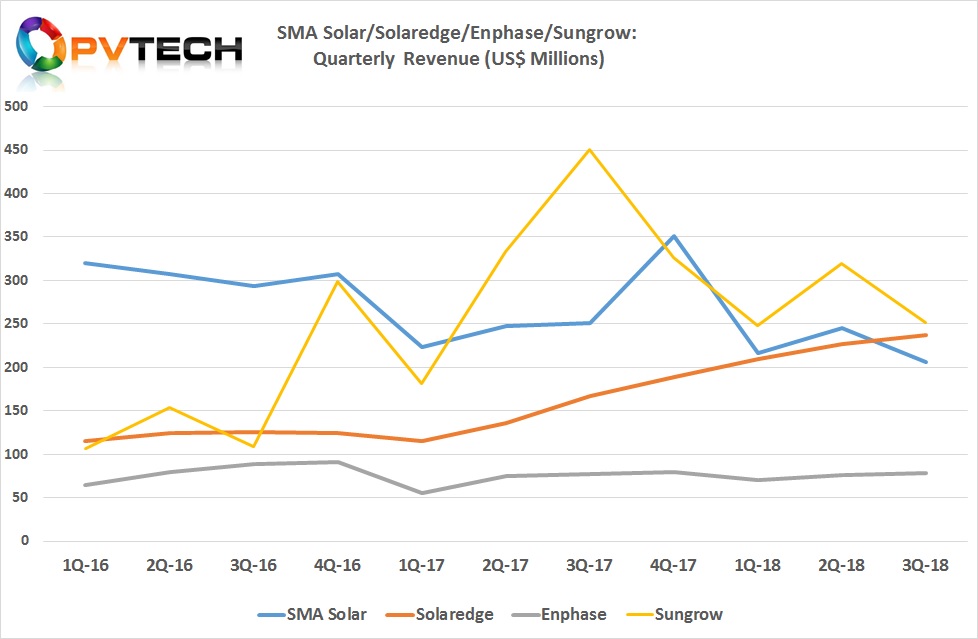 However, another inverter manufacturer, SolarEdge Technologies really started to gain new business momentum in 2017, although well below the horizon in comparison to Sungrow and SMA Solar, but momentum continued to build each quarter.
Spin forward to 2018 and the impressive revenue and shipment figures were out of step with its public listed rivals. In a turbulent year for SMA Solar and Sungrow, while Enphase was still getting its act back in order after several years of restructuring and senior management changes, SolarEdge became the most exciting player in the inverter space to watch.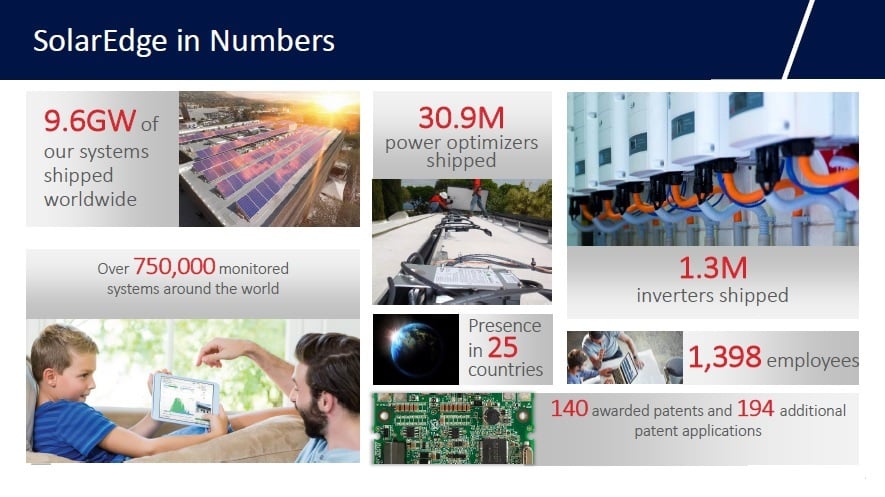 By the third quarter of 2018, SolarEdge had continued to post record revenue and product shipments, also surpassing the 1GW of quarterly inverter shipments milestone, for the first time.
PV Tech had been covering SolarEdge well before its NASDAQ IPO in March 2015, yet clearly, 2018 had been a landmark year for the company. It should be noted that despite China being the largest end-market, SolarEdge is also approaching revenue levels closer to Sungrow, a market dominated by the likes of Sungrow and Huawei.
SolarEdge isn't a player in China, which has proved highly beneficial as SMA Solar's foray ended recently and could have been behind the exit of its CEO, Pierre-Pascal Urbon, who suddenly stepped down from his executive role in October 2018 and planned to leave the company altogether at the end of December.
Having also surprised on news it had sunk to a €67 million loss in 2018 and revenue right at the low-end of guidance, SMA Solar is more than likely to be passed by SolarEdge on a revenue basis in 2018.
In the unfolding SMA Solar saga, despite highlighting challenging business environments in China and the US, SMA Solar would seem to have been having other problems than simply geographical.
Indeed, one of the long-standing touted strengths of the company came from it having the broadest geographical market footprint, something the likes of JinkoSolar have benefited from successfully in the module market.
Away from the hustle and bustle of trade shows near the end of the year, PV Tech had the opportunity catch-up with SolarEdge and get their perspective of why 2018 had been one of such success.
However, when we stay away from the hustle and bustle of trade shows, meeting members of the SolarEdge team at their headquarters, is not anything less than high activity. The company has grown its headcount massively in the past few years and now populates a group of office blocks that house all the usual HQ operations as well as R&D and new project/product development operations and long-term product testing.
Indeed, its R&D organization had a headcount of 367 employees in 2017, compared with 258 at the end of 2016. Total full-time employees in 2016 were 718, compared to 1,007 at the end of 2017. This had increased to 1,737 employees in 2018 (Latest investor presentation February 2019) with roughly 60% of these to be found in and around the headquarters.
Putting all that into perspective, at the time of SolarEdge's 2015 IPO, it had 440 full-time employees, including 188 in R&D.
As always, it is great to get the opportunity to visit product development operations and testing facilities, even if you really cannot reveal much of what you were shown. A guided tour though was illuminating on several fronts, not least the number of engineers hard at work in packed rooms on many floors at the headquarters, while remodelling work areas and the general bustle never stopped.
It was also clear that the pace of new product development was not slowing down, while testing and evaluation was busting at the seams. Hijacking a conference room as we didn't know when a team of engineers were expected to take over the space, PV Tech sat down with one of the founders of SolarEdge, Lior Handelsman who is the VP of Marketing & Product Strategy.
Therefore it was a case of getting some of the intriguing questions answered first, not least what in Lior's view was behind the success of the company and failures of a key rival in 2018.
"In some respects, when looking back, it is unsustainable to think a company can retain an 80% market share but there are some important lessons for all of us, which is having a constant focus on new technologies and technology patterns and retaining a customer orientation from small to large," noted Handelsman. "In such a competitive market the little things also matter but everyone has recently had supply issues, due to the shortage of key components such as semiconductors and capacitors and everyone is constantly trying to limit the impact on customers."
Handelsman was alluding to what has been a significant shift in demand for critical components such as capacitors, not only the growth in demand for the solar industry but really across the automotive industry, including electric vehicles' insatiable demand, because electronics, notably power electronics, make up an increasing percentage of the BOM (Balance of Materials).
"We are all having to deal with the component issues as these manufacturers were only geared-up for single digit demand growth and adding new capacity is a multi-year capex cycle that is billions of [US$] dollars as they need to now double production," noted Handelsman.
Adding to the challenges of dealing with industry-wide supply issues, SolarEdge was forced to increase product pricing in one of its key markets, due to the US trade war with China, which underlines that it was not just simply a year of market growth and normal business execution behind the milestone year for the company.
Diversification
It would be understandable then that SolarEdge would have focused on consolidating its position in 2018, instead it went to the next phase of potential growth with the acquisition of South Korean-headquartered Kokam, a small-scale manufacturer of lithium-ion battery cells, batteries and energy storage solutions.
"We want to become a more diversified company and continue to have strong growth in the future," noted Handelsman. "This was also the reason behind the acquisition of Gamatronic Electronic Industries for entry into the UPS (Uninterruptible Power Supply) market. We want to grow that business organically. So it's a case of diversification into related technology markets that we can leverage, as well as diversification outside solar such as Kokam."
In early 2019, SolarEdge announced the acquisition of Italian-headquartered S.M.R.E Spa, which provides integrated powertrain technology and electronics for electric vehicles, reiterating SolarEdge's diversification strategy into the connected sectors but also outside the solar industry.
This may include both new products and acquisitions in the field of energy networks in the future where cybersecurity and network interoperability are critical factors across an energy market dominated by renewable sources.
However, not only are there recent acquisitions of manufacturing-based companies but SolarEdge is reinforcing its inverter product offerings with more manufacturing control over its OEM supplier base.
According to Handelsman, SolarEdge is responsible for the automated production lines at the OEMs and expanding what he described as "self-manufacturing" as the company is building up its own in-house manufacturing capabilities.
A big takeaway is that SolarEdge is embarking on its next wave of business growth and the challenge will be coming up with a short but new (accurate) description of the company, as labelling SolarEdge as just a 'major PV inverter supplier,' will not cut it in the near future.