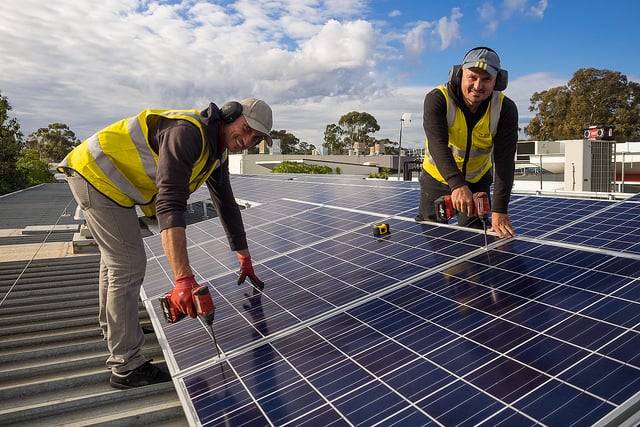 Deployment of large-scale PV projects was instrumental in Australia's renewable job surge between 2017 and 2018, according to the Australian Bureau of Statistics (ABS).
New figures show utility-scale projects overtook hydro as Australia's second largest renewable employer in the 2017-2018 period. The 2,880 jobs it created – up 210% from 930 in 2016-2017 – accounted for 16% of the total.
At 46%, though, rooftop solar retained its decade-long position as the unrivalled top renewable employer. The segment boasted an 8,240-strong workforce in the 2017-2018 period, an extra 1,720 on the 2016-2017 headcount figures.
With 2GW installed as of December 2018, rooftop projects were particularly commonplace in Queensland and South Australia. Up to 36% and 34% of suitable private homes featured rooftop PV in either state, up from 19% in New South Wales and 17% in Victoria.
Queensland slammed for electrician obligation
The employment update comes as Australia cements its position as a PV hotspot, with IRENA stats finding a major capacity jump (5.9GW to 9.76GW) between 2017 and 2018. As noted by the ABS, the large-scale pipeline is particularly significant in Victoria, Queensland and New South Wales.
According to Australia's Clean Energy Council (CEC), the momentum lies at risk in the second of three states. Queensland, the trade lobby said, could inflict "unnecessary damage" to the PV sector via new rules mandating the employment of licensed electricians to install, fix or dismount panels.
The obligation – announced only last week but due to come into force on 13 May – was "rushed and poorly communicated", the CEC argued. For a 100MW farm, it would require hiring an extra 45 electricians it could struggle to find in the rural environments projects tend to be based in, the association added.
"Were there a genuine electrical safety risk presented by someone bolting an unconnected solar panel to a frame, we would be a very willing partner," said the CEC, adding that existing regulations already ensure that electricians perform electrical cabling and earth testing.
See here for the ABS update and here for more background on Queenland's new rules