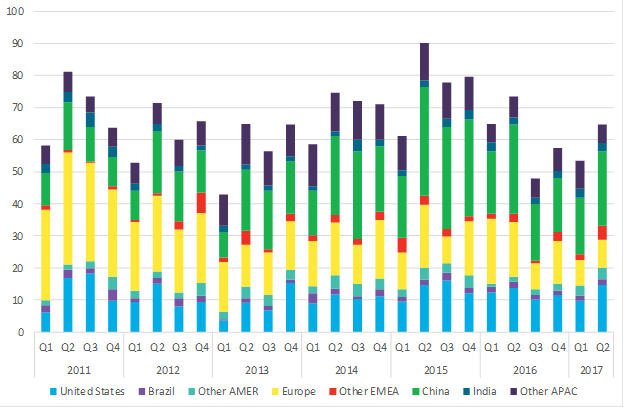 A total of US$35.6 billion was invested in solar energy worldwide in Q2 this year, according to Bloomberg New Energy Finance (BNEF).
PV investment was up 20% from the first quarter of this year, and 19% up on the same quarter last year. A major part of the increase was due to the US$1.9 billion financing of two giant solar PV parks in the Middle East, the 800MW Sheikh Mohammed Bin Rashid Al-Maktoum III plant in Dubai, and the 1.2GW Marubeni JinkoSolar and Adwea Sweihan project in Abu Dhabi. Both parks have seen significant funding news this summer.
It's worth noting that overall investment per megawatt in solar and wind was less in Q2 2017 than in previous years due to a sharp 15% reduction in project costs over the last 12 months.
Abraham Louw, analyst, clean energy economics at BNEF, said: "The US$64.8 billion investment total in Q2 was quite firm given that backdrop of falling costs."
Victoria Cuming, head of policy for Europe, Middle East and Africa at BNEF, said: "The UAE deals are the largest in that country to date by far, and show that its auction programs are leading to the commitment of hard cash by banks and equity providers. They also signal that oil-producing countries are warming to renewables as part of moves to diversify their economies."
For renewables investment overall, while positive movement was seen in China, the US, Mexico, Australia, Egypt, Argentina and Sweden, the UK had the weakest quarter diving by more than 90% compared to the same period last year.