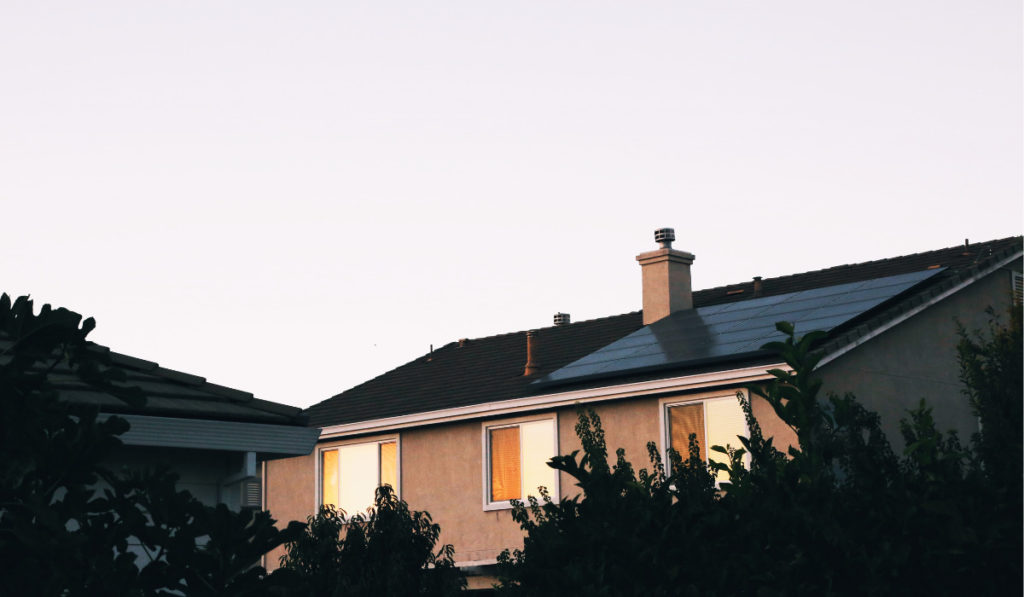 Households in European countries could save up to 84% on their household bills by installing both solar PV and heat pumps compared to homes relying on gas heating, according to a recent study conducted by trade body SolarPower Europe.
The report highlighted savings made by German, Spanish and Italian households using three different technology options: solar PV, heat pumps and the combination of solar PV and heat pumps. The savings were compared to the price an average family household would pay by sourcing all electricity from the grid and using a gas boiler for heating.
In Spain, households could save as high as 84% of their annual energy bill by combining solar PV and heat pumps. Italian households could also save 83% when they chose to use solar PV and heat pumps. However, in Germany, households could only save 62% on their energy bill.
Spanish households could benefit from only using solar PV as well, as they could save 64% on their bill, higher than their Italian (40%) and German (22%) counterparts.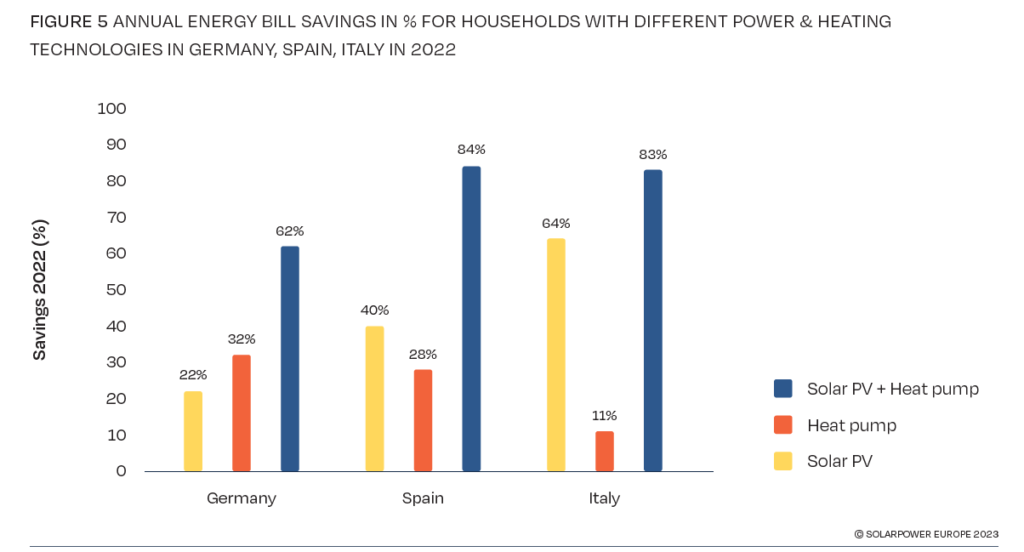 However, in terms of the amount that households could save, Italy topped the list with savings of €3,766 (US$3,977), followed by Germany (€3,614) and Spain (€2,831).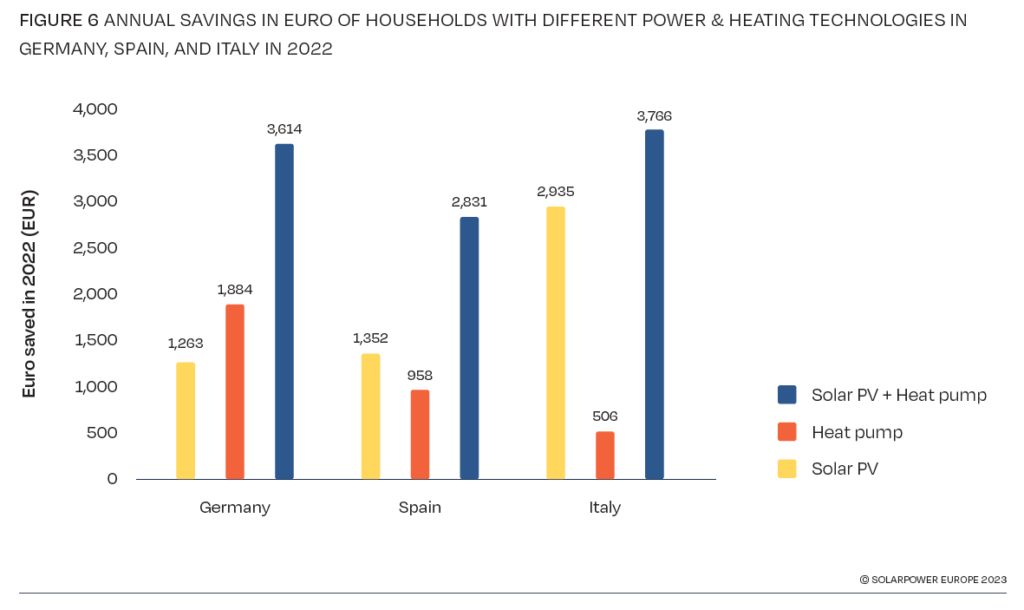 According to the report, using solar PV can reduce the total energy cost by two means. First, it reduced the purchase of grid electricity thanks to PV self-consumption. Second, PV generated income from selling excess production. The net costs were reduced to almost zero in Spain or even non-existent in Italy. Income from selling excess solar production outweighed the residual cost for grid electricity without solar production.
The report also stated that the high prices for gas and electricity last year led to record growth for solar PV and heat pumps in Europe. The annual solar PV market grew by 47% from 28.1GW to 41.4GW of annual installations in 2022, while heat pump installations increased by 42% to reach 2.35 million units from 1.65 million united in the same period.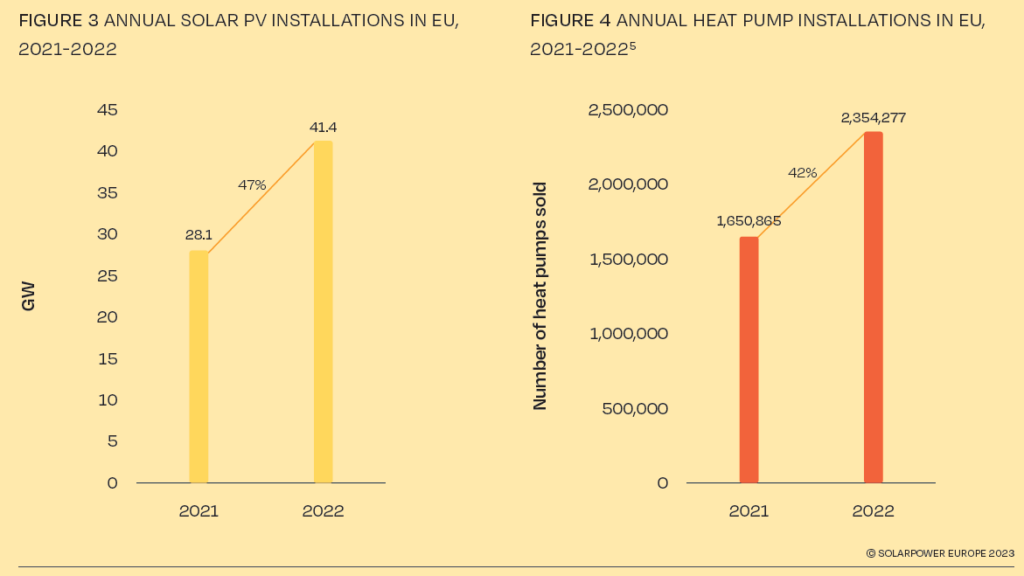 In Germany, Italy and Spain, annual residential solar PV installations increased by 57% to 4.09GW in 2022 from 2.61GW in 2021. Italy had the highest growth, from 350MW in 2021 to 1.19GW in 2022, equivalent to a 240% increase. Spain and Germany increased by 106% and 9%, respectively.
Heat pump installations in Germany, Italy, and Spain increased by 53%, 37% and 21%, respectively year-on-year.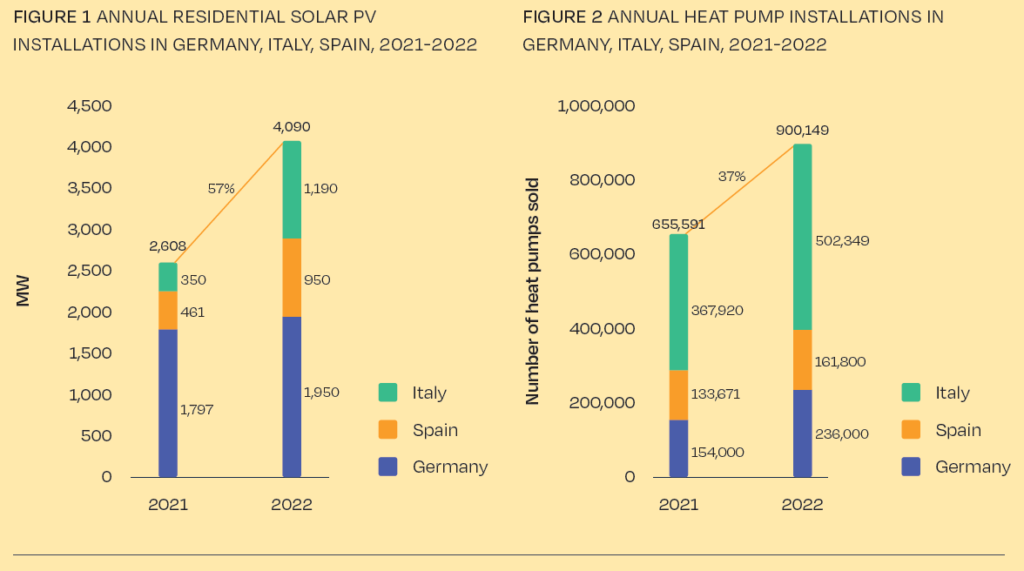 To promote solar PV and heat pump installations, the report suggested that moderate increases in capital expenditure support could reduce payback times. It added that a 30% increase in capital expenditure support reduced payback times by six to eight years for Italy, Spain, and Germany.
Also, the government could offer low-interest rate loans to citizens for solar and heat pumps due to high initial investment in the technologies.