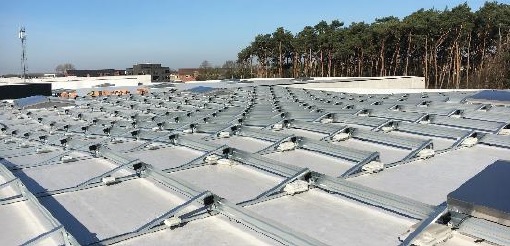 Major PV inverter manufacturer SolarEdge Technologies has guided a return to overall business growth in 2021, due primarily to strong market demand in Europe and the US as well as the rollout of its residential energy storage product.
Reporting its Q1 2021 results late yesterday, SolarEdge noted that it met the high-end of first quarter 2021 revenue guidance despite another wave of component supply constraints and a 100% increase in freight shipping charges and logistical disruptions during the quarter.
The company reported first quarter 2021 revenue of US$405.5 million, up 13% from US$358.1 million in the previous quarter, but down 6% from US$431.2 million in the same quarter last year.
Revenue from its solar business in the reporting quarter stood at US$376 million, compared to US$327 million in the previous quarter.
SolarEdge said that revenue from its non-Solar business was US$29 million, compared to US$31 million in the prior quarter, which was led by sales of lithium-ion batteries from its subsidiary Kokam and increased sales in its emerging e-Mobility market segment.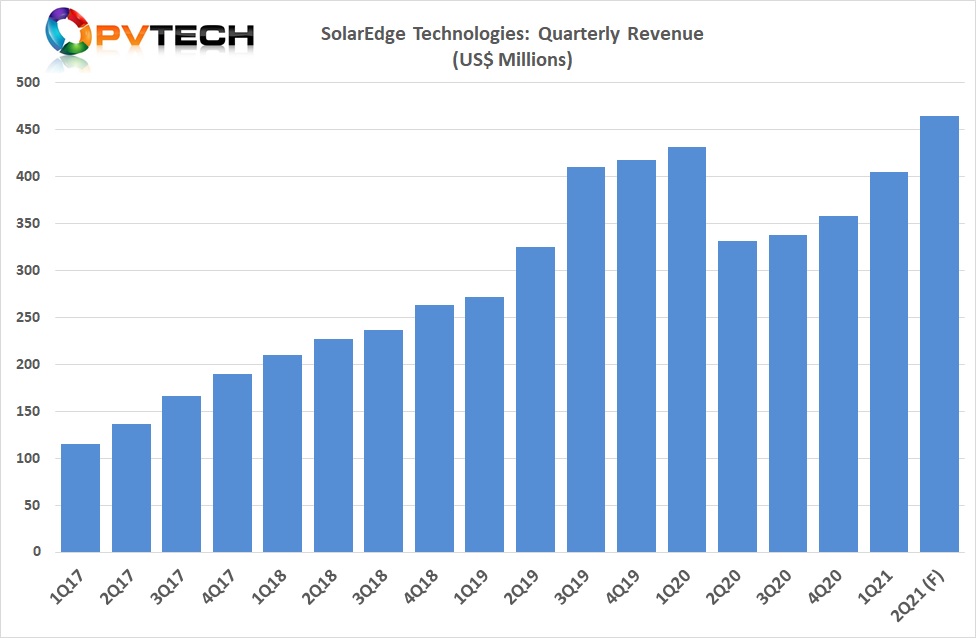 But revenue in the second quarter of 2021 was guided to be in the range of US$445 million to US$465 million. Forecasted revenue from its solar segments is guided to be within the range of US$405 million to US$420 million.
The company noted that demand in Europe was continuing to increase, due primarily to residential markets led by sales in the Netherlands as well as Germany, France, Italy and Poland.
In North America, sales increased 23%, quarter-on-quarter, having increased by around 50% from the third quarter of 2020 through the fourth quarter of last year. The latest growth in the region was said to have driven by both residential and commercial & industrial market demand, which had finally picked-up after a lacklustre 2020.
Other regions such as Australia, Asia-Pacific, Japan, Brazil and Israel generated a third consecutive quarter of growth and record shipments for the company.
SolarEdge highlighted the Australia market in the reporting quarter as having sales of almost 100MW, representing an increase of more than 50% quarter-on-quarter.
In 2020, regional shipments to North America remained flat, while Europe was the company's strongest market. ROW also increased significantly in 2020 as part of SolarEdge's attempts to broaden its global sales footprint.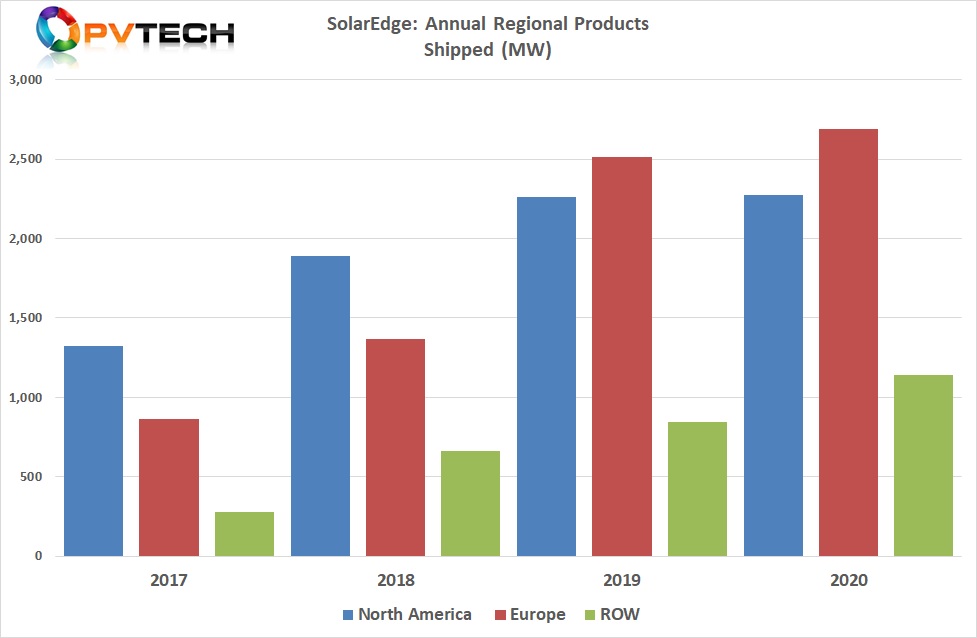 Although SolarEdge reiterated that "meaningful" energy storage revenue was not expected until the third quarter of 2021, shipments had started in the second quarter with emphasis on meeting demand in the US, followed by Europe. The segment is expected to gain momentum in the second quarter of 2021 in the US, with energy storage revenue in 2021 guided to be in the range of US$100 million to US$150 million.
Such a performance would push total US market revenue higher compared to the previous year, given its early regional weighting to the US market.
The company also noted that 86% of products shipped to the US in the reporting quarter were not subject to tariffs as they were manufactured outside of China.
SolarEdge shipped approximately 3.7 million power optimiser units in the first quarter of 2021, compared to over 3.6 million units in the previous quarter, but the company has yet to return to record peak shipments of over 5 million units, a figure recorded in the prior year period.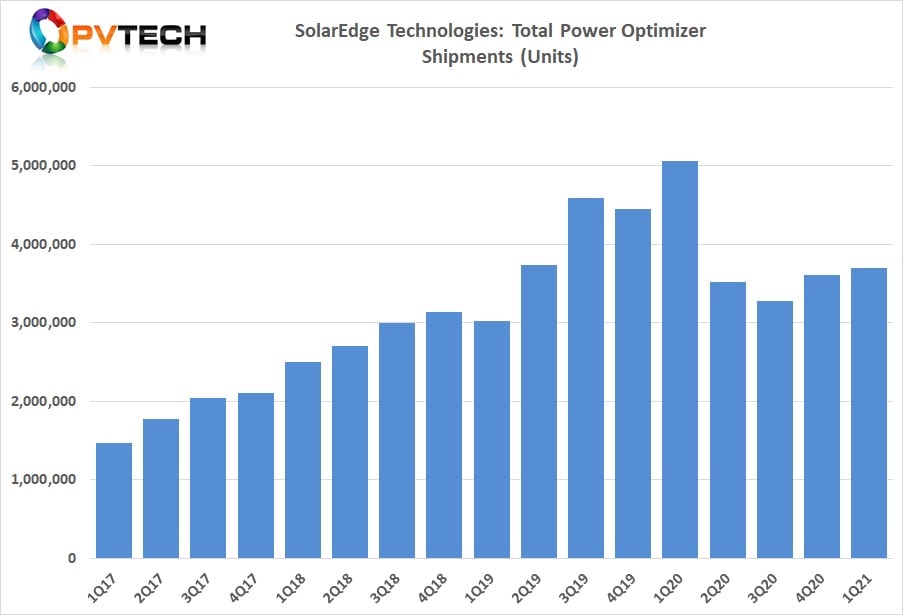 However, total PV inverter unit shipments increased to over 181,900, up from 165,675 units in the previous quarter, representing four quarters of sequential growth.
Total PV inverter shipment volume (MW) also increased quarter-on-quarter from 1,362MW to 1,690MW in the reporting period.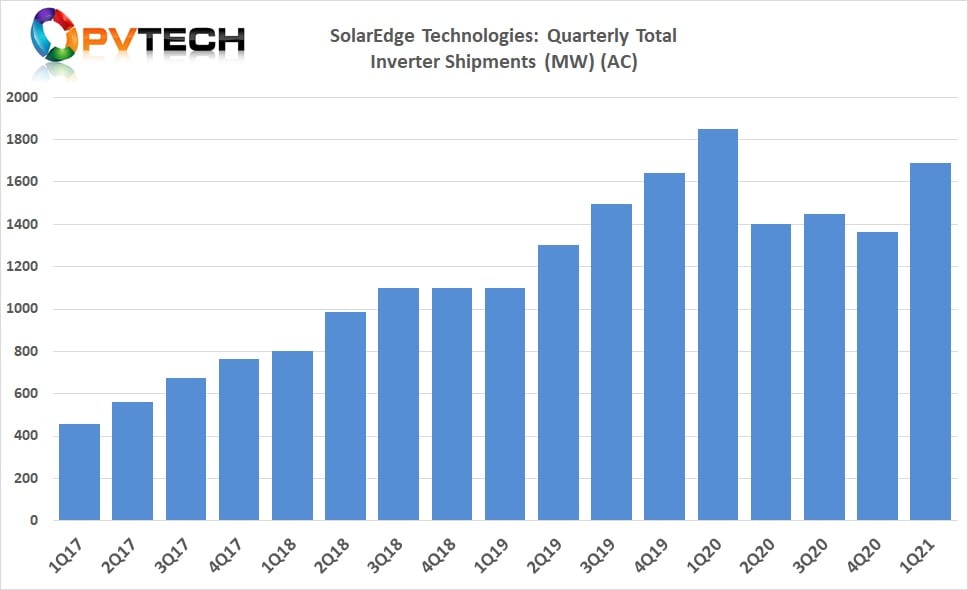 SolarEdge said in its earnings call that it had shipped approximately 721MW to Europe in the first quarter of 2021, followed by 573MW to the US. Shipments to the ROW reached 397MW.
Residential markets accounted for 55% of the total, while commercial accounted for around 45% of the total.
SolarEdge said that its expected revenue from the commercial segments to continue to rebound and be back to pre-pandemic levels in the second and third quarter of 2021.