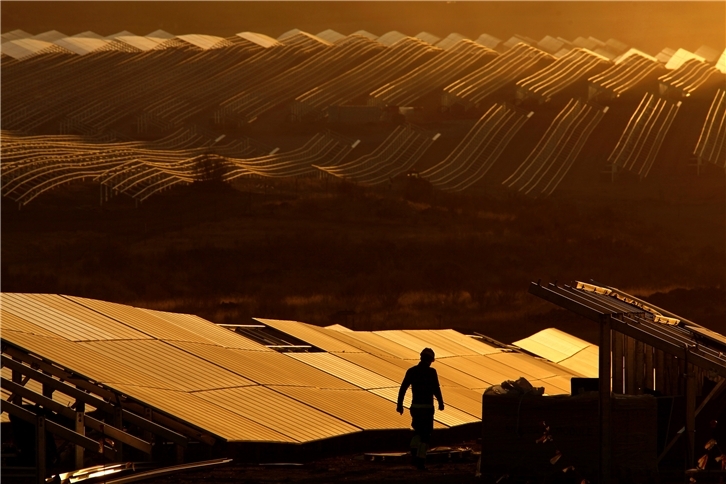 Last week the International Energy Agency (IEA) sought to establish – for the first time – a global roadmap for the energy sector to remove all emissions by 2050. The extensive document, at 224 pages in length, is perhaps the most detailed assessment of how global economies can reach net zero and illustrates just how pivotal a role solar PV is set to play in that transition.
But, as the report attests to, it will not be plain sailing. Not only will the solar industry need to scale it up significantly and at unprecedented pace, but it will also have to overcome significant hurdles along the way. Furthermore, solar PV (and wind) remains the fall back option to pick up any decarbonisation slack caused by a lack of progress or missed target from other industries, most notably in carbon capture, usage and storage (CCUS).
Not only will solar PV be doing much of the power sector's heavy lifting when it comes to net zero, but it will essentially have to be on standby to lend other industries a helping hand to.
The numbers included within the IEA's report are almost daunting in size, especially for an asset class that a decade ago was still very much considered a cottage industry in most markets. By 2030, around 630GW of new solar PV must be installed each year to sufficiently decarbonise the power sector while more widespread electrification significantly increases power demand. That's equivalent to four-times current levels of deployment, and that scale must be achieved by the end of this decade, and then carried on for another 20 years at least.
While this will of course put strain on the upstream manufacturing sector, that will inevitably be guided by end-market demand. Solar PV has demonstrated an "if you build it, they will come" attitude to capacity expansions, typified by the last 18 months at least. If global power markets pledge to build solar PV, the world's solar PV manufacturers will – by hook or by crook – establish a supply chain to deliver.
The issue will, the IEA says, be very much in establishing that end-market demand. Industry analysts, the IEA included, forecast 2021 solar deployment to fall somewhere between the 160 – 200GW range, give or take a few gigawatts at either side of the spectrum. This will predominantly be driven by deployment in China, the US and Europe. To bridge the gap to 600GW+ within the next eight-and-a-half years will require not only solar PV's leading markets to continue building momentum, but a host of other emerging markets to catch them.
This will need to be driven predominantly by deployment targets and competitive auctions for utility-scale solar PV, alongside other pricing signals such as carbon pricing and a phase out of any fossil fuel subsidies which remain in the place. National and continental pandemic recovery stimulus packages will therefore be critical to not just establishing the required policy envelope, but being the driving force behind utility-scale renewables deployment for decades to come.
Should governments and industry be successful, then by 2050 two-thirds of all energy use and 90% of power will be derived from renewables sources, the majority of which will come from wind and solar PV. Solar PV will be the eminent source of power and provide around one-fifth of total energy production globally, its total generation capacity rising 11-fold within the next 30 years. There are smaller steps or interim targets to reach on the path. By 2035 all established economies should have fully decarbonised their power sectors, a feat which will by achieved globally five years later. Nuclear, bioenergy and CCUS will be required to tip power generation to 100% low or no carbon.
The resulting numbers speak for themselves. Total solar capacity will soar from 737GW at the end of 2020 to 4,956GW by the end of 2030. By 2040 it will have reached 10,980GW, topping 14,458GW by 2050 as the pace of deployment slows somewhat. Generation will rise in tandem. Last year solar PV generated 821TWh of power – by 2030 annual solar generation will reach 6,970TWh, a total of 17,031TWh by 2040 and more than 23,400TWh by the 2050 net zero deadline. Solar's share of total power generation will have soared in that timeframe from 3% in 2020 to one-third by 2050.
The solar industry as a whole will have to rise to the challenge by growing meteorically this decade. It requires a compound annual growth rate of 24% between now and 2030, and of 12% out to 2050. Few sectors would countenance growing at those kind of rates from what is still a relatively sizeable starting position.
At this point it's worth noting that the above numbers are the base case. They're what's required if everything else goes according to plan, if all other industries can grow at the rates necessary and contribute in kind. If, for instance, the CCUS sector – which has experienced all manner of delays and setbacks to date – fails to develop, then up to US$15 trillion of added investment will be needed into solar and wind generators to pick up the slack. Likewise, without expanding bioenergy's role then a further 3,200TWh of solar and wind power- equivalent to an extra 10% of total output – will be be necessary to plug that gap.
The numbers are perhaps daunting, but are eminently achievable. There will be bumps along the road, however, and these will need to be navigated carefully.
Grids, batteries and millions of jobs
The biggest obstacle to renewables proliferation in the coming years will be accommodating such significant quantities of power generation on decades-old grid infrastructure that is already creaking under the pressure. The IEA's report suggests that annual investment in transmission and distribution grids will need to grow from a current figure of ~US$260 billion to around US$820 billion by 2030, remaining at such levels until 2050. As previously suggested by the IEA, this demand for greater grid investment comes hot on the heels of the biggest global economic shock since the Second World War, and one which wreaked havoc on power markets worldwide. Utilities and grid operators bore a lot of the brunt of this as power consumption was compressed for considerable parts of last year.
Meanwhile, the need for grids to become more flexible will also rise exponentially. A four-fold increase in power flexibility is expected to be needed out to 2030, and by 2050 there will be a need for 1,600GW of operational rated battery storage capacity on grids worldwide. This is an area where supply chain constraints could become more pronounced, given that battery storage manufacturers will find themselves competing – as they already are – with electric vehicle manufacturers for battery cell capacity and raw materials.
It is inevitable too that not only will the solar PV sector have to scale up, but also establish itself in new geographies as well. If 630GW of solar will need to be deployed – and to facilitate that, north of 630GW worth of new solar modules manufactured each year – then drawing 90% of those components from manufacturers based in China, as the industry does now, is not feasible. Manufacturing will have to spring up locally, in Europe, Africa and the Americas, and other hot growth markets in between. There will be huge demand for polysilicon, right the way through from refinement to ingot and wafering and onto cell processing. If affordable, renewable-powered polysilicon production can indeed be achieved in the Nordics and areas of North America, as has been mooted in the past, then it will simply have to happen as part of the net zero roadmap.
Furthermore, the industry will have to employ – and train – millions more people. The IEA says that jobs in solar and wind industries will have to quadruple in order to facilitate a net zero transition properly, and two-thirds of those in employment will be deemed high-skilled. In addition to those at the sharp end of the industry, further jobs in related industries – energy trading, finance and legal – will also be created as the world pivots to renewables.
And if such quantities of solar is to be built, not insignificant resource will be dedicated to keeping it running. By 2050 it's forecasted that the annual cost of keeping the world's renewable energy generators ticking over will be US$780 billion, most of which used to keep solar and wind generators operational as projects built in the 2010s and early 2020s reach the end of their operational lifetimes.
Of course, the IEA's study is but a roadmap. The reality is that there will likely be several pathways to net zero, as evidenced by the role solar will need to play if other asset classes cannot pull their weight. But the inescapable reality is that it's almost certain that solar – set to be the eminent source of new power generation in established markets by as early as 2025 – will be tasked with more than its fair share.
The industry will need to be ready to respond in kind.