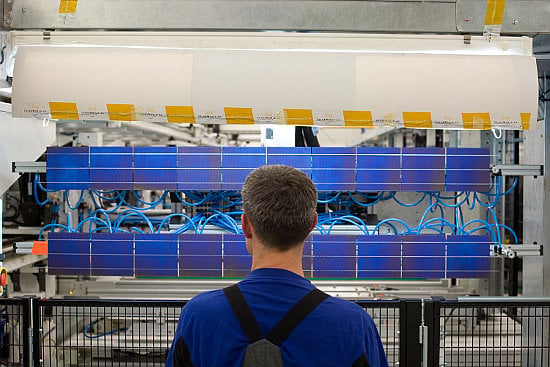 Newly formed German PV module manufacturer SolarWorld Industries GmbH has officially started production, according to the insolvency administrator for SolarWorld AG.
SolarWorld Industries GmbH has taken ownership of SolarWorld AG's production plants in Saxony and Thuringia as part of the deal struck with the insolvency administrator, Horst Piepenburg.
SolarWorld Industries GmbH is majority owned by former founder and chairman of SolarWorld AG, Dr. Ing. Eh Frank Asbeck and another key investor in the bankrupt firm, Qatar Solar Technologies (QST), which is rumoured to have taken a major shareholding in the recently formed SolarWorld Industries.
QST also has a 50% ownership in specialist PV manufacturing equipment supplier centrotherm International. A subsidiary of the OEM, SiTec was lead technology provider for QST's recently completed polysilicon plant in Qatar, which had previously signed a polysilicon supply deal with SolarWorld AG.
SolarWorld Industries GmbH manufacturing facilities in Arnstadt, Thuringia undertakes monocrystalline ingot and solar cell production, while the facilities in Freiburg, Saxony focus on wafer and module assembly.
SolarWorld Industries has approximately 600MW of mono ingot/wafer capacity and 1,000MW of nameplate cell and module capacity in Germany.
The new company is following SolarWorld AG's previous plan to stop multicrystalline ingot/wafer, cell and module production and switch to higher efficiency P-type monocrystalline PERC (Passivated Emitter Rear Cell) technology, including bifacial cells and modules. SolarWorld AG had previously migrated to diamond wire saw technology and PERC cell technology before entering insolvency proceedings.
According to Horst Piepenburg, a total of 515 former SolarWorld AG employees have officially moved over to SolarWorld Industries GmbH. SolarWorld had a worldwide workforce of around 3,034 at the end of 2016, according to its 2016 annual financial report.
The employee transfers initially include 294 employees at the Arnstadt, Thuringia manufacturing facilities and 227 at the Freiburg, Saxony manufacturing facilities.
SolarWorld AG had 3,378 employees allocated to its production operations in Germany at the end of 2016.
The former SolarWorld AG R&D facilities under SolarWorld Innovations in Freiberg, Saxony, which is also part of SolarWorld Industries GmbH has initially transferred 67 employees to the new company. SolarWorld Innovations had 118 employees at the end of 2016.
At the module warehouse and distribution centre in Bonn, 40 employees are moving to SolarWorld Industries GmbH.
Horst Piepenburg also noted that 1,101 former SolarWorld AG employees were in the process of moving to 'personnel transfer companies'.
The insolvency administrator is now focused on selling SolarWorld AG's shares in the manufacturing and sales operations of SolarWorld Americas in Hillsboro, Oregon and much smaller subsidiaries, Solarparc GmbH and Deutsche Lithium GmbH.