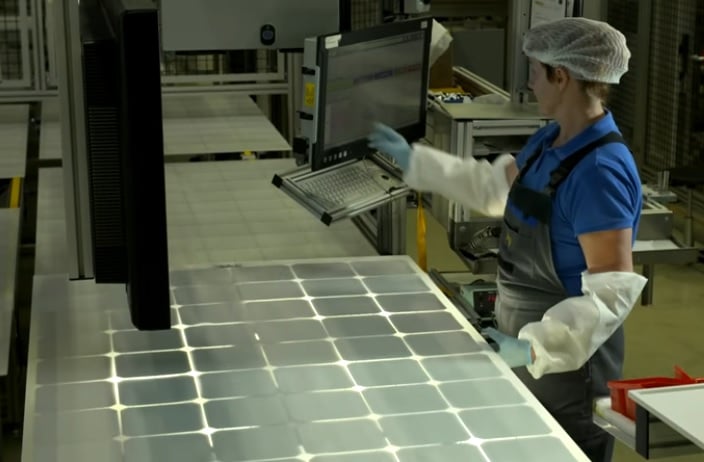 Dedicated monocrystalline integrated PV module manufacturer SolarWorld believes 2017 is a transitional year for the company after announcing a switch to monocrystalline production at the expense of multicrystalline and a full-migration to PERC (Passivated Emitter Rear Cell) technology as ASP declines in the second-half of 2016 forced a major manufacturing rethink.
Global module ASP declines topped 30% in 2016, yet the real impact occurred with the significant curtailment in China's downstream business in the second half of the year, coupled to ever increasing module availability in the US from South East Asia that was not subject to anti-dumping and countervailing duties (AD/CVD).
With demand weakness also hitting the booming US market in the fourth quarter, module ASP declines of around 25% were experienced in the second half of the year.
SolarWorld had thought that its module ASP would actually remain relatively flat in 2016, while peak demand in Q3 and Q4 would actually see a slight increase in ASP, while falling back to near ASP levels in Q1.
However, reality was something completely different. In SolarWorld's investor presentation slides the chart below indicates that the company experienced a sharp 20% ASP decline in the second-half of 2016.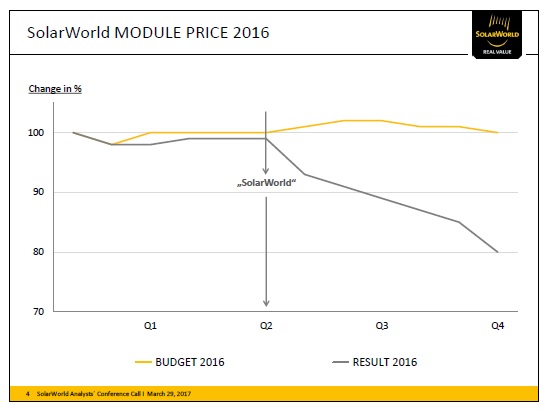 Revenue began to decline in the second quarter of 2016, from €222 million to €164 million in the fourth quarter of 2016, more than a 25% decline. With module and kit shipments remaining at over 330MW per-quarter throughout the year, the revenue decline was ASP driven coupled to demand curtailment in the US in the fourth quarter.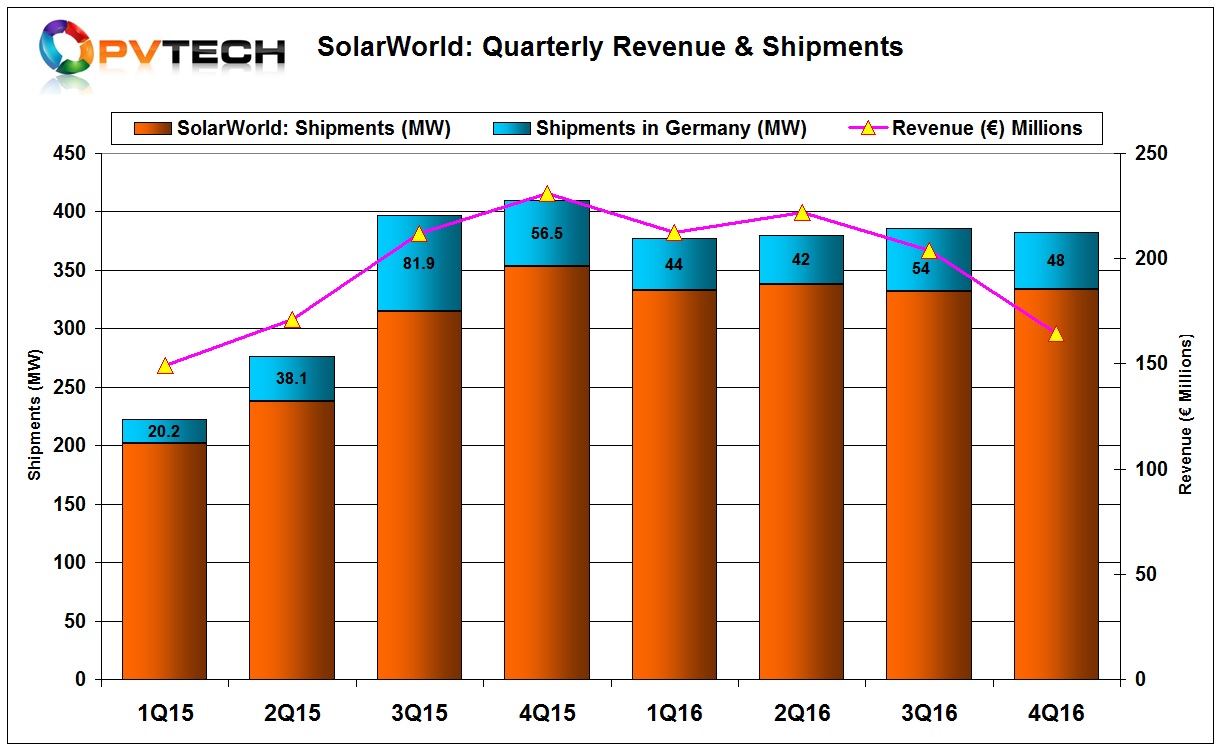 Total revenue if 2016 was €803 million, up 5.2% from €764 million in the prior year, driven by increased shipments of modules and kits that reached 1,336MW, up from 1,108MW in 2015. Revenue from modules and kits in 2016 reached €782.3 million, up from €742.9 million in 2015.
What looked like a breakeven year rapidly turned into a race to cut production on inventory build in an effort to stem net losses that reached around €92 million by year-end.
Mono, nothing else!
SolarWorld's new business strategy is centred on stopping all in-house multicrystalline production (ingot/wafer/cell/module) and migrating to monocrystalline production (ingot/wafer/cell/module). As a result, overall in-house capacity will be lowered.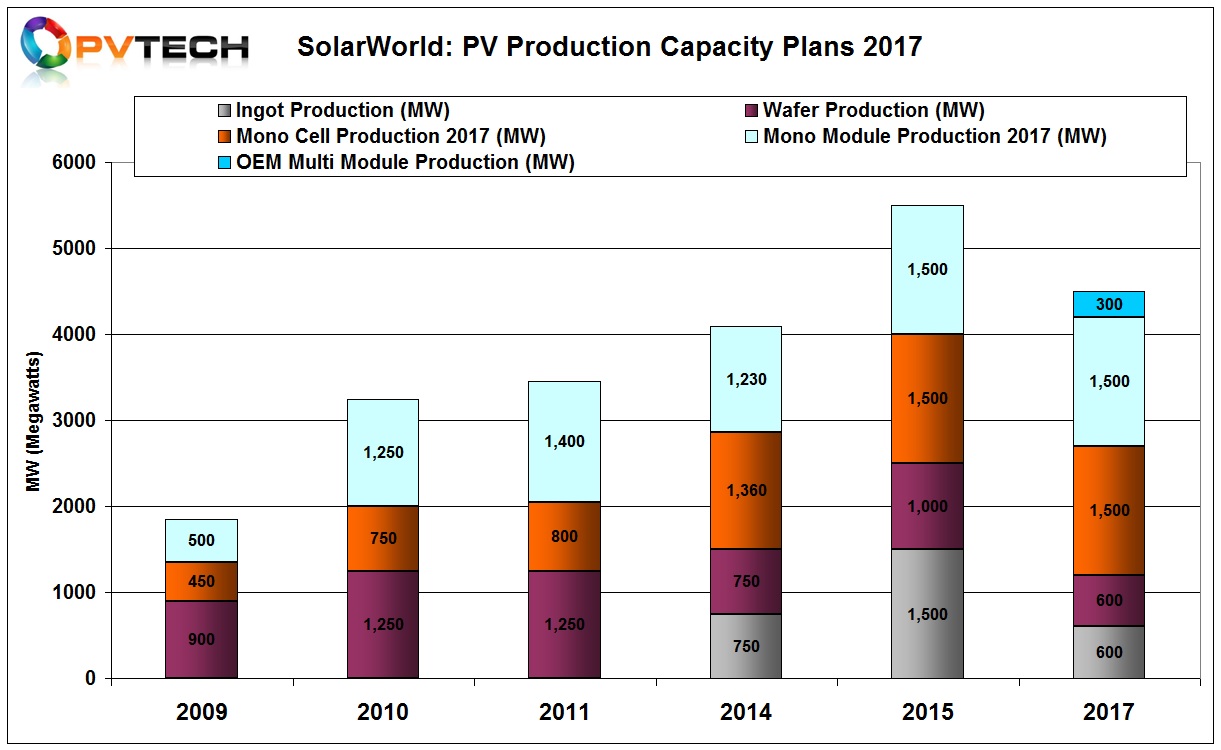 By withdrawing completely from multicrystalline production, SolarWorld is cutting costs both in headcount and production, via plant consolidation.
The company summed-up the message to investors in the last slide of their latest presentation, noting 'Mono, nothing else!'
However, certainly in 2017, SolarWorld is relying on 300MW of multicrystalline modules under OEM contracts as it plans to increase overall shipments in 2017, while revenue is expected to remain relatively flat, according to new company guidance.
Critically, in tandem with the mono migration is the continued shift to PERC cell technology. A year ago, PV Tech highlighted that SolarWorld claimed to have upgraded between 800MW to 1,000MW of conventional Al-BSF cell production to PERC from a nameplate cell capacity of 1,500MW, which included 500MW in Hillsboro, Oregon and 1,000MW at two sites in Germany.
Dr. Holger Neuhaus, managing director, SolarWorld Innovations GmbH noted in his presentation at the recently held PV CellTech conference in Penang, Malaysia that the current PERC migration stood at 1,100MW, with full in-house migration to 1,600MW in progress. The higher nameplate capacity than reported in SolarWorld's recently released annual report may be due to the mono and PERC migrations, rather than new capacity.
Dr. Neuhaus also noted that SolarWorld's 25MW P-type mono-PERC pilot line was achieving stable average cell efficiencies of 22.0%, up from 21.8% noted in his presentation at PV CellTech in 2016. SolarWorld is using a five busbar layout and large-area M2 mono wafers. Mono-PERC modules have achieved 310Wp.
In-house mono ingot/wafer production, which stands at 600MW, will convert to diamond wire sawing in 2017, providing meaningful production cost reductions.
However, mono ingot and wafer slicing operations under its 2017 production consolidation and realignment plans are still performed at different locations. All mono ingot production is located at its Arnstadt facility in Germany, while mono wafer slicing operations are at its facility in Freiburg, Germany.
This is also true of mono-PERC cell production and module assembly. Cells are being made in Arnstadt and modules assembled in Freiburg. SolarWorld's Hillsboro plant will continue with 500MW of P-type mono-PERC cell and module production, although previously planned (250MW) mono-ingot production is off the table in 2017, according to SolarWorld's 2016 annual report.
Clearly, SolarWorld has balanced cell and module production with flexibility built-in with P-type multi module OEM supply. With the migration to mono ingot/wafer production the significant imbalance exists with its in-house cell capacity, highlighting that the company will be purchasing more than half its M2 mono wafer requirements from third-party mono wafer producers, predominantly located in Asia.
However, M2 mono wafers are in short supply globally, so this may become an issue on supply or pricing for SolarWorld, should demand remain strong overall in 2017, especially for its high-efficiency products or when further cell expansions may be required.
Of course, SolarWorld could not be making this migration to mono-PERC so quickly if it had not been investing an average of around US$27 million per annum over the last 10 years on R&D and first produced PERC cells in 2012.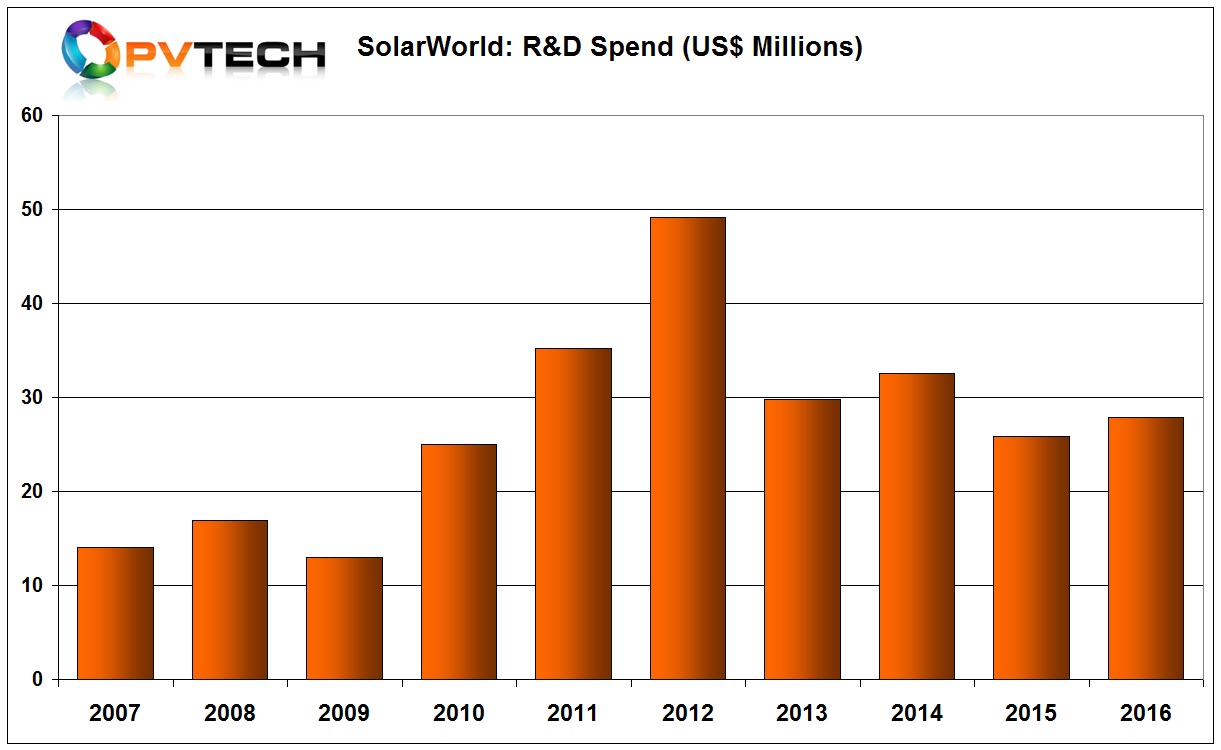 The company is banking on the higher efficiency mono-PERC modules holding an ASP premium over commodity multi modules and the opportunity the migration brings in introducing new products such as its 'Bisun' bi-facial modules that could become a mainstream line in the coming years.
The transition to a dedicated high-efficiency mono-PERC manufacturer is underway and according to SolarWorld a return to profitability will take another two years. The slogan if achieved, may well be, 'Profit, nothing else!'