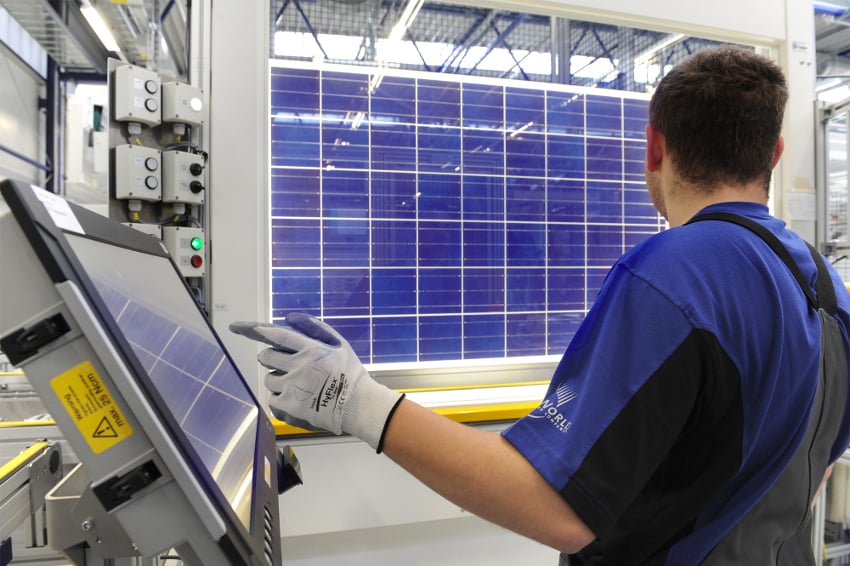 Updated: Integrated PV manufacturer SolarWorld will lay-off around 500 temporary manufacturing workers in the fourth quarter of this year due to significant PV module price declines on the world market.
The lay-offs, which will start on 1 October, include 300 temporary workers at its facility in Freiburg and 200 in Arnstadt, but permanent staff will not be affected.
"The reason is current market situation where we see a dramatic price drop, but not an increase of demand," Milan Nitzschke, vice president at SolarWorld told PV Tech.
SolarWorld noted in its second quarter 2016 financial report that the number of employees stood at 2,983 globally, up around 5% from the end of the previous quarter. Including temporary workers, which are primarily employed at three production sites, SolarWorld's workforce had increased 6% from the prior year period to reach a total of 3,766.
Nitzschke said that the "elasticity" of demand is low in the solar market, which results in offers for prices below the cost of production. As a result, every manufacturer in the industry has to take action to adjust production. SolarWorld, which had continued to hire more staff until a few weeks ago, will have to reduce manufacturing production in Q4 with "modest adjustments". In line with this, the firm will also have to reduce its workforce and lay off some temporary workers.
Nitzschke added: "We are very sorry about that. We hope that in 2017 we will see market growth again and options to grow for SolarWorld and to increase utilisation of our production and again hiring people."
China significantly overshot its solar deployment target in the first half of 2016, leading to a worldwide supply glut in PV equipment.
Nitzschke said: "It is a bit cynical that even one of the biggest economies in the world like the EU is so much affected by state planning in China as we see again here."
According to Deutsche Bank's US market analyst Vishal Shah, strong PV manufacturing capacity expansion growth in the second half of 2016 and 2017 is expected to lead to a global 16% solar module oversupply through the period.
Yesterday, a PV Tech blog considered how low module prices can go with the solar industry entering it second major overcapacity cycle.
Major Taiwanese PV manufacturer Motech Industries said in a financial filing on September, 19 that it had reduced its temporary workforce headcount by 200, around 4% of its total workforce at it manufacturing operations at the Southern Taiwan
Science Park.
Reports surfaced on September, 20 that Korean-based monocrystalline wafer producer SKC Solmics cancelled a polysilicon supply agreement with Korean-based major polysilicon producer, OCI worth US$108.56 million as SKC Solmics planned to exit the sector altogether. Job losses were not reported.
Recently, SunPower stunned the market in releasing second quarter financial results with another round of manufacturing restructuring with the loss of 1,200 jobs (15% of workforce) with 1,000 job losses at its module assembly plant in the Philippines that would close. The company would consolidate the majority of module assembly at its plant in Mexico.
Additional reporting by Mark Osborne