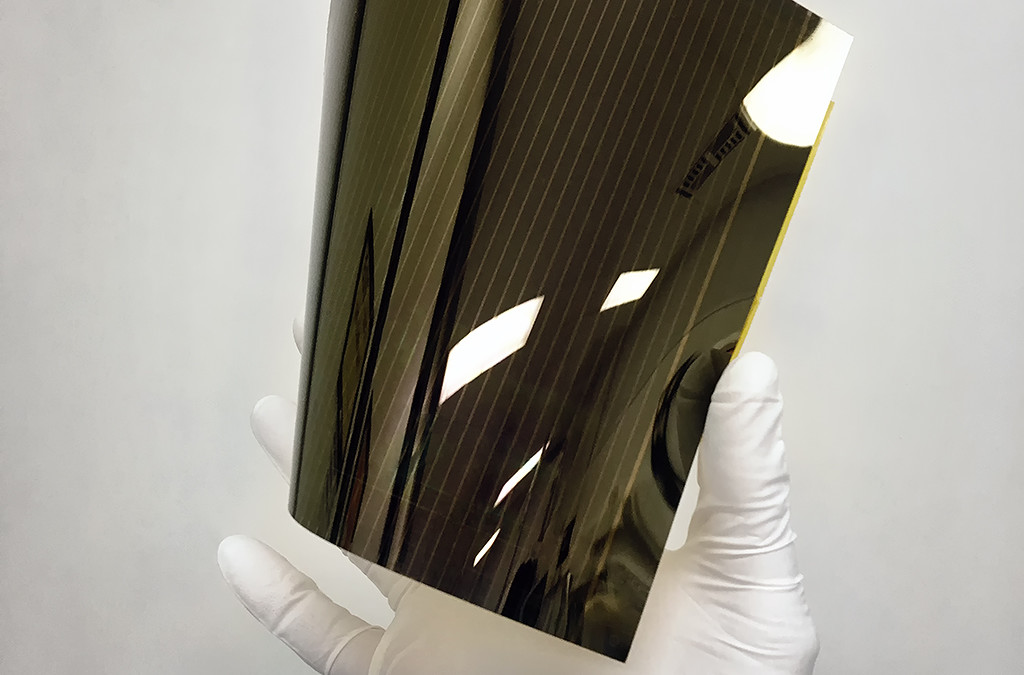 The thin-film photovoltaics research initiative Solliance, which is focused on the commercialisation of perovskite thin-film technology, has fabricated small cells with industrially-applicable, roll-to-roll (R2R) production processes, setting a number of new conversion efficiency records.
Solliance, which includes commercial partners Panasonic, GreatCell (formerly Dyesol) and Solartek said that the perovskite material was successfully processed at temperatures below 120 °C and selected two foil zones of each about 10 meters in length with a visual good perovskite quality. The perovskite foils then went through a range of processing settings to produce 20 individual 0.1 cm2 solar cells in each designated foil zone.
For each zone six 2 x 2 cm2 (or 4 cm2) aperture modules, four 3.5 x 3.5 cm2 (or 10.5 cm2) aperture modules and one 13 x 12.3 cm2 (or 160 cm2) aperture module were produced by laser scribing with 100% yield over all 22 fabricated modules.
The Solliance partners noted after processing the R2R cells that in one zone the maximum stabilized efficiency reached 13.5% (measured under maximum power point tracking conditions over 5 minutes) and in the second zone a maximum of 12.5% was reached. The average stabilized cell efficiency in the best performing zone was about 1% higher than the previously reported run in March 2017.
For the modules prepared from the best performing zone, the smaller modules of 4 cm2 showed a maximum aperture stabilized efficiency of 12.1%, with an average of 11.1% across the six modules.
The larger modules of 10.5 cm2 achieved a maximum aperture stabilized efficiency of 12.2 % with an average of 11.0% across the four modules.
However, the largest module of 160 cm2 was said to have achieved an aperture stabilized efficiency of 10.1%, which highlights the progress made to ultimately achieve high-volume production of perovskite solar cells.
"These results show that the developed R2R process is very reproducible over different runs in time, which is very important for future reliable manufacturability," noted Pim Groen, Professor of SMART materials at the Technical University of Delft and Program Manager at Holst Centre/Solliance.
Richard Caldwell, Managing Director of Greatcell Solar added, "The metals project at Solliance is hitting its targets. The successful translation of this PSC technology from the laboratory to the factory will open up massive commercial opportunities."
Researchers at Solliance noted that further material optimisation and processing improvements were expected to deliver efficiencies over 15% for modules up to 30×30 cm2.
Critically for perovskite materials, Ronn Andriessen, Program Director at Solliance, said, "Our research shows that optimizing materials and processes is steadily improving the stability of perovskite devices under real life operational conditions."