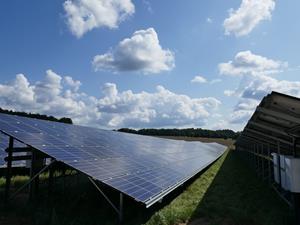 Norwegian energy company Statkraft has signed a 12-year offtake agreement for 52MW of unsubsidised solar parks in Germany that are being developed by Enerparc.
Statkraft will purchase around 600GWh of electricity from the five parks between May 2020 and December 2031 to supply industrial companies. The PV projects began construction in the summer and they are expected to become operational in the spring of 2020.
While an industry debate about government auction and subsidy support for solar rolls on, these parks are the latest in a string of PV projects that have sidestepped the issue by pushing on without subsidies. These include, among others, EnBW's 180MW venture and a 500MW pipeline proposed by THEE and CEE.
"PPAs secure the long-term financing of new plants and thus enable the further expansion of renewable energy without subsidies in Germany," said Dr. Carsten Poppinga, MD of Statkraft, Germany. "More and more industrial companies are setting themselves ambitious sustainability targets. In addition to electricity from 20 wind turbines, we can now also offer these companies electricity from subsidy-free solar plants for structured electricity supplies."
Enerparc was one of the dominant solar winners in Germany's latest technology-neutral renewables tender – the third consecutive time that solar has wiped the floor in such auctions in Germany and a marker of the expected trend ahead as, in early October, the government of chancellor Angela Merkel approved a plan targeting PV capacity to hit 98GW by 2030.
The potential of solar, however, has led some politicians to complain about the government "putting a lid" on the PV capacities up for grabs, leaving many players without allocations at a time when they claim solar volumes should be increasing with tariffs decreasing. Indeed, three-quarters of all bidders for solar projects were left empty-handed in the last round.
Subsidy-free projects, on the other hand, are beginning to swell without such concerns.
"We are realizing subsidy-free projects on a multi-megawatt scale for the first time and giving the go-ahead for many other future projects in this area," said Stefan Müller, CEO of Enerparc. "With Statkraft as an experienced partner, we are securing the financing of this and other projects. We look forward to long-term cooperation."