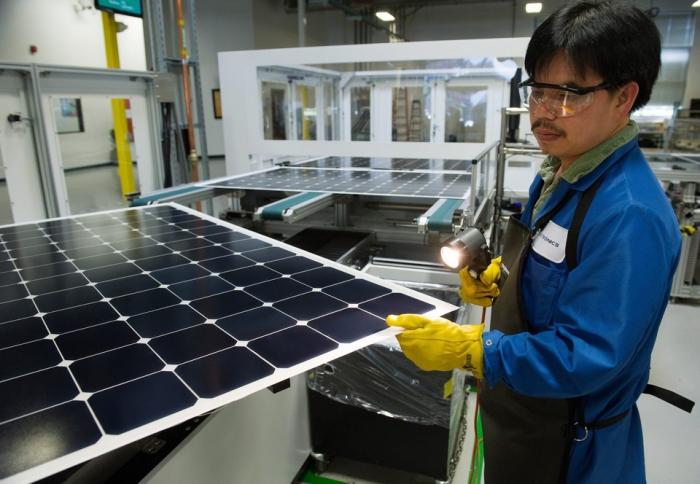 Update 2: High-efficiency PV module producer and project developer SunPower said it was reducing its focus in PV power plant development outside the US and focusing more resources to the distributed generation market in the US.
The demand for high-performance modules was said to remain strong and so the company would add 100MW of new X-Series module capacity. However, job losses were put at around 1,200, primarily from the closure of its module assembly plant in the Philippines and moving production tools to its Mexican facility.
SunPower said that the extension of the Investment Tax Credit (ITC) had reduced the urgency to complete new projects by the end of 2016, while many clients had pushed projects out. Another reason could be that module prices are falling, due to overcapacity and with the ITC deadline gone, clients could hold out for better pricing.
SunPower also noted that the realignment of its Power Plant segment was due to continued market disruption in the yieldco environment, which the company said had "impacted our assumptions related to monetizing deferred profits."
The company also noted that "near-term economic returns had deteriorated due to aggressive PPA pricing by new market entrants, including a number of large, global independent power companies. We are also seeing customer project IRRs rising in the near term as buyers have increased their hurdle rates due to industry conditions."
Around 200 jobs would be lost from the refocus coming from downstream Power Plant segment and corporate level.
Tom Werner, SunPower president and CEO said, "As a result, we have proactively decided to streamline our power plant development segment while shifting investment to our distributed generation (DG) segments. We intend to focus our development resources on a limited number of core markets, primarily in the Americas, where we believe we have a sustainable competitive advantage and a project pipeline of over 9 gigawatts (GW). Outside these core markets, we will focus our power plant business on the sale of our new Oasis complete solution incorporating Performance Series panel technology to developers and Engineering, Procurement and Construction companies in global markets, including Total. We also plan to delay the timing of certain projects in our 2016 and 2017 pipeline to take advantage of planned cost reduction efforts over the next two years. We expect these actions to significantly lower operating expense and capital deployment in our power plant business while maintaining leadership in our core markets."
Manufacturing update
SunPower said that it would expand and centralise module assembly at its facility in Mexico, which would be capable of handling 2GW of output per annum. This would allow the company to close its Philippine based assembly facility and transfer the equipment to its facilities in Mexico.
SunPower said that around 1,000 jobs would go at the Philippines plant.
The company noted that it planned to utilize equipment from some of its older solar cell manufacturing lines at its Fab 2 facility, which would enable further debottlenecking to increase the supply of X-Series panels by around 100MW by the end of 2017.
Around 150MW of solar cell capacity will go offline while the tool upgrades and retrofitting take place in the second half of 2016.
The company reported solar cell production of 338MW, down from 356MW in the first quarter of 2016.
Financials
SunPower reported second quarter 2016 GAAP revenue of US$420.5 million, up from US$384 million in the prior quarter. GAAP net loss was US$70 million, down from a GAAP net loss of US$85.4 million in the first quarter of 2016. GAAP gross margin was 9.8%, down from 13.4% in the previous quarter.
Guidance lowered and losses raised
SunPower guided third quarter GAAP revenue to be in the range of US$700 million to US$800 million and full-year revenue unchanged and in the range of US$2.8 billion to US$3 billion. However, non GAAP guidance was reduced by around US$200 million to US$3 billion to US$3.2 billion.
GAAP gross margin for the full year was expected to be 9.5% to 11.5%, compared to 13% to 15% guided previously.
However, the company guided a GAAP net loss in 2016 at US$125 million to US$175 million and an expected GAAP net loss in 2017 of US$100 million to US$200 million.
According to Deutsche Bank analyst Vishal Shah, SunPower's EBITDA guidance drop for 2016 and 2017, highlighted the increased competitive nature of the US and international utility-scale markets.
Shah noted in a research note: 'Not only did the company lower 2017 EBITDA outlook, but it also significantly lowered 2016 EBITDA outlook, primarily due to headwinds in the power plant segment. More specifically, SPWR lowered 2016 EBITDA guidance to a range of $275-325M or by ~$175M due to a combination of more competitive pricing environment in international markets ($20-30M EBITDA impact).
'We view the 2017 EBITDA outlook of $300M-400M with a lot of scepticism,' added Shah.
Deployed MW is expected to be in the range of 380MW to 420MW and total MW deployed for the full year was said to be in the range of 1,450MW to 1,650MW.
The company had previously guided full year MW deployed at 1,600MW to 1,900MW.
Update: The transactions under the Stock Purchase Agreement closed on September 29, 2016.