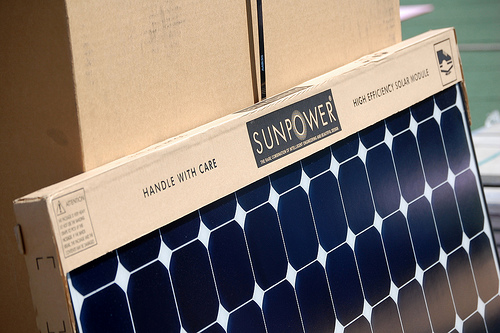 High-efficiency module producer SunPower will supply 64.4MW of its E-Series solar panels for the construction of seven solar PV projects in France by Engie subsidiary LA Compagnie due Vent.
A significant portion of the modules will be manufactured at SunPower's assembly plant in the De Vernejoul industrial park in Porcelette, Eastern France.
"Since 2012, La Compagnie du Vent has been a valued SunPower partner, and we are pleased to supply an additional 64.4MW of solar panels that will deliver emission-free power for homes and businesses in France," said SunPower executive vice president Eduardo Medina. "Today more than 3,000MW of solar plants around the world are powered using SunPower technology. With high performance SunPower solar technology, power plant developers maximize power generation and generate reliable returns on investment for 25 years or more."
This is not the first time the two companies are collaborating; to date, SunPower has supplied 45MW of its high-efficiency technology to La Compagnie du Vent for five solar plants that are currently operational.
According to SunPower listings on its website, one of the projects may have begun construction at the end of last year and is scheduled to be finished this year. However, the company has not specified if all of the 64.4MW will be delivered in 2017.
In other SunPower news, the Silicon Valley-headquartered company recently broke the industry record for cell conversion efficiency – reaching 25% at its Fab 4 facility in the Philippines.