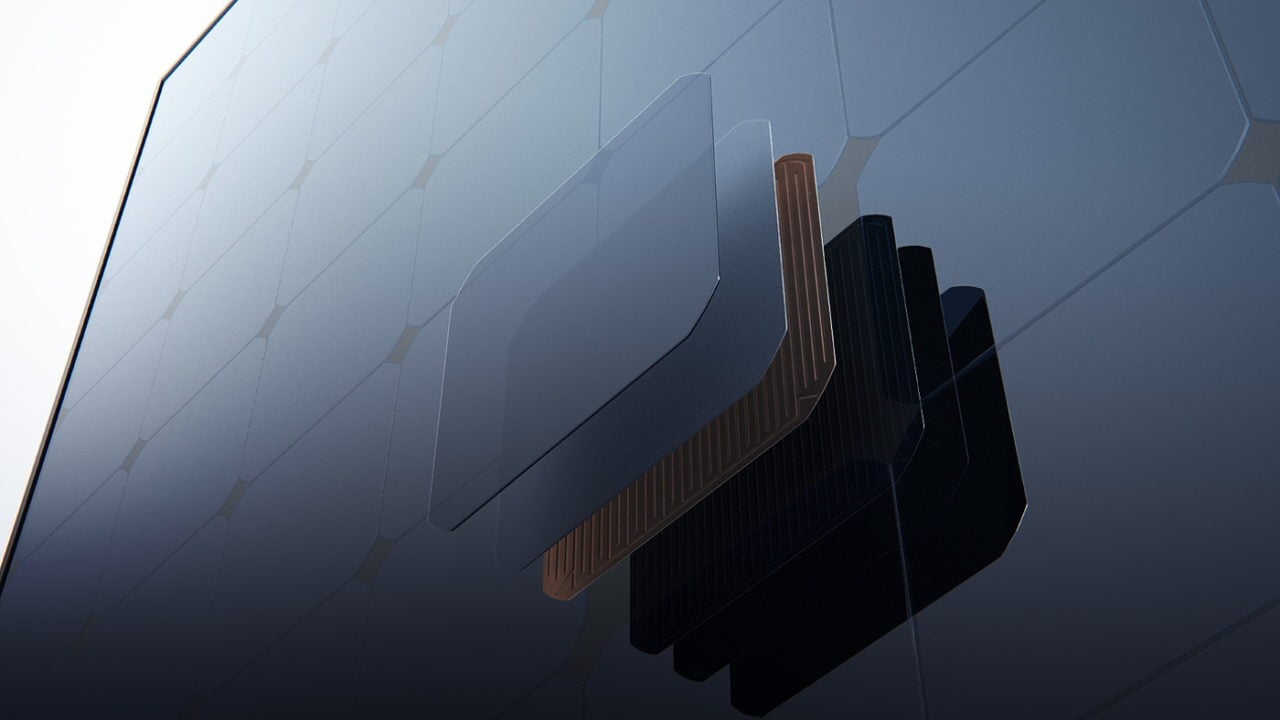 US-headquartered high-efficiency PV module producer SunPower reported a first quarter 2017 net GAAP loss of US$134.5 million, while guiding further losses of between $110 million to $135 million for the second quarter of the year as the company transitions its business model.
SunPower is in a major transitional year, due to the ongoing competitive challenges in both the upstream manufacturing and downstream installation markets. This has been exacerbated by US specific dynamics that include a softening in the residential market and significant changes to the utility-scale market that have forced the company to curtail project development in its key market and look internationally to provide turnkey utility-scale systems with limited in-house project development.
With its business model in transition through the year, the second-half of the year performance should be viewed differently as the company executes on PV projects in Mexico and Chile and plans to sell through some of these to improve liquidity.
The company also has around 1.6GW of secured projects under various stages of development and PV module system sales secured for all of its X Series production, deployed in the residential rooftop sector.
However, SunPower has reiterated full-year shipment (deployed) guidance to be in the range of 1.3GW to 1.6GW. The company achieved 1,339MW of deployments in 2016.
SunPower's highest efficiency X Series IBC (Interdigitated Back Contact) solar cells are produced at its 350MW nameplate plant (Fab 4) in the Philippines, which the company noted was producing at a higher level than its nameplate capacity, without giving further details. SunPower has also stopped providing nameplate capacity figures for its production plants.
However, SunPower also noted that its average solar cell efficiencies from Fab 4 were primarily above 25%, a key metric for retaining its competitive position in its two key residential markets of the US and Japan, albeit its smallest compared to commercial and utility market plans in 2017 onwards.
The company also updated its manufacturing plans with Dongfang Electric Company (DEC) and Tianjin Zhonghuan Semiconductor (TZS) under its JV for P Series mono-PERC (Passivated Emitter Rear Cell) technology cells that includes a manufacturing capacity expansion from 1.1GW to 5GW.
The company noted in its earnings call that it had completed a 200MW P Series module assembly expansion at its Mexicali, Mexico facility, providing a total nameplate capacity of 400MW for the P Series module.
Initial production of mono-PERC cells in China was said to commence in the second half of 2017 and the cells would have conversion efficiencies of around 19%.
SunPower management also noted that one-third of the output from the China JV would be allocated to its North American power plant projects and global distributed generation markets. A second third of output would be allocated to SunPower Systems International, which it has an 80% stake that would focus supplying P-Series modules and turnkey power plants internationally.
The final third of output from the China JV would be sold into the Chinese market.
It should be noted that P-Series modules earmarked for the US market would use non-China and Taiwan sourced cells, due to anti-dumping duties in the US.
SunPower also highlighted that its next-generation IBC cell technology being developed at its new pilot line in San Jose, California would have finished modules built by the end of the second quarter of 2017.
Key to the next-generation IBC cell is that it would have significantly lower production costs, compared to its E-series and X-Series cells. However, SunPower had said the same about the X-Series 'Maxeon' cells over its E-Series cells.
With the ramp of P-Series production capacity to an initial 5GW nameplate, SunPower plans to turn the company into a major international seller of modules and power plant systems, compared to its previously centric focus on the US market.
Financial results
SunPower reported first quarter 2017 GAAP revenue of US$399.1 million, higher than guidance of US$315 million to US$365 million, down from US$1,024.9 million in the previous quarter, which was driven by around 400MW of completed PV projects.
Net GAAP loss was US$134.5 million, compared to a loss of US$85.4 million in the first quarter of 2016 and a loss of US$275.1 million in the previous quarter.
GAAP gross margin in the quarter was negative 7.8%, compared to 13.4% in the first quarter of 2016 and negative 3.1% in the previous quarter.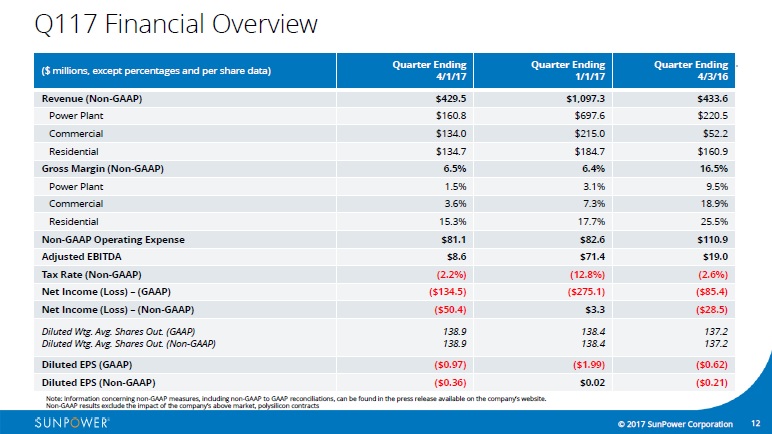 SunPower received support from parent company Total with a guarantee up to $US100 million of SunPower's US$300 million credit revolver facility for a period through August of 2019.
SunPower deployed 177MW in the first quarter and recognised revenue on 230MW, down from 246MW deployed in the previous quarter and 577MW recognised in revenue.
Deployments in its Power Plant segment were 102MW in the first quarter, 66MW in its Commercial segment and 62MW in its Residential segment. Commercial segment was more than double (30MW) prior year deployments, while residential deployments were up slightly (60MW) from the prior year period.
Manufacturing MW produced was 276MW in the first quarter, slightly down from the previous quarter of 287MW and down from 361MW in the prior year period.
Guidance
SunPower reiterated that it expected full-year GAAP revenue to be in the range of US$1.8 billion to US$2.3 billion. The company had revenue of US$2.7 billion in 2016. The company expects to record GAAP restructuring charges of US$50 million to US$100 million in 2017 but generate positive operating cash flow of approximately US$300 million.
With revenue weighted to the second half of the year, SunPower expects a GAAP net loss for 2017 of US$150 million to US$175 million.
The company's second quarter fiscal 2017 GAAP guidance is revenue of US$275 million to $325 million, gross margin of negative 3% to negative 1% and net a loss of US$135 million to US$110 million.