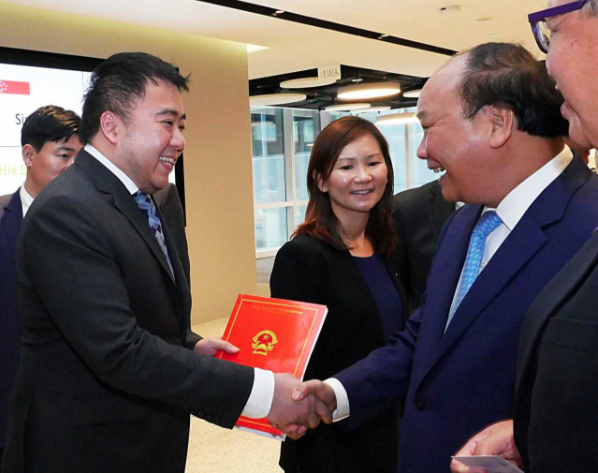 A joint venture between Sunseap, InfraCo Asia and CMX Renewable Energy Canada has received the green light for a 168MW solar PV project in the Ninh Thuan province of Vietnam, which will be the largest in the country.
The US$150 million solar farm has received a Decision on Land Handover and an Investment Registration Certificate, which involved approval from the prime minister's office – necessary for all projects above 50MW capacity.
The project is expected to break ground in mid-2018 before going into commercial operation by June 2019. Once completed, it will generate enough electricity to power the equivalent of up to 200,000 households in Vietnam and create permanent jobs for over 200 workers.
The JV will be allowed to sell solar power generated by its solar farm to Vietnam's national grid at the mandated solar feed-in tariff of US$0.0935/kWh for the next 20 years provided they connect the project to the grid by June 2019.
Frank Phuan, co-founder and chief executive of Sunseap, said: "This is the largest project to-date for Sunseap and we are honoured to be able to participate in the greening of Vietnam. There is so much potential to bring affordable and reliable clean energy to the country and we are excited to work with a government that is committed to sustainable development as the way forward.
"The Vietnam solar farm project is in line with our vision to conserve the environment, and at the same time contribute to communities across Asia. We hope that our project can serve as a catalyst to promote greater investments in renewables not just in Vietnam but also throughout the Indo-China region."
Luu Xuan Vinh, chairman of Ninh Thuan Provincial People's Committee, said: "The 168 MWp solar farm project invested by Sunseap CMX RE Solar Holdings Pte. Ltd. is one of the largest solar energy projects in Ninh Thuan Province. We are pleased to announce that the People's Committee of Ninh Thuan Province has issued the Investment Registration Certification and the Decision on Land Handover (Phase 1), handing over 130 hectares of land to the project developer. The remaining 56 hectares is expected to be handed over in May 2018.
"This project is an example of the collaboration between Vietnam and Singapore to attract investments in the renewable energy sector and demonstrates Vietnam government's support for Singapore businesses to invest in Vietnam and Ninh Thuan. We are confident that this project will act as a catalyst for more foreign investments into Vietnam and look forward especially to greater collaboration with Singapore enterprises."
The Vietnamese government is aiming for 12GW of solar by 2030. Vietnam has also seen multiple large-scale project announcements of late.
Sunseap International is a unit of Singapore-based clean energy provider Sunseap Group. CMX Renewable Energy Canada Inc. is a solar developer based in Canada. InfraCo Asia is an infrastructure development and investment company of the Private Infrastructure Development Group.