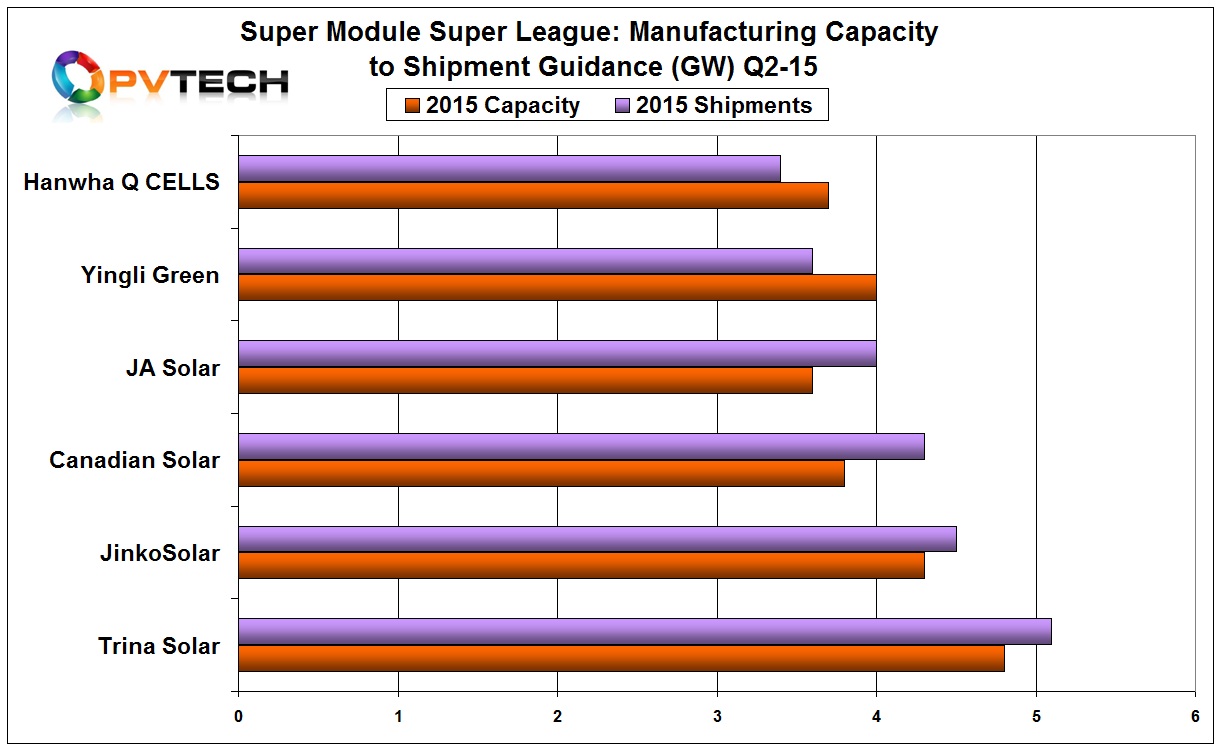 In only the last two quarters of 2015, PV module shipments and full-year guidance from the six 'Silicon Module Super League' (SMSL) players has changed significantly.
Several key factors have been at play in this period that include shipment momentum higher than previously guided by Trina Solar, Canadian Solar and JinkoSolar, capacity constraints for JA Solar and Hanwha Q CELLS and a liquidity crisis at Yingli Green.
These factors have combined to reset the top 5 PV module manufacturer rankings (by shipments) in 2015.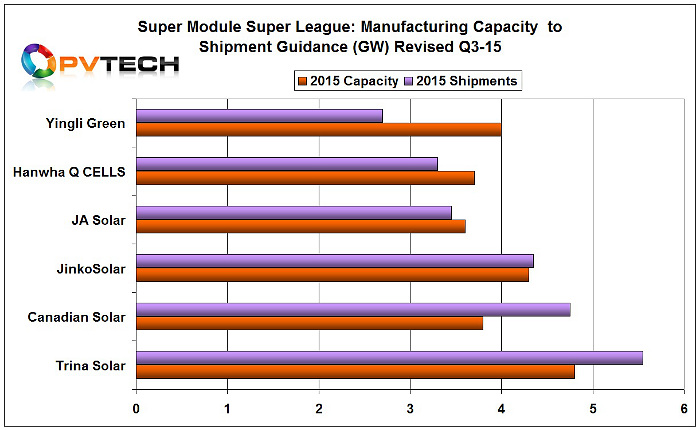 Not surprisingly, the big change is due to the financial woes at Yingli Green, which guided at the end of Q2 that it expected module shipments to be in the range of 2.5GW to 2.8GW in 2015, down from 3.6GW to 3.9GW previously guided at the beginning of the year.
Importantly, shipments are expected to be down around 26%, compared to shipments achieved in 2014, the only SMSL member to show a decline in shipment growth, year-on-year.
As a result, Yingli Green is expected to drop two SMSL ranking positions this year to sixth position and in the global PV manufacturing rankings to fall even further.
Having been capacity constrained in 2015, Hanwha Q CELLS has not changed shipment guidance for the year, which would have seen them ranked in sixth position.
However, the fall by Yingli Green has moved Q CELLS up the rankings to fifth but shipment momentum should not be discounted as it is the highest of all the SMSL players in 2015 at around 55% shipment growth rate, compared to 2014.
Also experiencing strong growth but capacity constrained is JA Solar. The company has also retained shipment guidance for the year at 3.6GW to 4.0GW, demonstrating a shipment growth rate in the middle of guidance of around 43%, year-on-year. Shipment growth in 2014 was around 100%, indicating that capacity expansions couldn't keep pace with shipment momentum this year, compared to the previous year.
Unfortunately for JA Solar, capacity constraints are expected to lead to the company falling from third-ranked earlier in the year to fourth at the end of the year.
The reason for the rankings decline is due to the shipment momentum being generated by JinkoSolar.
JinkoSolar has increased shipment guidance in both the second and third quarters of 2015. The company had initially guided shipments to be in the range of 3.3GW to 3.8GW for the year, then revised that figure to 4.0GW to 4.5GW and in Q3 set the low end of guidance at 4.2GW, while retaining the high-end figure at 4.5GW. The company is therefore expected to demonstrate year-on-year shipment growth of around 43% in 2015, compared to actual shipment growth in 2014 of around 65%.
JinkoSolar's strategy of purchasing solar cells and modules to meet demand that exceeds in-house capacity, despite expansions, has been a key to the sustained growth rates and ranking position moving from fifth to third.
Unchanged from earlier expected rankings, Canadian Solar will be the second largest PV manufacturer in 2015. The company initially guided module shipments for 2015 to be in the range of 4.0GW to 4.3GW but revised upwards in Q3 to 4.6GW to 4.9GW, solidifying its previous ranking.
Again, Canadian Solar is punching above its nameplate capacity levels by purchasing cells and modules from third parties to meet demand and generate expected growth of around 48% year-on-year.
No surprises though as to the leader. Trina Solar, despite its market position is expected to increase module shipments by approximately 50% in 2015. The company has also revised shipment guidance upwards in both Q2 and Q3 to reach 5.5GW to 5.6GW for the year, up from initial guidance of 4.4GW to 4.6GW.
Trina Solar has also been purchasing cells and modules from third parties to meet demand, despite major capacity expansions this year.
As a result, Trina Solar will retain top ranking for the second consecutive year. The expectations are that Trina Solar is targeting module shipments in the 7GW range for 2016, potentially securing a third consecutive leadership position, a remarkable feat and one that would break the consecutive two-year curse that afflicted Suntech, First Solar and Yingli Green in the last 10 years.
The six SMSL members are all presenting at the PVCellTech conference in Malaysia in March, 2016. Further details here.