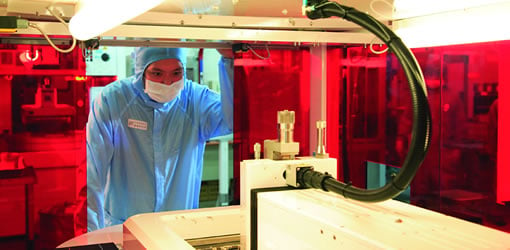 Sino-American Silicon
Taiwan-headquartered integrated PV manufacturer Sino-American Silicon (SAS) has reported a major increase in December revenue, due to the inclusion of sales by recently acquired SunEdison Semiconductor.
SAS reported total December, 2016 revenue of NT$4.72 billion (US$147.8 million), compared with NT$2.76 billion (US$86.78 million) in November.
Consolidated revenue for 2016 was reported to be a new record of NT$31.6 billion, while unaudited revenue of SAS's solar business was put at NT$13.2 billion (US$410 million).
SAS noted that it planned to aggressively expand investment in its downstream PV power plant business both in Taiwan and other unspecified countries in 2017, which would be supported by using its in-house high efficiency wafers, cells and modules.
The company also plans to accelerate the adoption of diamond wire wafer cutting technology and black silicon processing technology for multicrystalline wafer production as well as accelerate the introduction of new high-efficiency monocrystalline wafer/cell products using PERC (Passivated Emitter Rear Contact) technology.
SAS also noted that mono solar cells that recently started production at its subsidiary, aleo Sunrise in Germany would be also be increasingly shipped to customers in the US.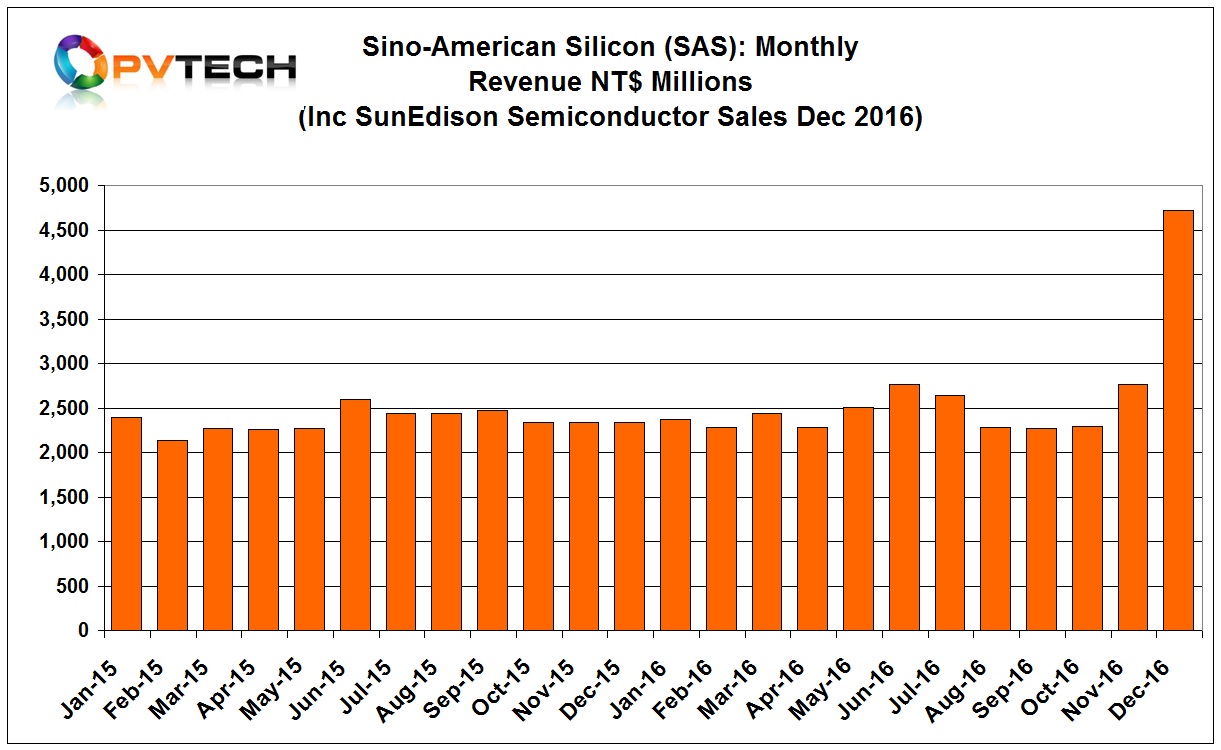 Green Energy Technology
Multicrystalline wafer producer Green Energy Technology (GET) reported a major decrease in December sales, due to a significant reduction in outsourced wafer capacity from third-parties as the company retained high in-house production utilisation rates of over 90%, according to the company.
GET reported December, 2016 sales of NT$ 758 million (US23.7 million), down 23.4% from the previous month.
Unaudited full-year 2016 sales topped NT$15.3 billion (US$479.1 million), only a 1% decline from 2015.
GET noted that wafer ASP's declined only slightly in the last month of the year and was planning on aggressively introducing advanced high-efficiency wafers in 2017 as well as focus more on expanding its PV module supply business in partnership with Gintung.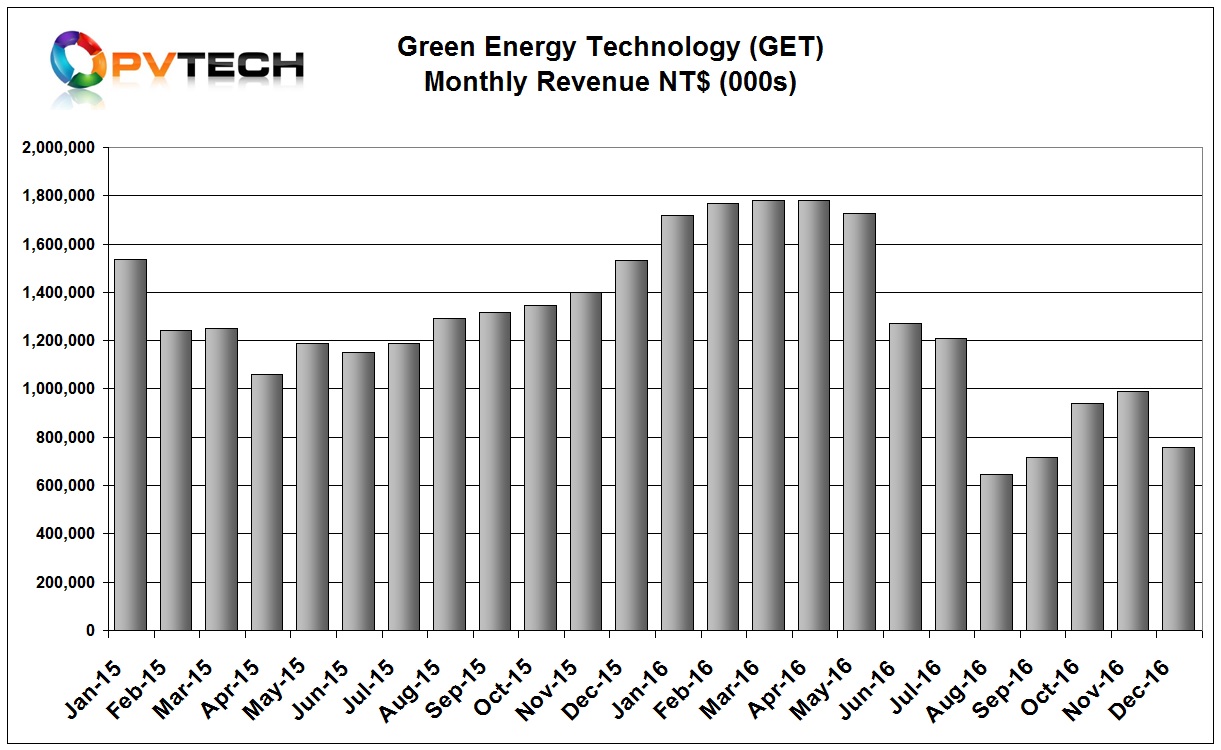 Gintech Energy
Merchant solar cell and module producer Gintech Energy ended the year with strong sales, up over 45% from the previous month, although still below levels set in the first half of 2016.
Gintech reported December, 2016 sale of NT$1.294 billion (US$40.9 million), compared to NT$890 million (US$27.9 million) in November.
Fourth quarter revenue was NT$3.005 billion, up 38.68% from the prior quarter but was down 32% from the prior year. Sales in 2016 reached NT$14.68 billion (US$459.7 million), down 6.78% from the prior year. This was primarily due to the slowdown in sales to China after June, 2016.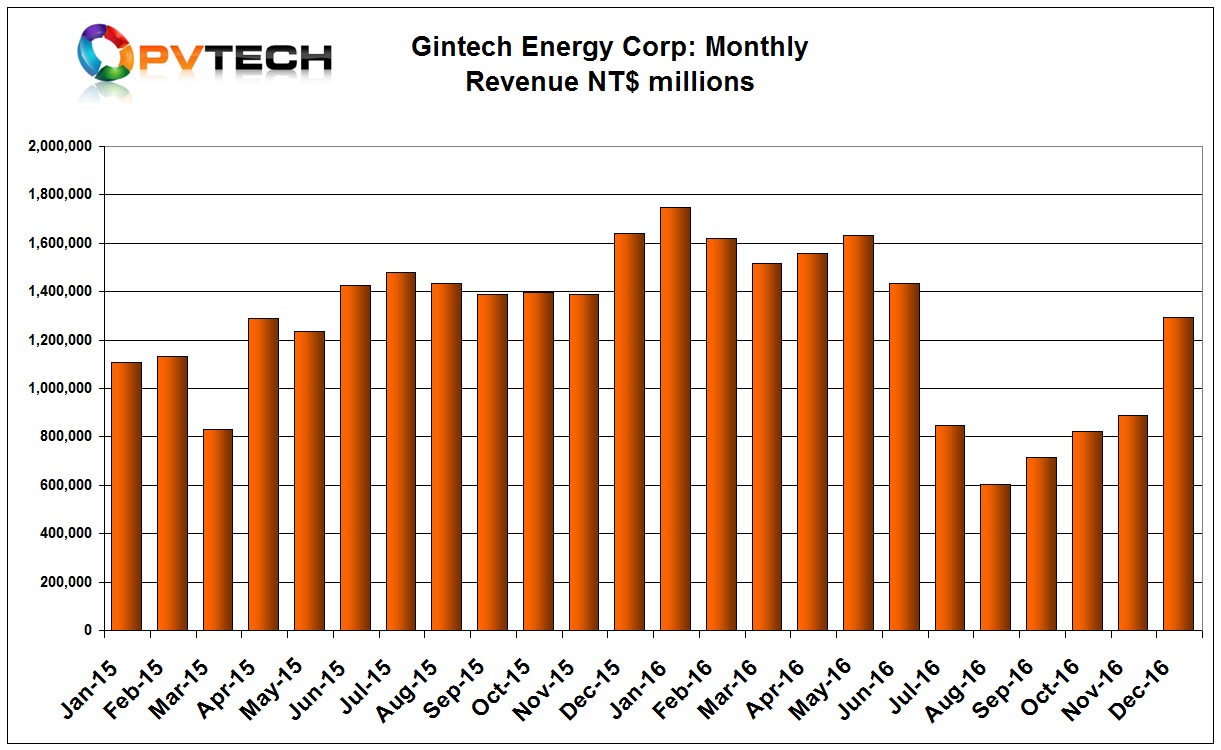 Motech Industries
PV manufacturer Motech Industries reported flat month-on-month sales in December after recovering from a September low point in the year.
Motech's sales in December, 2016 were NT$1.931 billion (US$60.4 million), down 0.2% from November. Unaudited fourth quarter sales were NT$5.395 billion, up 5.8% on the previous month.
Total unaudited sales in 2016 reached NT$28.963 billion (US$906.9 million), up 17% year-on-year, due to record sales in the first half of the year.
Neo Solar Power
Taiwan-based merchant cell and module producer Neo Solar Power (NSP) reported a rebound of sorts in December sales, after an unexpected slump in November sales, due to deferred customer orders.
NSP reported December, 2016 sales of NT$1,166 million (US$36.5 million), up from NT$898 million (US$28.2 million) in November.
NSP's unaudited sales were NT$3,187 million in the fourth quarter of 2016, while unaudited full-year sales reached around NT$16.57 billion (US$518.9 million).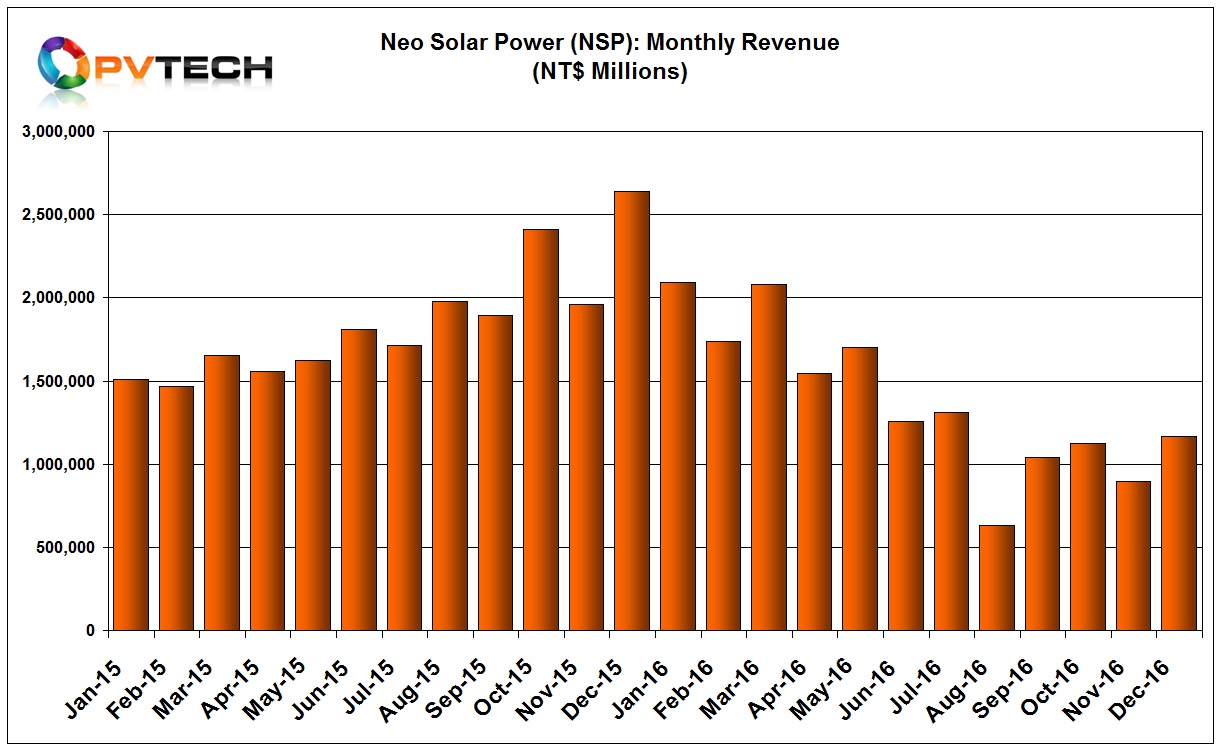 E-Ton
Mono and multicrystalline solar cell producer E-Ton Solar Tech reported a slight sales decline in December, after several months of recovering sales since a low point in September.
E-Ton reported December, 2016 sales of NT$270.9 million (US$8.4 million), compared to NT$284 million in November. E-Ton's fourth quarter sales were around US$23 million), compared to US$19.5 million in the previous quarter.
Full-year sales were around NT$3.92 billion (US$122.7 million), compared to around US$141.7 million in 2015.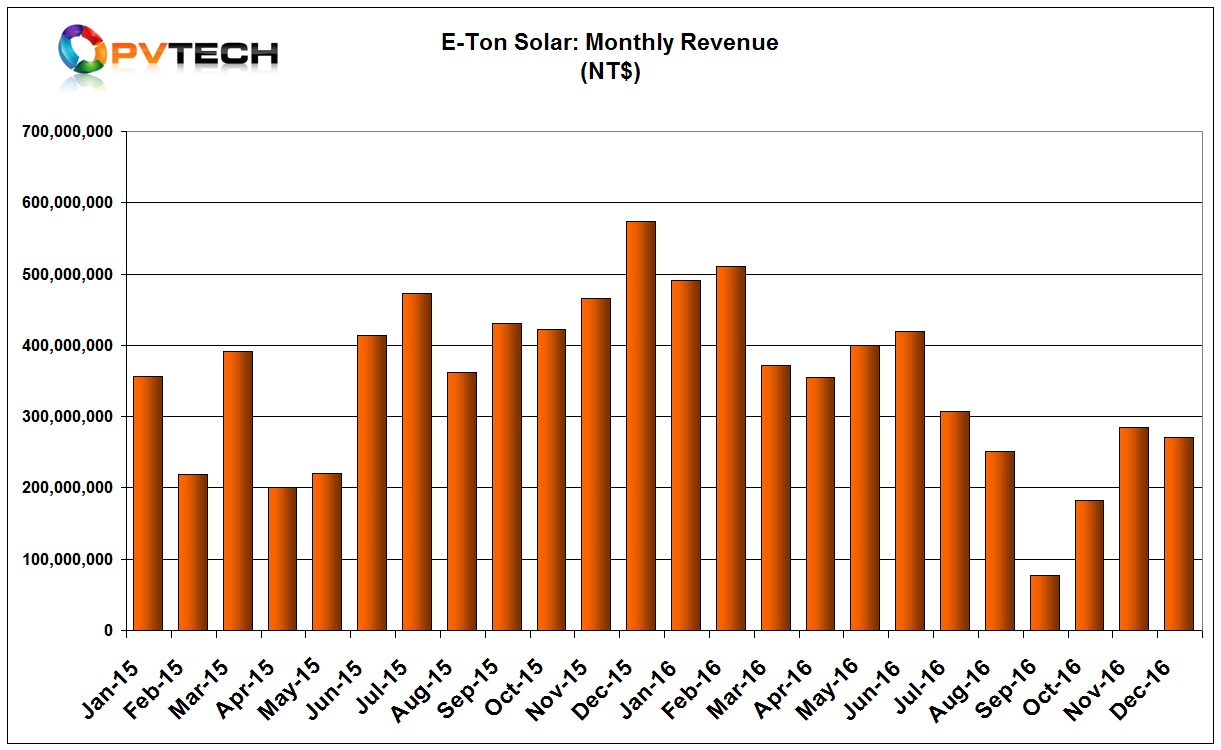 Solartech Energy
Merchant solar cell producer Solartech Energy Corp reported a slump in December sales, which declined 32% from the previous month.
Solartech's sales in December reached NT$498 million (US$15.6 million) compared to November, 2016 sales of NT$737 million (US$23.17 million).
The company reported unaudited fourth quarter sales of around NT$1.69 billion (US$52.9 million) and full year sales of NT$9.57 billion (US$299.7 million), down 8.6% from 2015.