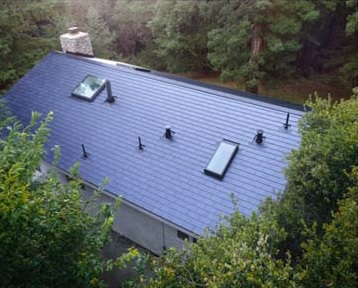 Having just completed its first 'Solar Roof' tile system installations in the US, Tesla said in reporting second quarter 2017 financial results that production of the roofing tiles would not enter mass production at its Gigafactory 2 in Buffalo, New York until the end of 2017.
Currently, small-scale production of the tiles is being undertaken at the former SolarCity pilot production line in Fremont, Silicon Valley.
Manufacturing partner, Panasonic was previously expected to start production of its conventional high-efficiency HIT (Heterojunction with Intrinsic Thin layer) solar cells at Gigafactory 2 in the summer of 2017, to supply Tesla's tile product and conventional solar panels for the former SolarCity business.
PV Tech had previously highlighted back in January 2017 that a manufacturing deal between Tesla and Panasonic for solar cells and a US$256 million capital investment by Panasonic at Gigafactory 2 stated production would start around mid-2017.
A statement at the time said the following: "Tesla and Panasonic have finalized an agreement this week to begin the manufacturing of photovoltaic (PV) cells and modules at the Buffalo, NY factory. These high-efficiency PV cells and modules will be used to produce solar panels in the non-solar roof products. When production of the solar roof begins, Tesla will also incorporate Panasonic's cells into the many kinds of solar glass tile roofs that Tesla will be manufacturing. All of these solar products will work seamlessly with Tesla's energy storage products, Powerwall and Powerpack. Production of the first PV modules will begin in summer 2017, and will ramp to 1 Gigawatt of module production by 2019."
In a letter to investors covering Tesla's second quarter results, the company touted that its solar roofing system had started to be installed but provided two pictures of the same residential home that were taken from different angles. Early systems were said to be for employee's of the company.
Rooftop solar deployments
Tesla said that it deployed 176MW of solar energy generation systems in the US in the second quarter of 2017, compared to 150MW in the previous quarter.
However, Tesla noted that due to its decision to stop offering solar systems via direct sales channels, previously used by SolarCity and instead focusing sales through Tesla stores and online channels, residential solar deployment would be lower in the third quarter of 2017. The company noted that solar deployments would increase in the fourth quarter.
The outright purchase of residential solar systems rather than via the lease model were said to have accounted for 37% of deployments in the second quarter, up from 31% in the previous quarter. Tesla only noted that outright purchases had only accounted for 6% of deployments in the prior year period.
Following the trend set by SolarCity, Tesla monetized a portfolio of previously deployed solar leases by selling an equity interest for proceeds totalling US$313 million in the quarter.