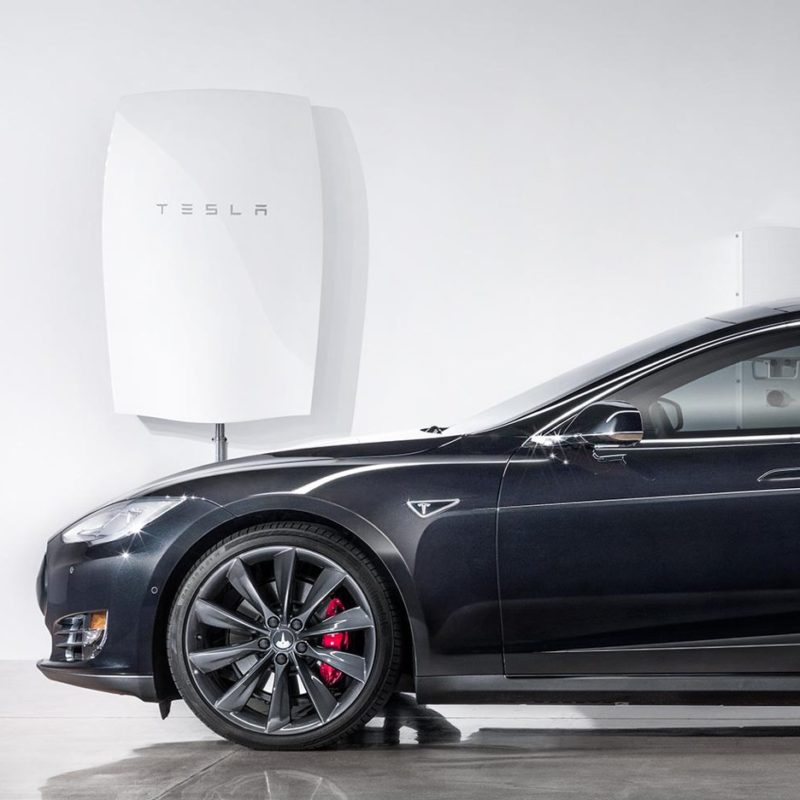 Tesla reported another major decline in its residential solar installations for the fourth quarter of 2017, while a supply shortage in its energy storage system 'Powerwall' has created a customer backlog of solar and storage installs of more than one year.
Tesla reported fourth quarter 2017 financial results that highlighted the rapid decline in solar installations. The company reported solar system installations totalling 87MW, a 20% decline from the previous quarter, which had seen a decline of 38% from the second quarter of 2017. The overall decline in installations through 2017 was 42%.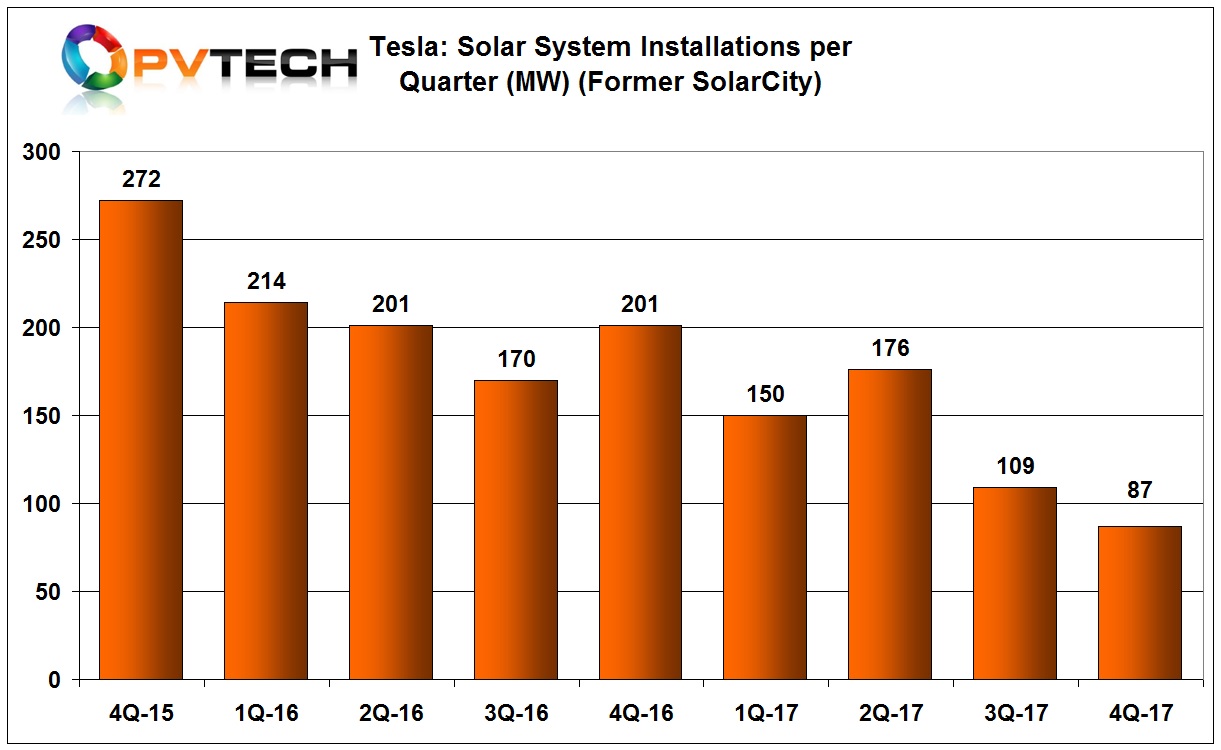 Tesla is unlikely to retain its leadership in the US residential market when rivals such as Sunrun report fourth quarter installations. However, major rivals to Tesla have seen installations flat line in 2017. Tesla will remain the leading residential installer for 2017 as installs remained until the fourth quarter much higher than the others (Sunrun, Vivint Solar, SunPower).
The declines have been self inflicted as the company moved away from commercial and industrial rooftop installations as these were said to have generated the lowest profit margins, while shifting residential rooftop sales to internal car sales showrooms in the US, compared to direct sales when the company was SolarCity.
The company has recently changed direction and increased direct sales through plans to establish 800 retail locations within Home Depot stores across the US.
However, Tesla's residential solar strategy has taken another self-inflicted hit by not being able to supply adequate quantities of energy storage systems that customers have ordered with solar rooftop systems, which has quickly led to a customer backlog exceeding one year, according to the company. Tesla did not share the specific number of backlog orders or the capacity.
Due to the Powerwall shortages, Tesla said it didn't expect solar installations to rebound until "later this year."
Tesla also noted that its mix of residential solar sales continued to shift away from being sold on a lease basis and more towards cash and loans. In the fourth quarter, cash and loan sales were said to have accounted for 54% of total residential solar sales, compared to 46% in the previous quarter and up from 31% in the first quarter of 2017.
Tesla reported its energy generation and storage revenue in the fourth quarter was US$317.5 million, a 6% decline from the previous quarter. However, gross margins collapsed to only 5.5%, down from 25.5% in the third quarter of 2017.
Tesla said the gross margin collapse was due to the impact of the seasonal decline in solar energy production and correspondingly lower lease revenue in the winter months.
The company also noted that air freight costs for the South Australian battery project and write-downs related to legacy commercial & industrial solar projects from SolarCity added to the margin issues. Tesla expects a recovery in gross margins in 2018.
Gigafactory 2 update
With solar installations declining through most of 2018, Tesla's Gigafactory 2 facility, operated by Panasonic to make solar cells and PV modules to Tesla's specification as well as new roof tile solar systems, is not expected to be ramped fast.
Tesla noted Gigafactory 2 was being deliberately ramped at a slow pace, linking this to the complexity of manufacturing the solar tiles, although Tesla remains vague on the production capacity ratios for tiles and modules.