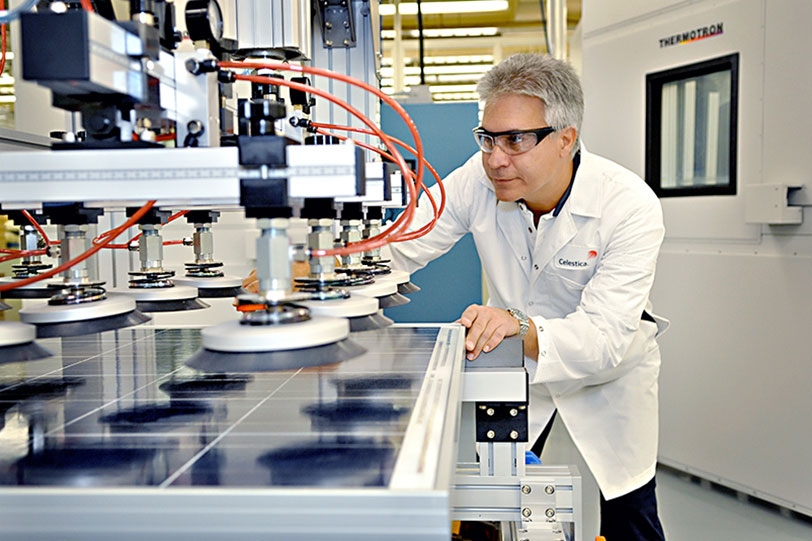 While third-party outsourcing of solar PV module assembly has been a constant feature of the PV industry for many years, the landscape of suppliers and the country of manufacturing has changed radically in the past two years, and will continue to do so out to the end of 2018.
This article shows clearly how third-party module supply by original equipment manufacturers (OEMs) has moved firmly to Thailand and Vietnam, with continued market-share gains expected from these countries going forward.
We explain why these changes have occurred and what the implications of this shift are expected to be.
The analysis is taken from the January 2017 release of our PV Manufacturing & Technology Quarterly report. The themes are set to be discussed at the forthcoming PV CellTech 2017 event in Penang, Malaysia, 14-15 March 2017.
What is the role of OEM suppliers in solar?
Firstly, it is worth reviewing what we mean by OEM supply, and why many suppliers and OEMs themselves choose to stay off the radar in terms of promoting this supply-to-market tactic.
In contrast to the semiconductor industry that has different definitions of contract manufacturing and roles for OEMs in the supply-chain, solar module manufacturing is relatively simple and simply assembling cells into a module ranks is a one-stop shop with virtually no technical barriers-to-entry.
Therefore, the role of the dedicated OEM for solar module production is somewhat synonymous with module contract supply, and the terms are used in this article interchangeably. The main term that is different in outsourcing for solar cells and modules comes from tolling, something that is different from the role of dedicated OEMs and is touched on below when we talk about the China issue.
Contract manufacturing is prevalent across almost every adjacent technology market, not simply the solar industry. The drivers tend to be somewhat industry-specific, but are mainly stimulated by cost and route-to-market. It is a theme that has reshaped global manufacturing in the whole for the past four decades, has often been characterized by chasing the next cheap labour region, and could not be a more pertinent topic to consider in global economics, with President Trump and Mexico forming the lead case-study.
Again, China forms a unique case for third-party sourcing
Before we dive into the discussion and analysis of global OEM module supply for solar, the first thing we need to do is remove mainland China from the picture. This is done because third-party outsourcing in China is rather the norm for solar, all across ingot, wafer, cell and module production.
In fact, tolling is rife in China, where companies effectively sublet time on underutilized factories to produce product for other competitors. Even polysilicon plants are used on a tolling basis in China.
Tolling is radically different from OEM supply. OEM suppliers' model is to operate as a dedicated third-party assembly route, with a brand, such as Flextronics, Celestica and Jabil Circuits. Often OEM suppliers shift to a dual OEM/direct-market approach, generally driven by lack of business or a hunger to increase margins.
There are likely hundreds of companies in China today that operate in a quasi-OEM, partial-tolling, and on/off direct-sell-to-market approach. There is no parallel in the solar industry, and nor should one expect to see this change in China anytime in the near future.
Therefore, in our graphic below, we remove all China-based third-party activity, that also happens to be impossible for anyone to come close to tracking with accuracy, and look at the main OEM production trends outside China. This is shown in the graphic below.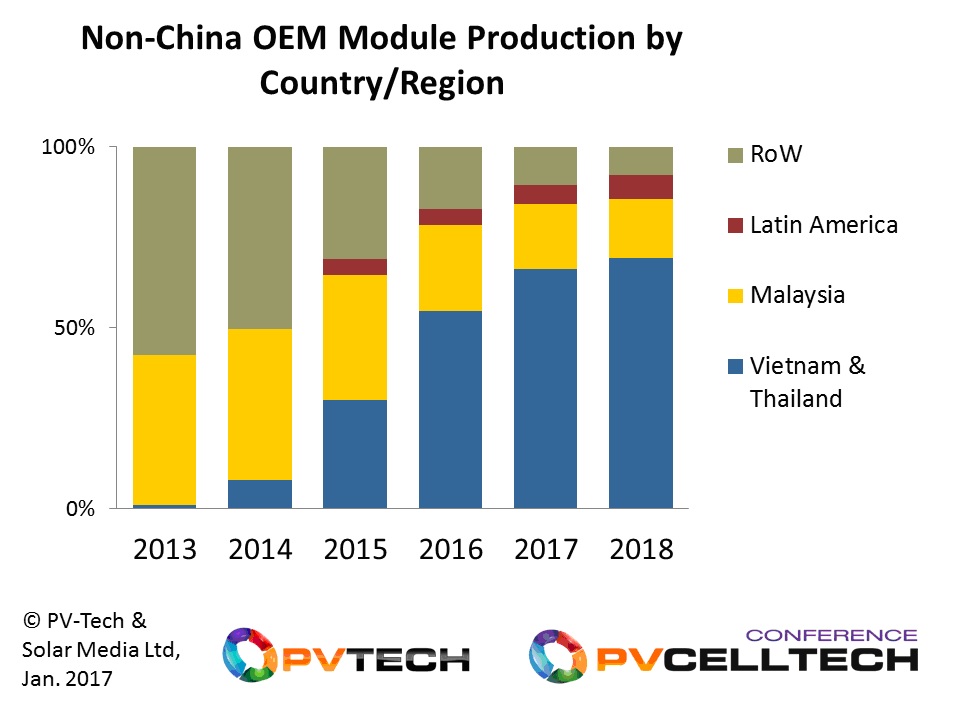 Of all the updated and new analysis of PV manufacturing done by our in-house research team, this is one of the most striking visuals. We have chosen to group data across certain countries and regions to show the trend most clearly. This means putting OEM module production in Europe, Canada, Korea, Indonesia, Taiwan, India and some others into the Rest-of-the-World group. This allows us to track everything outside Latin America, Malaysia, and the dual Southeast Asia countries of Vietnam and Thailand, as one group that operates differently to the aforementioned countries.
We make a clear distinction also between Malaysia and Vietnam/Thailand, with OEM operations in Malaysia again differentiated, in a similar way to how the country as a whole is placed for high-tech manufacturing.
Moreover, within Vietnam and Thailand, it is important to define clearly who is operating the sites. In this regard, the separation of Malaysia from Vietnam and Thailand is again justified, with Vietnam and Thailand having a greater number of OEM players whose business model has more of a sub-contract element to it, with the customers often being Chinese companies who bankroll the efforts.
The OEM landscape post SunEdison restructuring
The other factor that has come into play in the past 12 months comes from the fallout of the SunEdison supply arrangements, with SunEdison just a few years ago being highly vocal and proud of running a fab-lite approach. Virtually overnight – at the end of 2015 – module and cell suppliers that were reliant on a constant supply of product being shipped to SunEdison's downstream projects had to quickly find new customers, or even decide if the timing was right to move from OEM supply to a branded offering to the end-market.
It appears most have managed this, albeit with related impairment and write-off costs. Ultimately, at the start of 2016, there were still many Chinese companies that needed fully-operational third-party supply routes to feed the US market. During 2016 however, this has changed due to the increased availability of new cell and module capacity set up across Southeast Asia by Chinese and Taiwanese companies, under their own brand.
PV CellTech to address prospects for OEM suppliers going forward
As we set up the agenda for the PV CellTech 2017 event in Penang, Malaysia, 14-15 March 2017, we specifically invited some of the companies that were behind the above market shifts, as OEM operations had previously been incredibly stealth within the solar industry. The other driving factor is our continued focus on really knowing who is making the cells and modules being shipped to the end-market today.
To view the latest PV CellTech agenda, please follow this link. To register for the event, click here.
We will also be hosting free webinars in February, discussing PV manufacturing and technology trends and the impact of global market drivers. You can register for these webinars through this link.