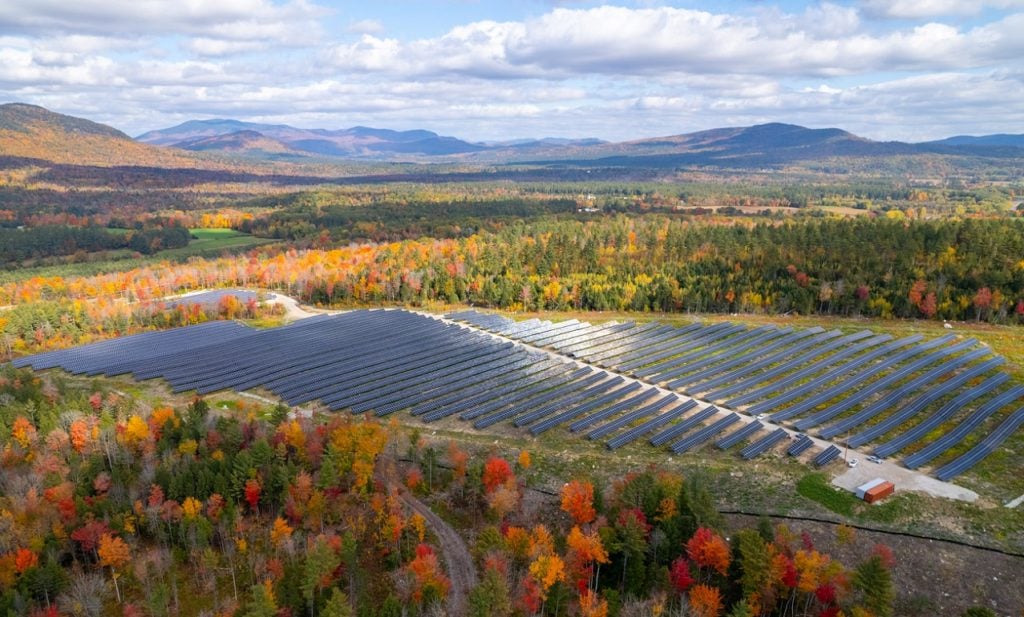 Renewables asset owner Brookfield Renewable is planning to take advantage of policy headwinds stemming from the US's Inflation Reduction Act as it bolsters its presence in the commercial and community PV segment with the acquisition of Standard Solar.
Brookfield announced last month it had closed its US$540 million acquisition of Standard Solar, a Maryland-based company focused on the development, funding, and ownership and operation of commercial and community solar assets. As well as its 500MW of operating and under-construction PV assets, Standard has a near-2GW development pipeline.
The deal will enable Standard to benefit from Brookfield's global procurement supply chain to facilitate the development of its project pipeline, according to Valerie Hannah, managing director at Brookfield.
"We'll be able to leverage that global supply chain with our solar build-out around the world that gives us a little bit more in terms of the pricing negotiations that we have, the ability to get the equipment when we need to have the equipment," she told PV Tech.
In addition, Brookfield's solar industry knowledge and regulatory experience allow it to "hit the ground running on day one" when it acquires a company, Hannah said. "That means we can just get in there, there's no learning curve, we can actually start working with the management team and helping them achieve the objectives around growth."
As part of the deal, which will see Standard Solar continue to operate as an independent business, Brookfield Renewable has the potential to invest an additional US$160 million to support the company's expansion.
With the two companies sharing a similar corporate culture, the partnership "makes perfect sense", said Scott Wiater, CEO at Standard Solar. "[It] provides us with several key advantages, including accelerated corporate and project growth thanks to their deep industry knowledge and expertise, access to large-scale capital and a supply chain with global reach."
The transaction was announced at the same time as Brookfield Renewable secured a US$1 billion deal to acquire Scout Clean Energy, a Colorado-based renewables developer and owner that has a pipeline of more than 22GW of solar, wind and storage projects across 24 US states.
Scout was sold by investment manager Quinbrook Infrastructure Partners, which acquired the solar company as a start-up back in 2017 for an initial investment of US$6 million.
Both the Standard and Scout deals were made through the Brookfield Global Transition Fund I (BGTF I), which the firm says is the largest fund in the world focused on the energy transition, with total capital raised of US$15 billion.
Among the other investments made through BGTF I so far include Brookfield's US$650 million acquisition of US solar and energy storage developer Urban Grid. The firm now has a US development pipeline close to 60GW, spanning utility-scale solar, wind, distributed generation and energy storage.
Hannah said that while the US solar sector already had strong growth momentum before the IRA was signed into law, the legislation "is really a tremendous accelerant to growth in the solar industry".
She added: "It really accelerates it when you look at providing that longer term visibility that perhaps wasn't always there in the solar market before, at least in the US. That allows you to really have that longer term view in terms of building out a pipeline, in terms of pursuing opportunities."
The legislation is set to accelerate battery storage attachment rates in the commercial and industrial solar space, according to Hannah. "We also see that that provides within the existing installed base the ability for cross-selling and upselling opportunities on the back of being able to sell storage to an existing solar company."
Standard Solar now plans to expand its PV portfolio in states such as New York, Maryland, Minnesota and Maine, taking advantage of policy support for community solar included in the IRA.
The company this week closed an acquisition of a 6.2MW community solar portfolio in Rhode Island from Trina Solar. Scheduled for completion next year, the projects' subscribers include state agencies, municipalities, public housing authorities, schools and hospitals.
Hannah said more US markets are now opening up to solar, given its low cost, adding: "It is now this lowest cost form of energy that's out there. So I think that, combined with the corporate demand that's out there for decarbonisation solutions, as well as that energy security/resiliency aspect of it, bodes well not only for utility scale, but for distributed generation."